Hobby Lobby: I have visited JINHAN FAIR more than 30 times in a row.
2019.09.10
---
Buyer's business card
Company:Hobby Lobby
Region: United States
Website:https://www.hobbylobby.com/
Name:David Rhymes
Position:Merchandise Manager
Record: More than 20 visits
"JINHAN FAIR has given buyers from around the world a venue to see some of the best suppliers from China."
Hobby Lobby Stores David Rhymes
David Rhymes, Merchandise Manager,
Hobby Lobby Stores
Q1. Brief about Hobby Lobby ?
Hobby Lobby is one of the largest retailers in the United States, operating in products including crafts, picture frames, jewelry making, fashion fabrics, flowers, cards and party supplies, baskets, wearable art, household items, and holiday items.
Q2. Brief about Hobby Lobby's sourcing in China?
I have attended the JINHAN FAIR since the first one in 2000.I work with four buyers that primarily buy Christmas decorations.
Q3. How do you feel about the sourcing and supply environment?
Our business partners in China are extremely creative, tenacious, and resilient.Over the years they have weathered many storms and changes in the worlds of business and government. The current tariff situation is just another bump in the road on a long highway. Business will be somewhat different in the future, but I am confident that our China suppliers will find new and creative ways to persevere and prosper.
Q4. Which supplier at the fair impressed you the most?
I have grown up in this industry with many of the suppliers that exhibit at Jinhan. I've watched many of our business partners grow from tiny booths years ago to huge booths now. JINHAN FAIR has given a platform for many start-up companies in China to be seen and prosper, and it has given buyers from around the world a venue to see some of the best suppliers from China.
Q5. Can you describe your first experience at JINHAN FAIR?
I first began coming to Guangzhou in 1995. The addition of the Jinhan building in 2000 to the old campus was a breath of fresh air. Before that, these vendors were all in the China Hotel or Dongfang hotel in mazes of corridors and small rooms. The Jinhan allowed these vendors to blossom with bigger booth spaces and a comfortable buying atmosphere.
Q6. Please leave some words for JINHAN FAIR at its 20th anniversary?
Happy Birthday,JINHAN FAIR!
As a buyer, it is wonderful to know that a longstanding supplier will be in the same location every year. I hope that will be a priority in the future. Also, the layout is excellent. I hope that stays the same. It is easy to estimate the time it will take per floor each time. Also – it would be cool in the future if they had a designated area just for new start up suppliers.
---
On October 21-27, 2019, the 40th Jinhan Fair for Home & Gifts will be held at the Guangzhou Poly World Trade Center Expo.Should you have any query, we are glad to extend help at marketing@jinhanfair.com or you may reach us by a phone call to 0086-20-89308925.
To discover more about JINHAN FAIR, please visit:38th Fair Review、39th Fair Review.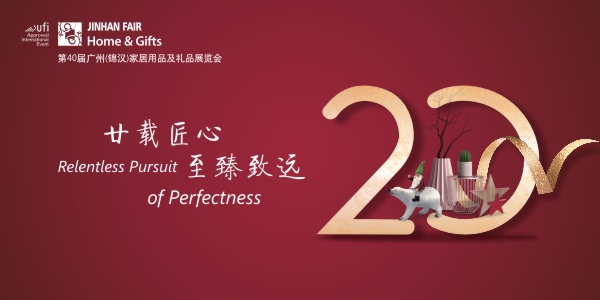 The 48th Jinhan Fair
Jinhan Fair Online Exhibition