CHIC NEW HOLIDAY TRADITIONS, STRAIGHT FROM ENTERTAINING PROS
2013.12.26
---
Celebrity-favorite party planners share how you can take your holiday party to the next level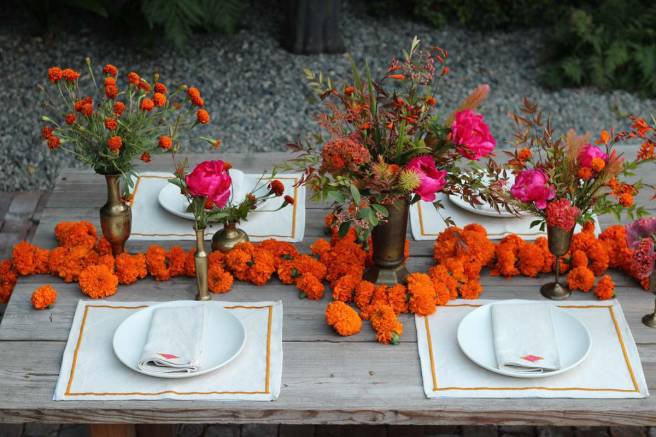 Go Beyond... Red And Green
Holly Vesecky and Rebecca Uchtman of Hollyflora attract A-list clients (actors Jason Schwartzman and Will Ferrell, and fashion designer Clare Vivier) with their wild, anything-but-average arrangements. For the holidays, they recommend a less-obvious floral color palette; orange and bright pink, with vibrant Heather Taylor linens to match. "We break tradition and bring color in whenever possible," says Vesecky, who recommends incorporating fiery hues via marigold garlands (sewn together with an upholstery needle and monofilament) for a break from the typical red-green-and-white. "Orange and fuchsia are such warm and welcoming colors that they easily make sense with spiced cider, pine cones, and persimmon tarts," she says.
Go Beyond... Fresh Greenery
Los Angeles's Paige Appel and Kelly Harris of Bash, Please have cornered the market on personality-first celebrations with an artistic bent (just ask model Josie Maran and actress Emily Deschanel, who are fans). For the holidays, the creative duo is most enthused about handmade accents such as paper-cut leaf garlands. "There are fantastic shops on Etsy that make paper-cut garlands and leaves for purchase," says Appel. Lay the leaves over a burlap linen or a wooden table for contrast, then place branches or greenery for a finishing touch."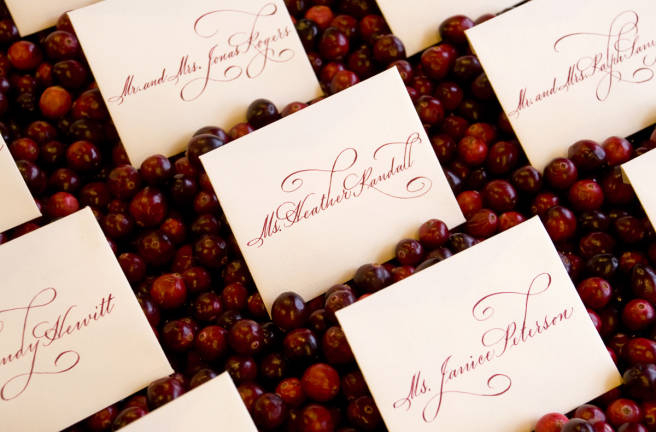 Courtesy of David Stark
VIEW LARGERVIEW THUMBNAILS
GO BEYOND... THE PLACECARD
"I look at every party convention and ask myself, 'how can I make this a special moment?'" saysDavid Stark, whose fashionable clients include Zac Posen, Louis Vuitton, and Tory Burch. The style expert swears by escort card tables to add a sense of occasion, with a high-impact but low-maintenance treatment: "Instead of lining up a series of standard cards and envelopes, I create a world for the cards to rise from. At holiday time, I use bags of jewel-like fresh cranberries on a tray. Pick them up at the supermarket, pour them in the tray, and you have instant, fabulous holiday décor. It's as easy as that."

Courtesy of Ken Fulk
VIEW LARGERVIEW THUMBNAILS
GO BEYOND... A SIMPLE PARTY FAVOR
The who's-who of Silicon Valley relies on interior and event designer Ken Fulk for his wonderfully dramatic designs; this time of year Fulk swears by personalized party favors. "When I'm entertaining around the holidays, I like to offer some kind of take-away," he says. Cater for your guests all season-long with a holiday "survival kit" a la Fulk, who fills labeled gift boxes with goodies such as an ice pack, a candle, a bottle of wine, and chocolates, naturally.
The 48th Jinhan Fair
Jinhan Fair Online Exhibition