The 29th Jinhan Fair for Home&Gifts Booths nearly Sold Out
2013.12.25
---
The 29th Jinhan Fair for Home & Gifts will be held in Guangzhou Poly World Trade Center Expo from April,21st to 27th. It is estimated to have more than 720 exhibitors to exhibit in an area that exceeds 82,000 square meters. The scale has broken the fair record. Companies have been snapping up a place in the fair, almost all the booths are sold out now.
Global Peak Purchase Season for Home Decorations is Coming
Comparing with autumn purchase season for holiday decorations and gifts, spring is the season in which global buyers purchase home decorations and decorative furniture. The 29th Fair has 8 exhibiting zones accordingly to showcase 6 series of products: home decorations, decorative furniture, seasonal decorations, gifts, outdoor & gardening products and household items. Global buyers are exposed to the diversity of Chinese market and more than 10,000 kinds of newest products.
The updates of the 28th Fair show that a huge amount of global top 250 retailers have prioritized Jinhan Fair for Home & Gifts as the place to buy in China. These retailers include Wal-Mart, Carrefour, Tesco, Metro, etc. The 29th Fair has strengthened the customization service for VVIP buyers to establish a more effective trade platform for buyers and suppliers.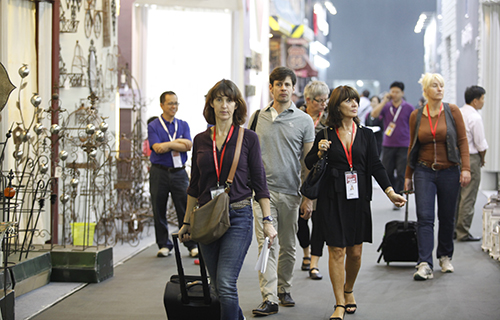 Top 300 Companies Snapping up Booths
It is now 4 months to go before the Fair; all the booths are about to sold out. Nearly 300 top industry companies have snapped up the best booths in the Fair. These companies are, Fuzhou MHMX, Anxi Yingfa, Quanzhou Nangyang, Shenzhen Dsily, Yiwu Wadou, Hong Kong Qooltango, etc. They are preparing to update their products for the 2014 spring purchase season.
The fair continues to provide global market trends and analysis onsite to help exhibitors grasping opportunities and dealing with challenges. Multiple ways of value-creation are targeting at value maximization for buyers and suppliers.
As one of the largest and most influential export fairs in China, Jinhan Fair for Home & Gifts has become the industry bellwether and the first choice for both outstanding Home & Gifts manufacturers in China and global top buyers after 15 years of development.
The 49th Jinhan Fair
Jinhan Fair Online Exhibition