Walmart to launch Black Friday sales earlier
2013.12.24
---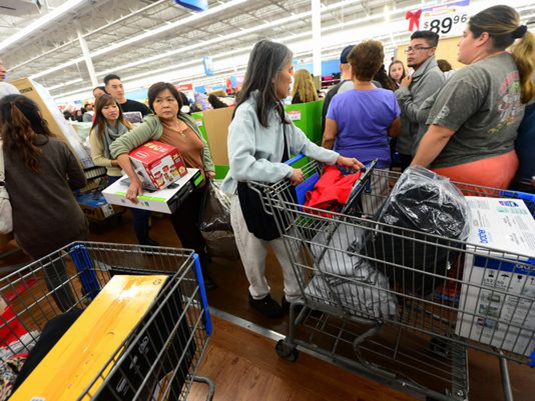 Walmart says it will help more people be assured they will get their Black Friday deals this year. Here, people get an early start on Black Friday shopping deals at a Walmart Superstore in Rosemead, Calif. last year.(Photo: Frederic J. Brown, AFP/Getty Images)
Story Highlights
Retailer will hold two major sales events at 6 p.m. and 8 p.m. Thursday evening
Some exclusive sales will still occur Friday, including an 8 a.m. sales event
Toys R Us, Best Buy, Target, Macy's, J.C. Penney and Kohl's are all offering earlier sales
As the holiday shopping season kicks off, Walmart is the latest major retailer to announce an even earlier launch to annual Black Friday weekend sales — beginning at dinnertime Thanksgiving evening.
Following a slew of similar announcements from stores including Target, Best Buy and Macy's, Walmart said Tuesday that it will hold two major sales events at 6 p.m. and 8 p.m. Thursday, two hours earlier than last year. With this year's six-day shorter holiday shopping season and low rates of consumer confidence following the government shutdown, Walmart is upping its efforts to draw in more customers: offering what experts said were impressive deals and guaranteeing more products to customers in line during the Thursday sales.
Some exclusive sales will still occur Friday, including an 8 a.m. sales event and "manager's specials" discounts on high-demand items. But this year, many of the best deals occur or begin Thursday, including online shopping bargains that start early Thanksgiving morning.
Stores moving major sales to Thursday is a "big move," said online deal expert Brad Wilson, founder of deal analysis website BradsDeals.com.
"We saw even in the last two years, when stores were opening Thursday, they weren't necessarily kicking off their promotions on Thursday — the best deals wouldn't necessarily start at 6 p.m. and 8 p.m.," he said. "This really shifts the focus."
As stores stagger sales, the annual mobs of shoppers camped outside stores before dawn on Friday may lessen, analysts said. This year, Toys R Us will open its doors at 5 p.m. Thanksgiving day, Best Buy will open at 6 p.m. and Target will open at 8 p.m. Macy's, J.C. Penney and Kohl's will offer Thursday hours for the first time, and Kmart will open at 6 a.m. Thanksgiving morning and remain open for 41 hours straight.
Black Friday is becoming more of a "six-day weekend" than a single day, Wilson said. And Walmart's early sale events are an effort to keep up with the competition, said Duncan Mac Naughton, Walmart's chief merchandising and marketing officer.
"Almost everybody is moving at least one hour up," he said. "We thought that was the best time to 'win the weekend.' It's going to be a competitive market. With six fewer days to Christmas, Black Friday's going to play an even more important role."
Walmart stores this year will offer 21 "guaranteed" products — 18 more than last year — if customers stand in line for them during the 6 p.m. to 7 p.m. and 8 p.m. to 9 p.m. Thursday events, according to a company press release. If so, the store ensures customers will receive a product, either that night or before Christmas. For some products, shoppers can wait in line for wristbands signifying their purchase and then go shop for other items, as long as they return to pick up their product within two hours of the start of the sales events.
DealNews.com Features Director Lindsay Sakraida said some deals are the best she's seen yet this year, including a 16GB Apple iPad mini for $299 with a $100 Walmart gift card, an iPhone 5C for $45 or a 5S for $189, both with a $75 gift card, and an Emerson 50-inch LED HDTV for $288.
The earlier times, competitive deals and spike in "guaranteed" products signify retailers pulling out all the stops to bring in more customers, as they enter a shorter shopping season with more wary shoppers, analysts said.
"Even though there are people still crazy about Black Friday and willing to camp out, some consumers are weighing whether it's worth going," Sakraida said. "It's going to be more of a trend to have stores saying, 'Here's an item that you absolutely will get when you come.'"
Though stores' new openings might cut into Thanksgiving dinner, Wilson said moving away from "one starting line at 5 a.m. or 6 a.m." helps consumers get more deals.
Walmart's push for holiday shoppers began a month early this year, with the rollout of a set of online promotions Nov. 1. But though Sakraida said consumers might be able to find some good deals through early sales, she recommended taking advantage of what she saw as especially impressive Black Friday weekend bargains.
"We've already noticed a lot of stores pushing the holiday shopping element more," Sakraida said. "(Lower consumer confidence) will encourage retailers to offer especially good doorbusters and really enticing deals that actually can be a really great opportunity to get great prices."
source from: Furniture Today
The 48th Jinhan Fair
Jinhan Fair Online Exhibition