Jerome's opens first store in Los Angeles area
2013.12.24
---
TORRANCE, Calif. — Jerome's Furniture opened its ninth showroom here, edging into greater Los Angeles and drawing a crowd of more than 100 business partners and other guests to its VIP event.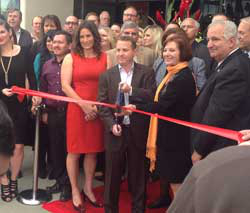 Jerome's Furniture President and CEO Lee Goodman cuts the ribbon on the retailer's first Los Angeles-area store in Torrance, Calif.
The 50,000-square-foot store in a former Wickes location on Hawthorne Boulevard, opened Nov. 21 on what would have been Jerome's founder Jim Navarra's100th birthday. The Top 100 company said the second and third generations of the family were fully represented at the event, including Adeline Williams and Ann, Jerry, Adrienne, Jim and Mark Navarra.
"We are thrilled to open the LA marketplace," said Lee Goodman, president and CEO of the San Diego-based company. "We are thankful for our partners, the talented hardworking Jerome's team, and the Navarra family. We are in a great location and ready to show our new neighbors what Jerome's is all about."
With this opening, Jerome's added 40 jobs and now operates five San Diego County stores; three in San Bernardino and Riverside counties; and on in the Los Angeles area.
The promotional to midpriced Jerome's fully renovated the former Wickes location to its standards. In addition to its broad furniture offering, the store features a Jerome's Dream Shop bedding department and Jerry's Bloopers clearance outlet.
The 48th Jinhan Fair
Jinhan Fair Online Exhibition