FESTIVE DECORATING IDEAS
2013.12.23
---
Easy ways to dress up your home for the holidays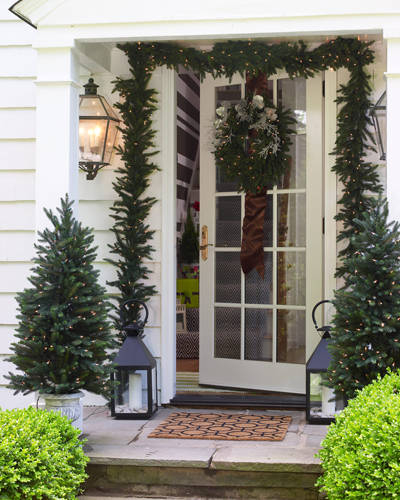 FIRST IMPRESSIONS
Give guests a healthy dose of holiday cheer from the minute they ring the doorbell. Lush boxwoods, mini-evergreens, and a lush garland peppered with lights turn this entry into an inviting wonderland. Oversized lanterns flank the doorway providing soft light and added shimmer, while ribbon and icicle-like accents enrich the wreath.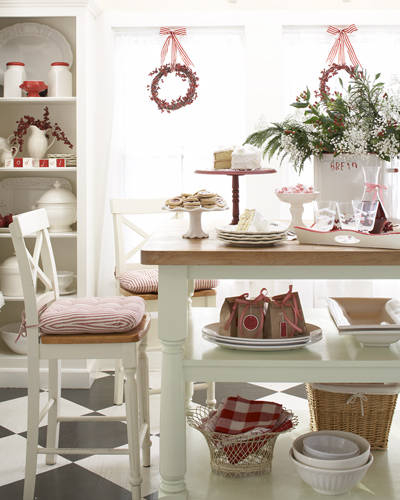 CANDY LAND
When company calls, pull out the treats. Holiday-hued cake stands and trays are stylish staging areas for baked goods and candies. Keep a stack of bright white plates ready along with napkins and forks. Here, a vintage bread box is repurposed as a container for baby's breath, greens, and berries. Bold, checked linens fill a wire basket. Twig wreaths from the crafts store adorned with faux berries make the frosty window
DELICIOUS DINING ROOM
Scandinavian simplicity takes a turn for the tasty with the addition of peppermint candy and popcorn embellishments. Playing off the crimson stripe of the upholstered bench and chairs, the picnic-style plank table is topped off with a red ribbon runner. A centerpiece of seasonal greens and berries becomes the focal point, flanked by a pair of glass vases filled with pieces of swirling candy canes and topped with popcorn balls dotted with hypericum berries.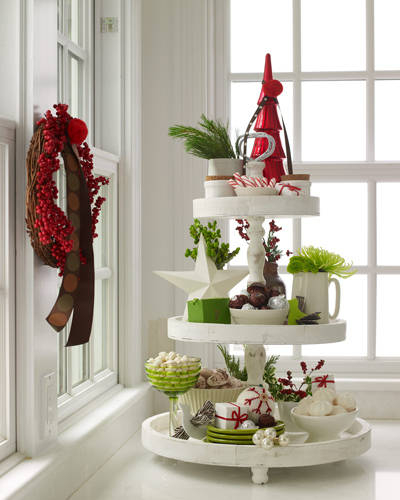 STAND ALONE
Even just one strong piece can add major drama. Here, candies, dazzling greens, and keepsakes are irresistible layered on an old-fashioned tiered cake stand. Mix and match shapes and sizes, sticking with a few colors for a clean look.
FESTIVE BUFFET SETTING
Create a lively setting for a punch-and-cookie party by decking dining room windows with fresh boxwood garlands, key-lime streamers, and sparkling ornaments. This console table not only provides easy access to holiday foods, but topped with a flowing runner, a birch-branch centerpiece, and a fossilized-leaf wreath—it's filled with festive flair.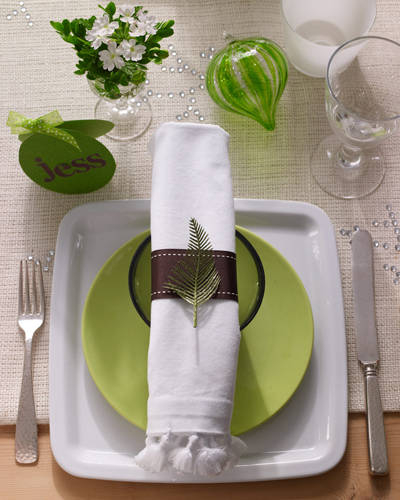 TABLE TRIMMINGS
If you're in need of holiday napkin rings, no need to rush out to the shops to get them. Just top your favorite ribbon with a simple sprig of pine, and you have an instant hit. Continue the table decoration with a few glass ornaments to complement your place settings. They make for great party favors.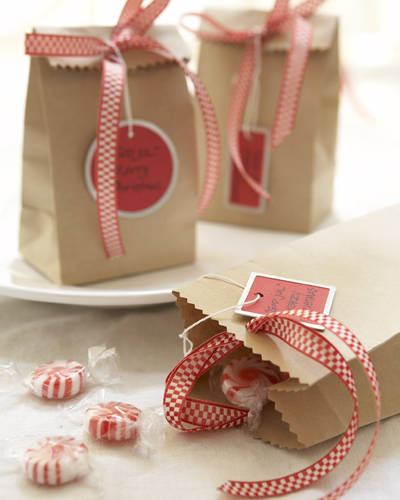 GORGEOUS GIFTING
Small brown paper bags chock full of peppermints and dressed with spunky ribbons make thoughtful give-away gifts. These tags are emblazoned with the words God Jul ("Merry Christmas" in Swedish), but feel free to add your favorite holiday sentiments.sentiments.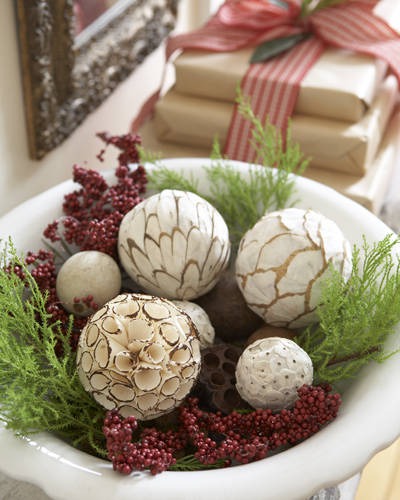 BRING NATURE IN
Instead of the traditional pinecones, scour crafts and home stores for natural ornaments to display with seasonal greenery. It will make for a much more robust display and add a fresh aroma to the room.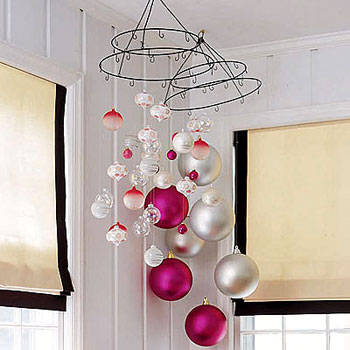 EASY ORNAMENT MOBILE
This pink and silver ornament display is festive enough for Christmas but in non-traditional colors, it won't go stale after the 25th and will look fabulous for New Year's Eve. Hang a cluster of simple colored and glass ornaments to a metal ornament frame (available in craft stores) for an eye-catching display. To create a cascading effect, secure ornaments to the mobile's hooks with varying lengths of thread or fishing line.
PERSONALIZED PAPER
Creating your own wrapping paper isn't as hard as it sounds. This chic display is merely solid papers freshened up with office stickers, sales tags, and adhesive binder reinforcements! Just scour the home office to see what you have on-ha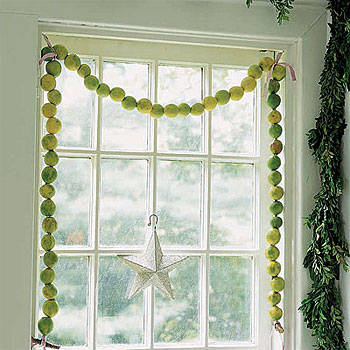 CITRUS STYLE
This garland made from key limes is fresher and more unusual than your typical cranberry strand. To make it, use a carpet needle to string limes on a 1/8-inch-thick hemp cord, and finish the ends with satin ribbon. When finished, it's the fun substitute for window treatments.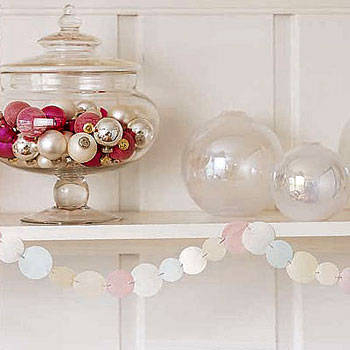 CHARMING ACCENTS
Sometimes, simpler is better. On this lovely shelf, a canister full of assorted ornaments and a paper garland made from hole punches of card stock and vellum become a lovely addition to an otherwise plain white shelf.
HOLIDAY WALL DECOR
To give a bare wall flair, hang patterned trays of different sizes accented by ribbons and fresh greens. Here, red and green tole trays group gracefully thanks to similar painted- flower designs.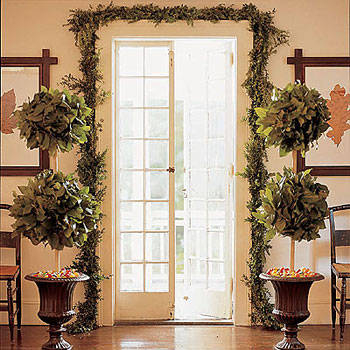 BOXWOOD GATEWAY
Greenery is not just for the outside. Call attention to any entry, interior or exterior, with boxwood garland and stately topiaries. The simple addition to the outside edge of the doorframe is the trick to freshen up the room and create a festive focal point.
The 47th Jinhan Fair
Jinhan Fair Online Exhibition