Carrefour is gearing up to give children the most wonderful Christmas – without breaking the bank
2013.12.23
---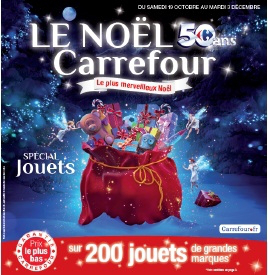 With around 3000 toys on sale in its hypermarkets – including many which are only available from Carrefour – the Group is helping parents get ready to give their children an unforgettable Christmas, no matter how old they are or what tastes they have. To make getting ready for Christmas easier, all the toys can also be ordered from the carrefour.fr website. And to make sure that this year's Christmas is affordable, for the second year running, Carrefour is extending its "Lowest Price" guarantee to include 200 big-name toys in its hypermarkets.
All the rage in 2013: connected toys and tablet computers for children
The big craze in 2013 has been for connected toys – for tablet computers in particular, which enable kids of all ages to learn and have fun in a world which is made safe and secure by appropriate levels of online protection.
To help parents choose, 107 Carrefour stores will feature a special toy demonstration area – with its own resident expert – in the toy department for a period of two months. More than 15 tablet computers made by a whole range of different brands (Clémentoni, Ingo, Videojet, Oregon, Lexibook and VTech) will be on show and available, so that adults and children alike can try them out and make sure that Father Christmas gets it right when the time comes.
Exclusive offers and Toy Testing: Father Christmas "prefers" Carrefour
This Christmas, Carrefour will be stocking a wide selection of exclusive toys for children of all ages and with all tastes. For example:
•The "Sophie the Giraffe Newborn Baby Set" for €19.90
•Set of XXL Lego and Duplo building bricks for €44.90
•Barbie and MegaBloks Horse racing set for €49.90
•Bosch Cool Kitchen set for €89
To help Father Christmas make the right choice, Carrefour has organised special Toy Testing sessions with children. The kids have unanimously chosen:
•The classic redesigned Mr Potato Head Safari Set for €23.05
•Cranium, the timeless parlour game, for €29.21
•The Playmobil Western Fort for €77.90
•The Monster High 7-inch Premium Tablet for €129.90
Commitments to parents to help them get ready for Christmas
To help parents as they gear up for Christmas, for the first time, all Carrefour toys can now be ordered online from carrefour.fr Their children's future presents can then be delivered straight to their homes or they can pick them up from a collection point, just in time to slip them under the Christmas tree.
And to make sure that as many people as possible get to enjoy Christmas this year, Carrefour has 200 big-brand toys on sale at the lowest prices – in the same way as it has committed to selling 500 daily-use products and school supplies at the lowest possible prices. Carrefour will refund customers twice the difference if they find the same product on sale within a radius of 15 km from the store of purchase within two weeks. And Carrefour loyalty cardholders can get an additional 20% off many of the toys on offer.
The 49th Jinhan Fair
Jinhan Fair Online Exhibition