10 Modern Dining Room Ideas
2013.12.02
---
As fall swings into gear, warm your space with ideas from our most welcoming contemporary dining rooms.
Photo: Annie Schlechter
When the weather turns chill, there's nothing quite as fulfilling as inviting guests over to share in a hearty meal and stimulating conversation. To make sure your space is not only comfortable but also easy on the eyes, get inspired by 10 of Met Home's contemporary dining rooms.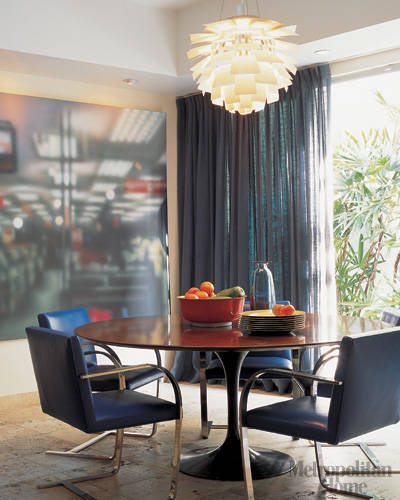 Photographer: Kerri McCaffety
MODERN BREAKFAST NOOK
This breakfast area, by designer Andrew Frank, relies on modernist classics, including a rare wood-topped Saarinen table, Brno chairs by Mies van der Rohe and a hanging Artichoke pendant lamp by the Danish designer PoulHenninghsen. The acrylic painting is by the Irish artist Martin McGinn.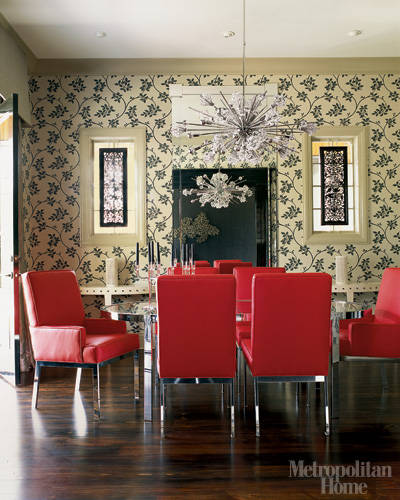 Photographer: Jack Thompson
REGENCY REDUX
A John Lyle-designed mirror, modeled after a doorway, commands a wall in the dining room, reflecting a starburst chandelier inspired by those at New York's Metropolitan Opera. Lyle didn't like the adjacent windows, so he hung a pair of lacquered Asian shutters over them. The table and chairs are vintage; upholstery by Edelman Leather.
Photographer: Colleen Duffley
PALM SPRINGS PUNCH
In Jonathan Adler's dining room, vintage French-modern chairs surround a Saarinen Tulip table from Knoll. The Italian chandelier and room divider are vintage; back-to-back mirrors are by Philippe Starck from Kartell.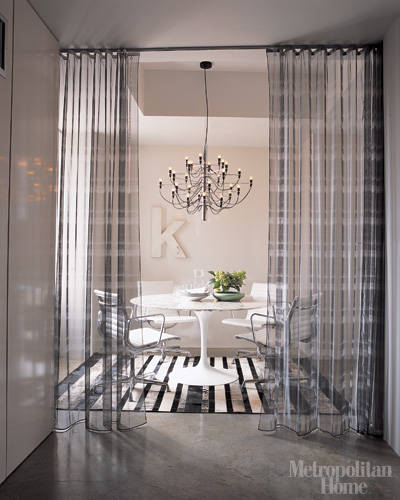 Mod Squad
In this dining area, a Mod chandelier from Flos hangs over a classic Eero Saarinen dining table from Knoll. The carpet's stripes seem to extend upward into the gray-and-white Stephen Sprouse drapery fabric. Designer Kelly Monnahan's biggest coup was getting Herman Miller to upholster a quartet of Aluminum Group chairs in custom-dyed white leather (it has never before been sold in white because of technical limitations).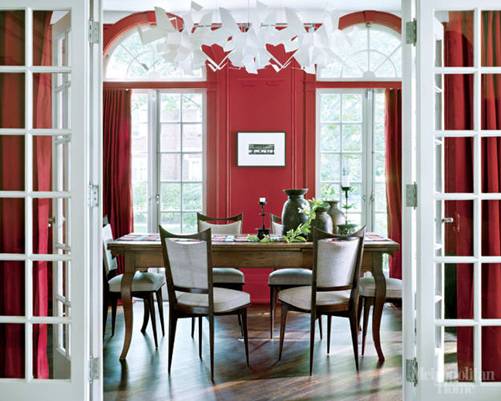 Photographer: Annie Schlechter
STRONG COLOR
This dining room by designer Robert Kaner wears the only strong color in the house (Pratt & Lambert's Velvet Red). The 1950s Italian chairs and Pallucco's aluminum Glow pendant add contemporary sensibility to the neoclassical surroundings.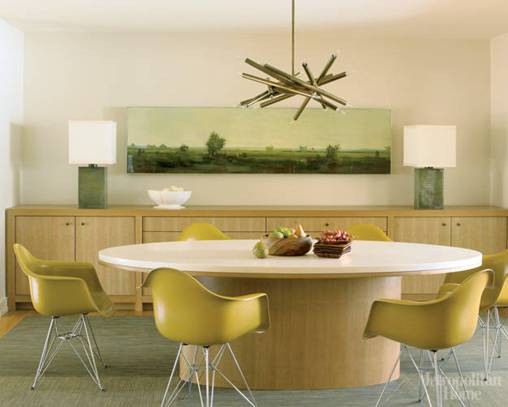 Photographer: Jeremy Samuelson
NEUTRAL PALETTE
A vintage 1950s brass chandelier by Gino Sarfatti for Arteluce hangs over a custom Barbara Barry oval breakfast table with an eggshell Corian top that matches the kitchen counters; fiberglass chairs by Charles Eames are from Modernica (art is by Peter Hoffer).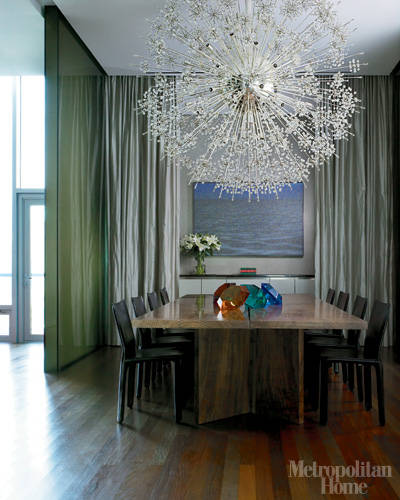 Photographer: Nathan Kirkman
DINING GEM
The dining room's floor-to-ceiling drapes add warmth and drama and can close off the space from the den. Designer Ana Borrallo hung a 1960s chandelier above a wall of bronzed glass and a painting by David Klaman.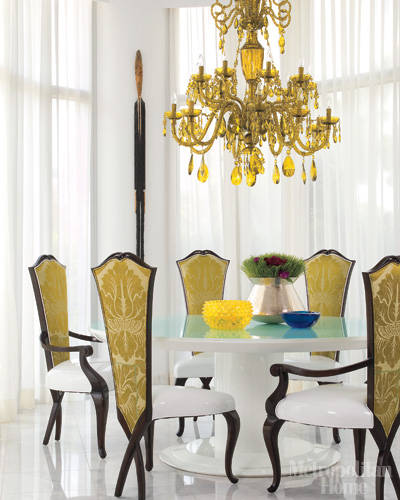 Photographer: Francois Halard
RAZZLE-DAZZLE
Designer Larry Laslo made some unusual choices in this Miami Beach escape pad. The Christopher Guy dining chairs, with signature Chris-X legs are upholstered in antique brocade and white patent leather. The Rohan table is Moura Starr, the chandelier from NIBA Home; the painting is by Tom Mullaney.
Photographer: Ken Hayden
SHAPES ABOUND
In Kelly Wearstler's beach house, vintage bucket chairs surround a table that is grand but simple: a slab of stone balanced on a stout pedestal. The art above the sideboard, a custom piece by Wearstler, is from the Pegaso Gallery in Los Angeles. Appropriately enough, the splayed copper branches of a 1960s French chandelier suggest a clump of seaweed.
Source from ElleDecor
The 49th Jinhan Fair
Jinhan Fair Online Exhibition