Concurrent Seminars: Seizing 2014's Leading Trends and the Latest Oversea Markets' Opportunities
2013.10.24
---
Receiving participation from nearly 200 exhibitors, the 28th Jinhan Fair's two concurrent seminars were successfully held on Oct 23rd and 24th 2013. Enterprise visitors and buyers shared their experiences of the changing market and asked the speakers questions actively.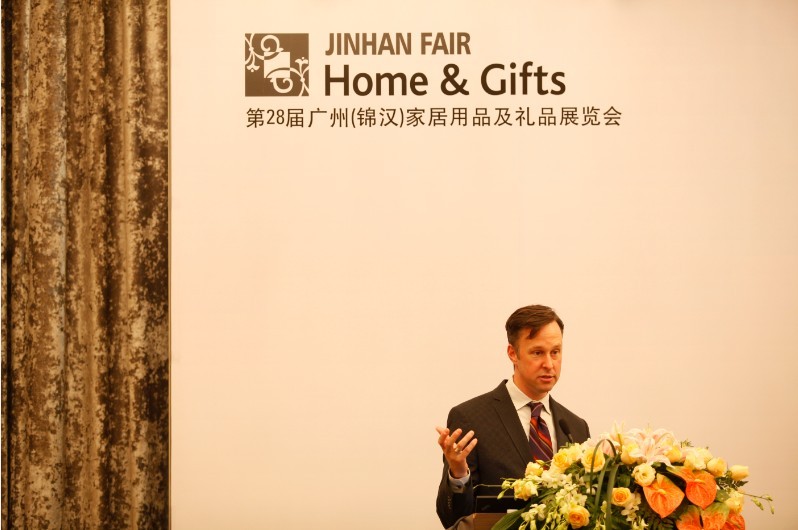 WGSN's global strategy director Greg Dunlop gave a speech on Fast Forward: A Future-View of Interior Trends disclosing the coming season's three macro trends: industrial evolution, modern myth, and rendering reality. He explained the key characteristics of colors, shapes, and materials in the three macro trends, pointed out the new influences brought by folklores, multi-cultures, and manufacturing industry entering the digital and virtual world, and depicted the dawn of the new machine era for the audience when talking about 3D printing.
The second seminar on Global Trends and Requirements on Chinese Suppliers was given by Daymon Worldwide's director in China, Mr. Danny Chen. Consumption behaviors and needs in oversea markets are changing. Jinhan Fair's regular visitors, retail giants Michaels, Target, Costco, The Home Depot etc., are focusing more on branding, and showing their strategic interests in e-business, social media, and customized service. To win in the fierce competition, suppliers have to establish their comprehensive advantages by combining their design levels, integration abilities, and reaction speeds.
Jinhan Fair will continue to provide valuable market information and trends, and build a one-stop home and gifts export trading platform for exhibitors and buyers.
The 49th Jinhan Fair
Jinhan Fair Online Exhibition