Home a hit for Target in U.S. and Canada
2013.09.23
---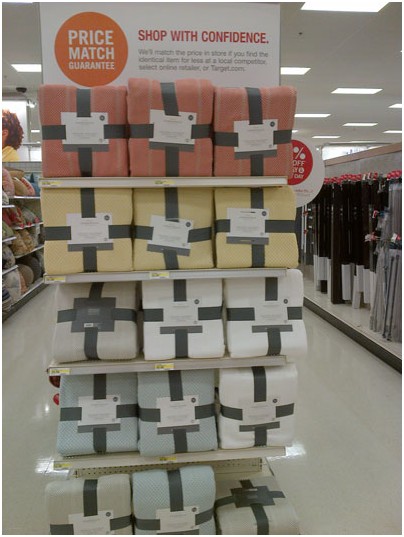 Minneapolis - Domestics fueled Target's overall home business, which in turn helped drive the company's modest sales and comp increases during an otherwise difficult second quarter.
Less discretionary categories like consumables grew somewhat faster than the company average over the three-month period, but so did home.
"We are seeing [shoppers] buying Threshold. They want this better product versus opening price point [home] products," said Kathy Tesija, evp of merchandising.
At its fledgling operation in Canada, where Target so far has opened 68 units and is set to grow to 124 stores by yearend, home was also a bright spot. But here consumable sales were disappointing as consumers focused on discretionary fashion categories, including apparel.
"In Canada we are very pleased with the strong [customer] response to our home and apparel categories, and traffic has been higher than expected," said Gregg Steinhafel, chairman, president, and ceo. "Now we need to turn the gas on food [and other consumables], where sales were slower than expected. We're working on several strategies to get the word out about our low prices in those areas."
The combination of the retailer's investments in Canada and slower spending by U.S. shoppers hit Target's bottom line during the quarter. Net earnings dove 13.2% to $611 million, or 95 cents per share.
Sales in the U.S. segment increased 2.4% to $16.8 billion, with comps up 1.2%.
In Canada, Target generated sales of $275 million. Its Canadian operation reduced the company's earnings per share by 21 cents in the quarter.
Traffic was another sore spot in the quarter, as the chain noticed its shoppers across the board were consolidating their trips to the store "a lot," Tesija noted.
"But by basket, we found they are buying more units and trading up to higher price point products," like the Threshold-branded items in home, she noted.
"So going forward, we are working to drive traffic by making sure that, as [shoppers] consolidate their shopping trips, our value is rock solid...that we offer innovative product [with new designers and brands]...and we have a lot of new stuff coming in seasonal, so that's key," Tesija said.
Digital advancements, with new apps and capabilities, is a priority going into the fall in preparation of the fourth quarter season. The company is also testing and expanding regionally new baby registry and baby goods product offerings and services to better cater to expectant parents, and making similar efforts to further develop its growing beauty business with enhanced customer service.
Year to date, net earnings fell 20.8% to $1.11 billion, or $1.72 per share. Sales rose 2.5% to $33.8 billion.
For the balance of this year, Target's U.S. outlook "envisions continued cautious spending by consumers in the face of ongoing household budget pressures," Steinhafel warned. "In Canada, where we are only five months into our market launch, we continue to learn, adjust and refine operations in our existing stores as we prepare to open another 56 stores by year-end."
For full-year 2013, Target now expects adjusted EPS will be near the low end of its previous guidance of $4.70 to $4.90.
The 47th Jinhan Fair
Jinhan Fair Online Exhibition