New Look Unfolds the Brand Upgrade – the 28thJinhan Fair Is Officially Launched
2013.06.06
---
The 28th Jinhan Fair for Home & Gifts (Jinhan Fair for short) will be held on Oct. 21st to 27th, 2013 in Poly World Trade Center Expo, Guangzhou China. It is estimated to cover an area of 81,000 square meters, bring together 700 leading enterprises in the industry, and have more than 50,000 visitors from nearly 160 countries and regions.The fair is undoubtedly the best home and gifts export trading platform in China.
Subscription Exceeds 70%
70% of the exhibition area was subscribed shortly after the initiation of the fair. Large booths were favored by famous leading enterprises, such as Fujian MinhouMinxing, Shenzhen D'Sily, Shanghai Sincere, Hong Kong Qooltango, Zhengzhou Homepaint, Hangzhou Light Industrial Products, etc.
Autumn is the peak season to purchase festival gifts and seasonal decorations. The fair will exhibit tens of thousands of stylish new products, show diversified and competitive products in 6 series, including home decorations, festival gifts and gardening products etc. The area of Galleria will be expanded to exhibit products from more ceramics and glass suppliers from provinces like Guangdong and Shandong.
Brand New Internationalized Fair Image
Considering the seasonal purchase pattern of the international home and gifts industry, the fair will use a color more suitable for autumn and winter, red, as the theme color, instead of the traditional green tone, which stands for spring. The 28thJinhan Fair with its brand new look will provide all-around trading and purchasing service on & off line for customers from all over the world.
Leading experts from global trend research organizations will be at the fair to forecast the 2014-2015 international home and interior trends, helping the exhibitors to get a head start in new product development. Delegates of world-renowned home and gift trading corporations will also attend the fair and share their export experience with exhibitors on site.
The 28th Jinhan Fair will once again unveil itself as the world renowned one-stop home and gift purchasing platform; promote the export development and transformation of China's home and gift industry.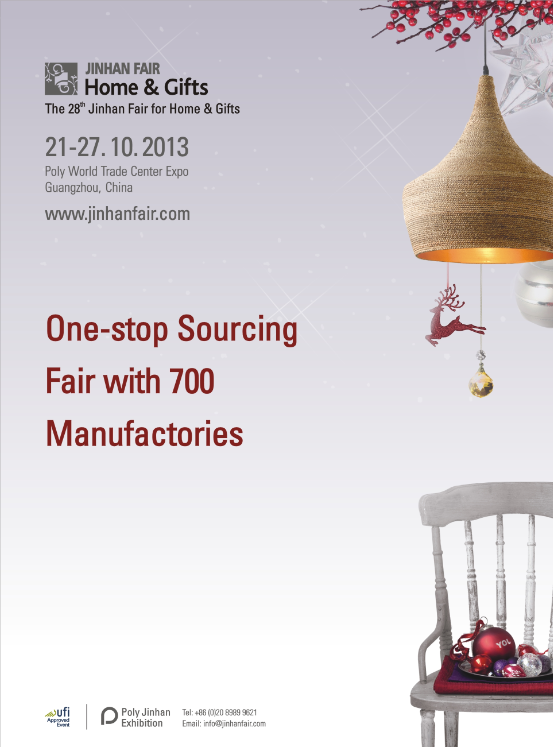 The 49th Jinhan Fair
Jinhan Fair Online Exhibition