Falper debuts new catalog finishes and colours
2022.06.02
---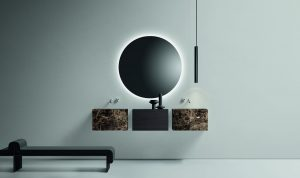 Falper recently introduced two new catalogs, one dedicated to furniture and the other to accessories, Falper – a leader in the bath furnishing sector –significantly expands its range of available finishes and colours.
To offer the utmost freedom of customisation, the brand has decided to expand the range of available colours in the catalogue: from neutral tones to more distinctive shades, the new finishes inspire creativity.
In the spirit of innovation and sustainability that has always been characteristic of the company, the new colour palette includes new formulations derived from the automobile sector, obtained through a process that meets UNI-EN 14688:2018 standards for thermal shock, scratch-resistance and resistance to chemical substances.
Among the 2022 new additions, glass tops are available in satin or polished versions, with a range of colour options, increasing the range of variations: from light tones like White and Gravel, to dark Graphite and Exclusive Grey, to brighter nuances like Jaipur Red and Curry yellow.
Much attention has been dedicated to marble as well, a material that makes a strong impact and lends itself to statement bathrooms distinguished by elegant, minimalist lines: Carrara, Saint Denis Green, Saint Laurent grey and Calacatta Goldare just a few of the new marbles now in the catalogue.
Moreover, all Falper catalog products made of Cristal plant Bio Active come in classic white and in a new range of sophisticated colours, like Cookie and Terracotta.
Living Bathroom is the concept that underpins the Falper philosophy. The idea of the bathroom as a sort of imaginary extension of the living interior. A space which, just like the rest of the home, reflects a character, ambitions, tastes.
The 49th Jinhan Fair
Jinhan Fair Online Exhibition