Nordstrom promises momentum in 2022 after steady holiday quarter
2022.03.11
---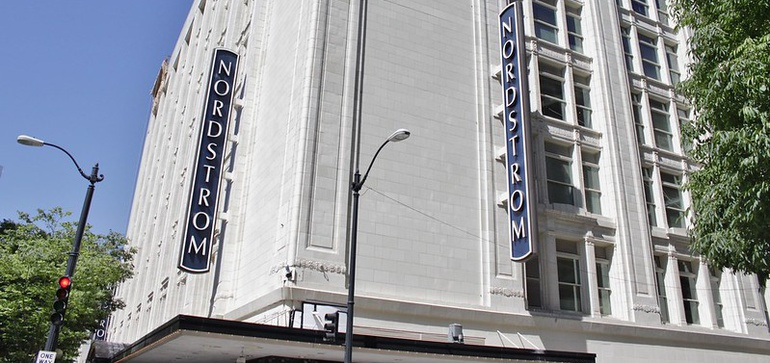 Dive Brief:

Nordstrom on Tuesday released an upbeat fourth quarter report, including month-over-month improvement at its stumbling off-price Rack business. Net sales rose 23% year over year. Compared to 2019 net sales fell 1%, with full-price Nordstrom sales flat and Rack sales down 5%, per a company press release.
Net income rose 506% year over year to $200 million. Gross profit as a percentage of net sales expanded by 500 basis points year over year and 340 basis points from 2019 to 38%, "due to improved merchandise margins from reduced markdowns" and lower buying and occupancy costs, the company said.
Nordstrom also announced the "Nordstrom Media Network," a program piloted last year allowing brands to advertise on its Nordstrom and Rack websites. A spokesperson didn't immediately respond to questions about whether the "personalized recommendations and experiences" are presented to customers as sponsored ads or Nordstrom content.
Dive Insight:

Nordstrom beat most expectations for its fourth quarter, and now the department store must prove itself in 2022.
The retailer's outlook for this year also beat many analysts' estimates, with anticipations that revenue (including from its store credit card) will grow 5% to 7% year over year and EBIT margin will reach 5.6% to 6% of sales.
UBS analysts led by Jay Sole were skeptical, though. "We think this will be hard for [Nordstrom] to achieve since it likely faces macro headwinds, a much more promotional environment, and major cost inflation pressure in FY22," they said in emailed comments.
While Nordstrom's effort to attract more price-driven shoppers to its off-price business has backfired and is now being unwound, other aspects of the strategy announced a year ago are paying off. For example, the retailer said Wednesday that it launched more than 300 new brands during 2021, and that new vendor models at the full-price business accounted for 10% of its gross merchandise value, up 7% from 2019.
"We believe we have a meaningful opportunity to improve both the customer experience and our financial outcomes through our efforts around merchandising and inventory flow," Chief Brand Officer Pete Nordstrom said during a conference call with analysts, noting a 235-basis point merchandise margin lift since 2019 and success "optimizing the pace and depth of markdowns" at the holidays.
The widening assortment at Nordstrom is also a sign that brands are realizing the value of the wholesale channel, according to BMO Capital Markets Managing Director Simeon Siegel. But he also warned that the pressure is on to make good on the full-year guidance.
"We commend [Nordstrom] for ending the year much stronger than it started, but we remain sidelined absent greater visibility/reduced volatility before we can determine whether the ... guide will prove [to be a] new base, one-time achievement or missed target," Siegel said in a Wednesday research note.
CEO Erik Nordstrom on Wednesday addressed the missteps at Rack and said that improvements there will continue this year. In the fourth quarter the company brought in more premium brands in order to better meet those customers' expectations and is boosting marketing efforts "to strengthen Rack's brand awareness and drive traffic," he also said. "To be clear, we are confident in our ability to profitably grow our Rack business and won't be satisfied until we do."
While Rack has already improved compared to its own past performance, it still lags behind its major off-price rivals, however. GlobalData Managing Director Neil Saunders warned that some customers who have encountered the disappointing assortment at Rack may not return — an especially thorny problem for an off-price player, which depends on frequent visits.
"Given how strongly the rest of off-price has grown on a two-year stack, this is not a very good result and demonstrates the division's underperformance," he said in emailed comments Tuesday. "In our view, very little has changed at Rack over the past quarter. The assortment is still extremely lackluster with far too few gems and far too much dross."
The 47th Jinhan Fair
Jinhan Fair Online Exhibition