HDsurface coverings combine nature and urban design
2022.03.09
---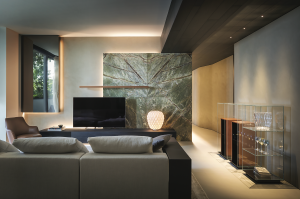 HDsurface's innovative, striking coverings have been chosen to enrich and decorate a contemporary interior design project for a private home in the heart of Milan, in the Bosco Verticale building complex.
The iconic "vertical forest" building, which aims to achieve harmony between indoors and outdoors, nature and urban design, symbolises masterly selection of materials, and HDsurface products fit perfectly into this stylistic strategy.
The private home, designed by architect Egidio Panzera, establishes a dialogue between architecture and design, blending different materials and creating interior-exterior reflections. The large windows allow light to flood into this home tailored like a couture garment, giving it dynamism and beauty and generating visual effects in which the surfaces themselves come to life.
The HDsurface coverings finish not only the floors but also the walls and furnishing accessories, specially created in custom-made colours.
PerfectCombination, with its distinctive dappled effect and interplays of light and shade, covers all the floorings. Synergising cement and resin, Perfect Combination is a water-based coloured mortar covering emblematic of HDsurface's unique ability to expand the potentials of continuous surfaces, with constant evolution in both looks and technologies. A decorative system that combines the naturalness and spontaneity of cement with the durability, elasticity and water resistance of resin, enabling the utmost design versatility.
The vertical surfaces, on the other hand, are adorned with CementoWabi: in line with the ideals of the Japanese theory of aesthetics, CementoWabi, consisting of cement and white Carrara marble, emphasises the beauty of imperfection. Its characteristics are those of any natural element: flaws, irregularities, changes and evolutions over time give CementoWabi a life of its own, enabling it to dialogue with people and space. CementoWabi is a product conceived for design schemes focused on the language of matter, defining spaces through the expressive power of cement. It has therefore also been used to cover the kitchen furniture in an exclusive custom-made colour.
The 47th Jinhan Fair
Jinhan Fair Online Exhibition