50+ BEDROOM IDEAS THAT ARE THE VERY DEFINITION OF BEAUTY SLEEP
2022.03.03
---
At first thought, a bedroom should be designed with a good night's sleep and relaxation in mind. As a result, you stock up on all the soothing essentials: a neutral color palette, some pretty throw pillows, and an exceptionally cozy comforter. But with a little bit of creativity and strategic thinking, your bedroom can be soothing and speak to your personal aesthetic. After all, your bedroom is one of the more private areas of the home, so it should be designed with your taste in mind.
To help, we've scoured the ELLE DECOR archives for the very best bedroom ideas to bring into your space. Between eye-catching layouts, bold schemes, and unexpected textures, these standout spaces are proof that there's more than one way to decorate your personal quarters. The list here runs the gamut from an opulent oasis in Spain to a cool-and-contemporary mother-daughter home in Canada, so it's safe to say there's bound to be something to satisfy everyone's design eye. Sweet dreams!
1
CHIC CANOPY
kevin dumais upper west side apt
Joshua McHugh
Between the Isamu Noguchi pendant, Crump and Kwash nightstand, and custom four-post bed, this Upper West Side, New York City, apartment by Kevin Dumais is equal parts daring and dreamy.
2
A BUILT-IN BED
dorothy berwin house tour
Douglas Friedman
For a bedroom idea that can do double duty, take a look at the charming built-in Dorothy Berwin incorporated in this Manhattan apartment. Storage and sleep? Consider us sold.
3
LUXE LEATHER
primary bedroom
Helenio Barbetta/Living Inside
Contrary to popular belief, a bedroom is actually a wonderful place to incorporate some tougher fabrics. In this Milan apartment, Hannes Peer paired a custom, leather-upholstered frame with bedding from Once Milano and a vintage Gaetano Sciolari lamp.
4
COLOR ME HAPPY
primary bedroom
Pierrick Verny
Designer Marie-Lise Féry packed on the vibrant hues in this French boudoir. From the smattering of Pierre Frey fabrics, to a Moustache bench, to the lamp by Magic Circus Éditions, this space offers plenty to smile about.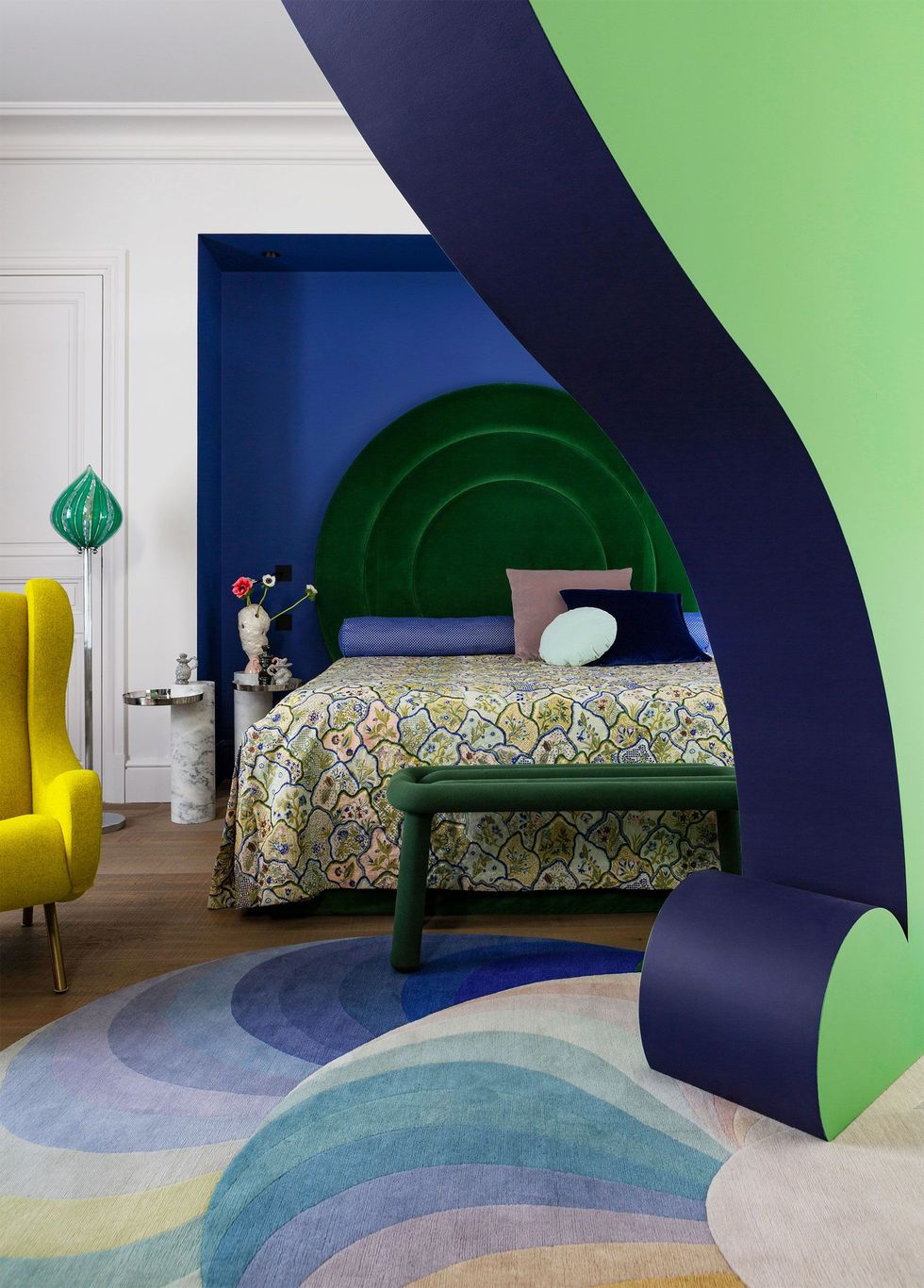 5
BLUE CRUSH
guest bedroom
Mikhail Loskutov
Want to focus on one hue? Take a page out of this St. Petersburg-based bedroom, which designer Tim Veresnovsky dressed in a bright blue rug, corresponding custom pendants, and a chandelier by Stilnovo.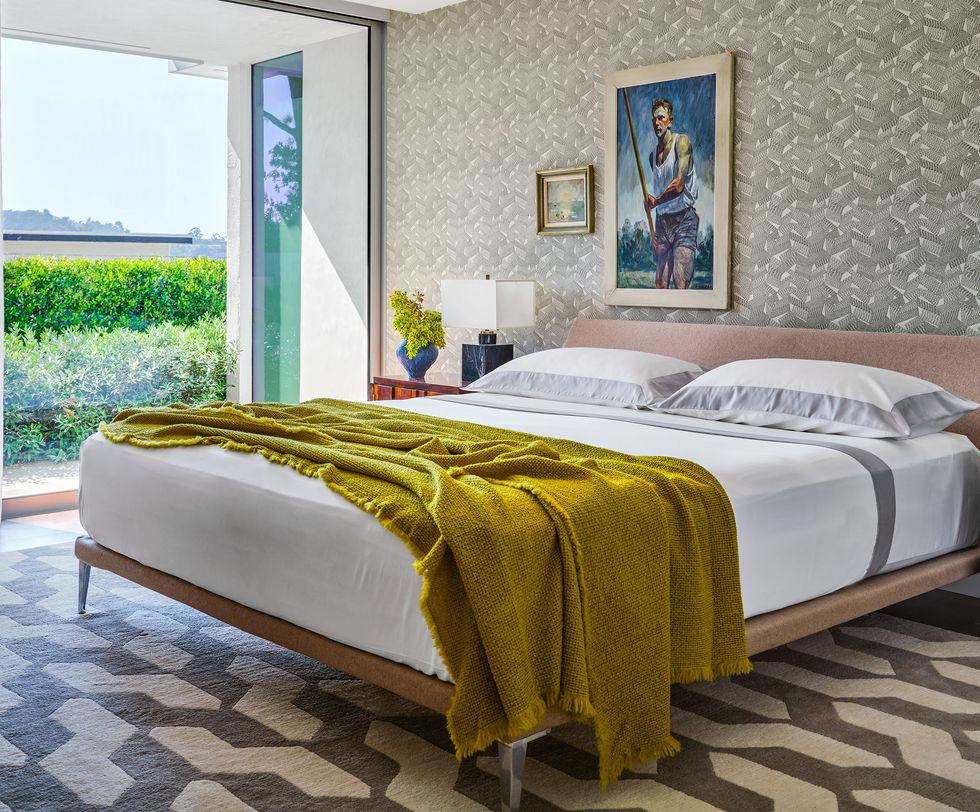 6
In this Beverly Hills abode, which was once owned by the late Alex Trebek, designer Luis Fernandez offset a geometric carpet from the Rug Company with an equally zesty wallcovering from Pierre Frey. Since both features have a similar color palette, this combination is eye-catching, not over-the-top. Rounding out the look is a citrine blanket that offers the perfect pop of color.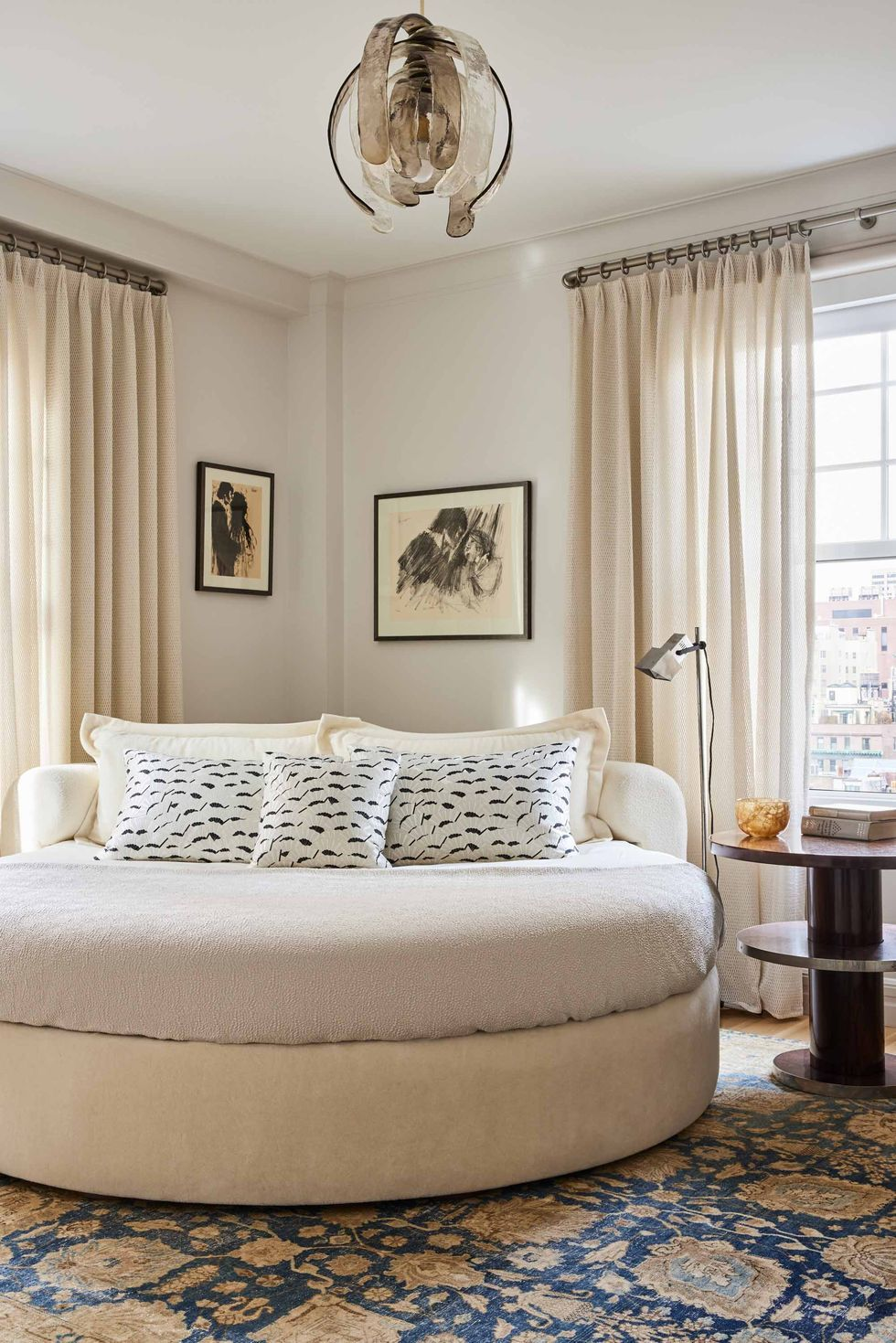 8
DREAM COLLECTION
When it comes to decorating a bedroom, it doesn't get more personal than filling it with your favorite artwork. In this Belgian bedroom, the walls are flanked with artwork by Tracey Emin, Francis Alÿs, Raymond Pettibon, Robert Longon, Michaël Borremans, Willem Cole, Wolfgang Laib, and Tom Molloy.
9
CURTAIN CALL
remy renzullo elle decor
Isabel Parra
This bedroom, located inside a Hamptons home designed by designer Remy Renzullo, takes its pattern-happy cues from decorating greats of yore (think Billy Baldwin and Sister Parish). Here in a guest room, the dramatic bed canopy, side table skirt, and walls are all covered in a charming Pierre Frey fabric.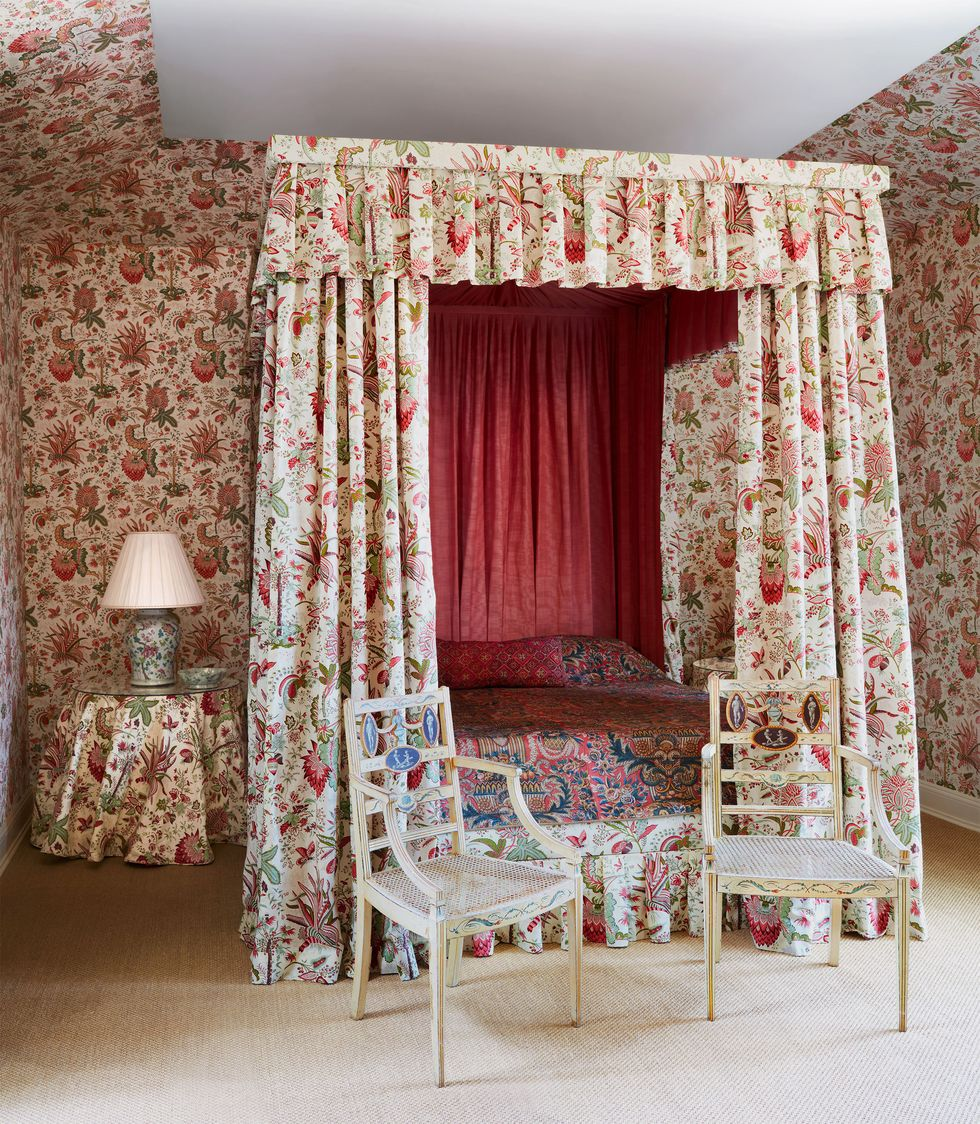 10
FANCY FLOORS
bedroom with white cover with muted color stripes next to the bed is a round three tier night stand in wood and beyond are seen the green vertical tiles from the back of the bathroom wall
Kris Tamburello
If you want to give your bedroom floor-to-ceiling appeal, take a note from this Boca Raton retreat that Fawn Galli designed. Here, she accessorized the custom terrazzo floor with a rug by Chused & Co, an RH, Restoration Hardware bed frame, and artwork from Laurie Simmons.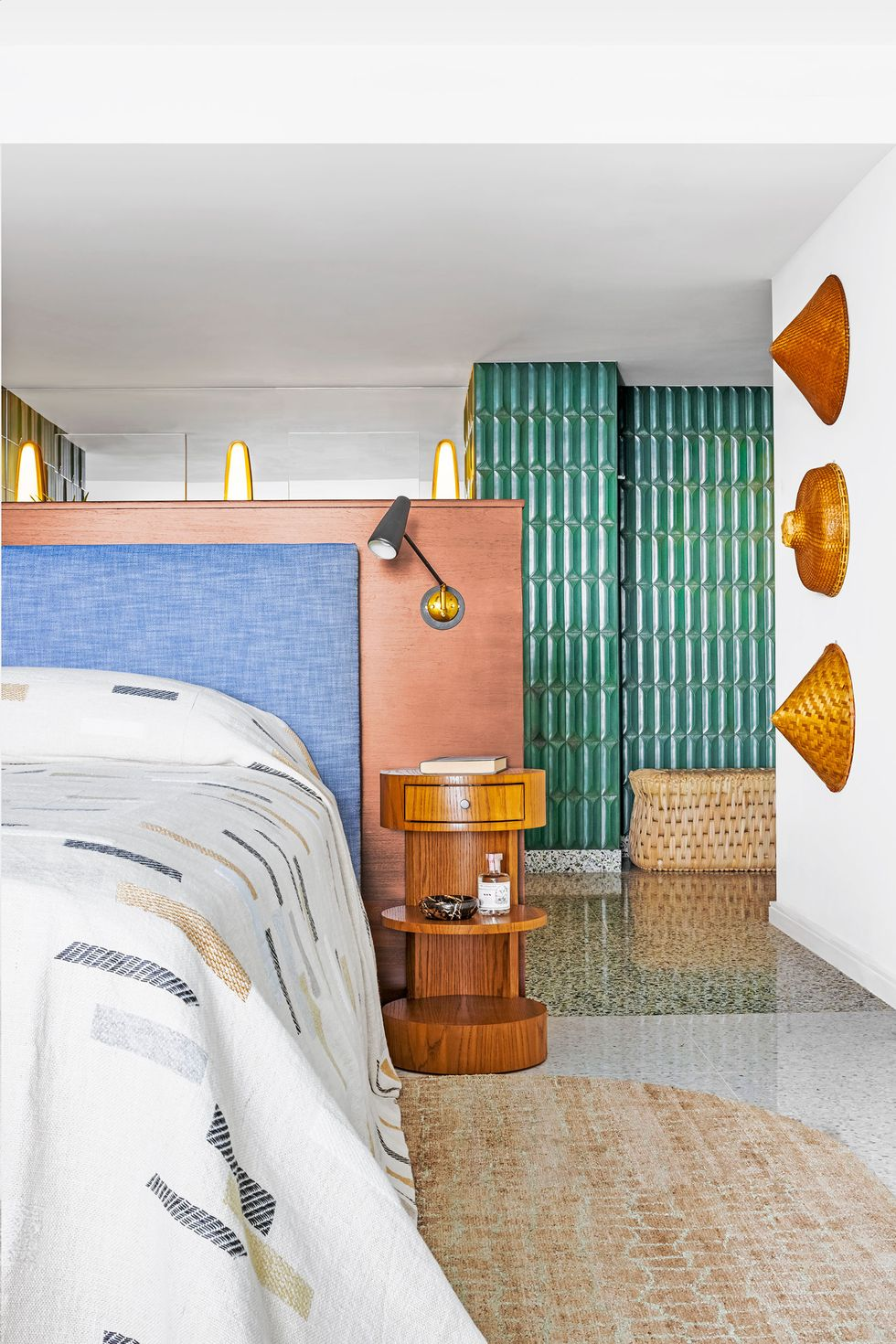 11
THE ROYAL TREATMENT
Turn your bedroom into your personal throne with classic, opulent touches. Designer Lorenzo Castillo covered this Menorca, Spain–based room with an Art Deco sofa, a Maison Jansen bench from Isabel Martínez, and engravings that date back to 18th-century Spain and France.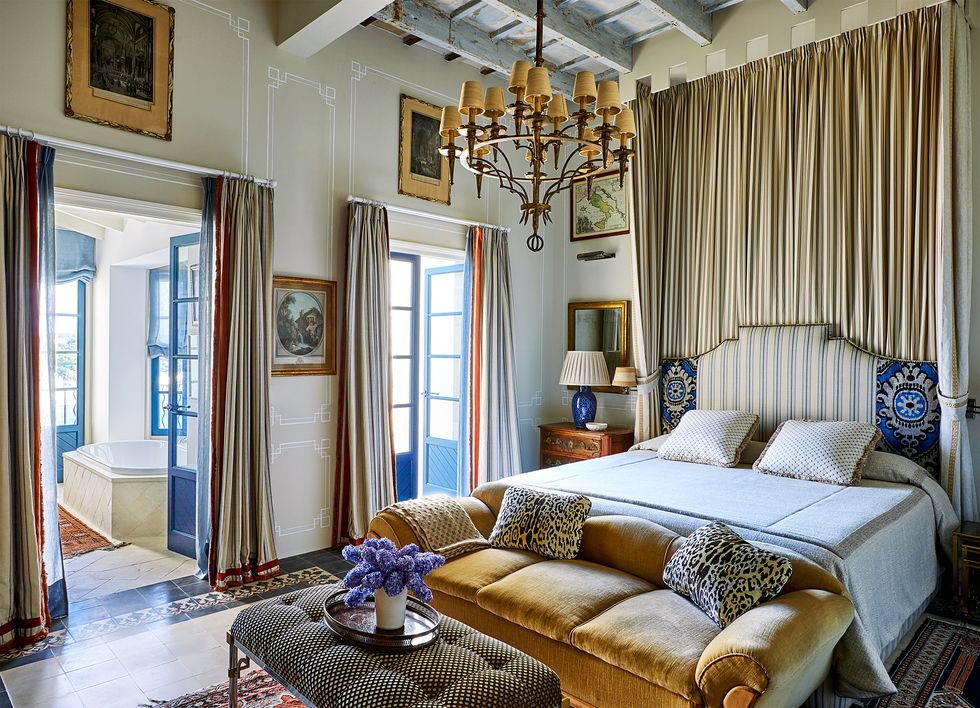 12
BOLD BEDROOM
Statement-seeking dwellers will find a lot to love about this moody space from Canadian firm PlaidFox. Not only does the geometric bed frame pop—yes, even in a monochromatic room—but it's also made with three types of Kravet velvet, upping its cozy factor in the process.
13
GRAVITY-DEFYING DESIG
As this East Hampton, New York, bedroom proves, the only way to go is up. Designer Tim Godbold accentuated the space's high ceilings by adding artwork from Malcolm Hill and a shape-shifting light fixture, courtesy of Ted Abramczyk for Ralph Pucci.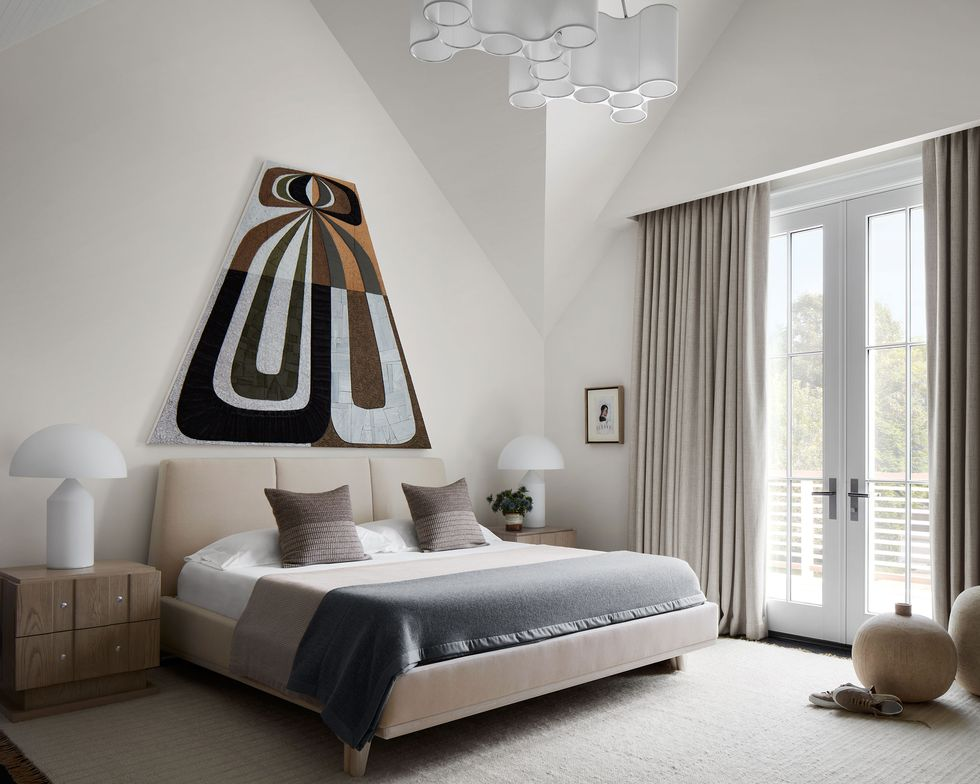 14
COZY CORNER
A bedroom is your personal oasis, so why not create a nook where you can curl up after a long day? In this upstate New York farmhouse, Shawn Henderson doubles down on the cozy factor with a moody color scheme and a wingback chair in an Edelman Leather suede.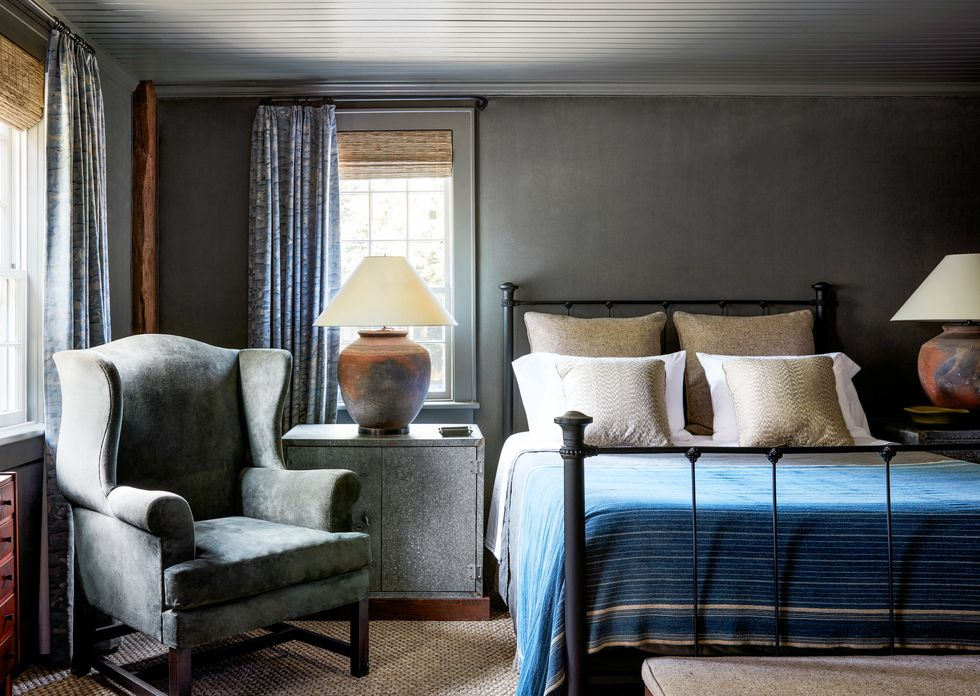 15
WONDER WALL
Daun Curry deftly bridges the gap between subtle and "statement" in this Sag Harbor, New York, home. The cheery artwork and psychedelic mural offsets the room's otherwise neutral color palette.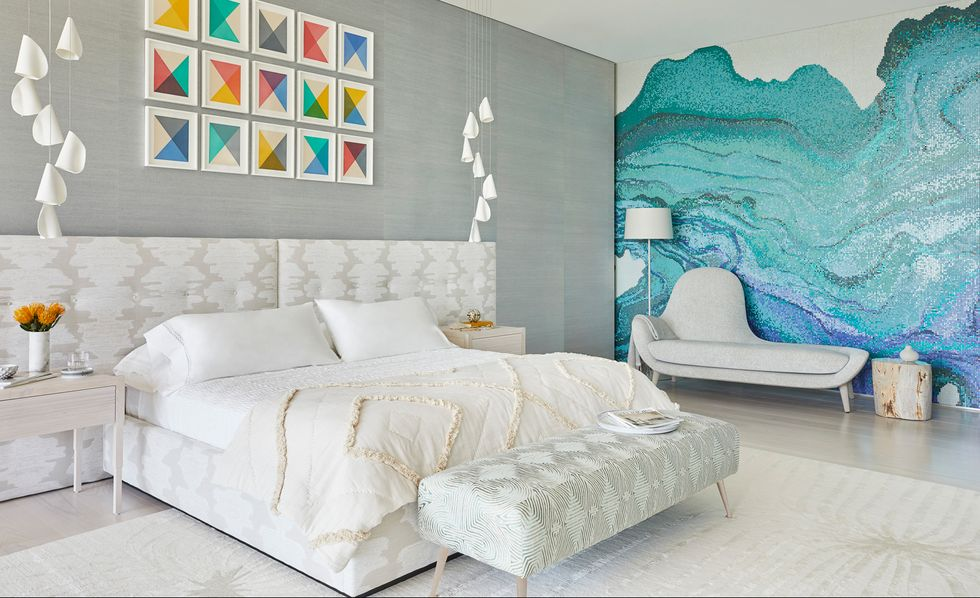 16
PARED-BACK PILLOWS
If you're looking to break up a handful of patterns, cover your bed with crisp pillowcases. In her London home and studio, textile designer Nathalie Farman-Farma created some breathing room with a sweet scalloped set.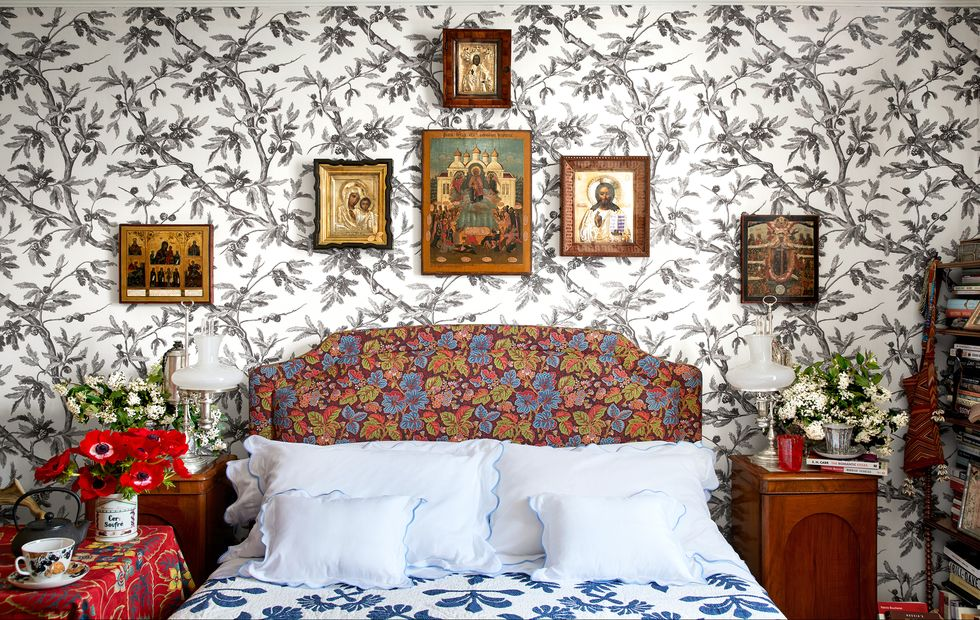 17
TEXTURED TREATMENT
michael k chen bedroom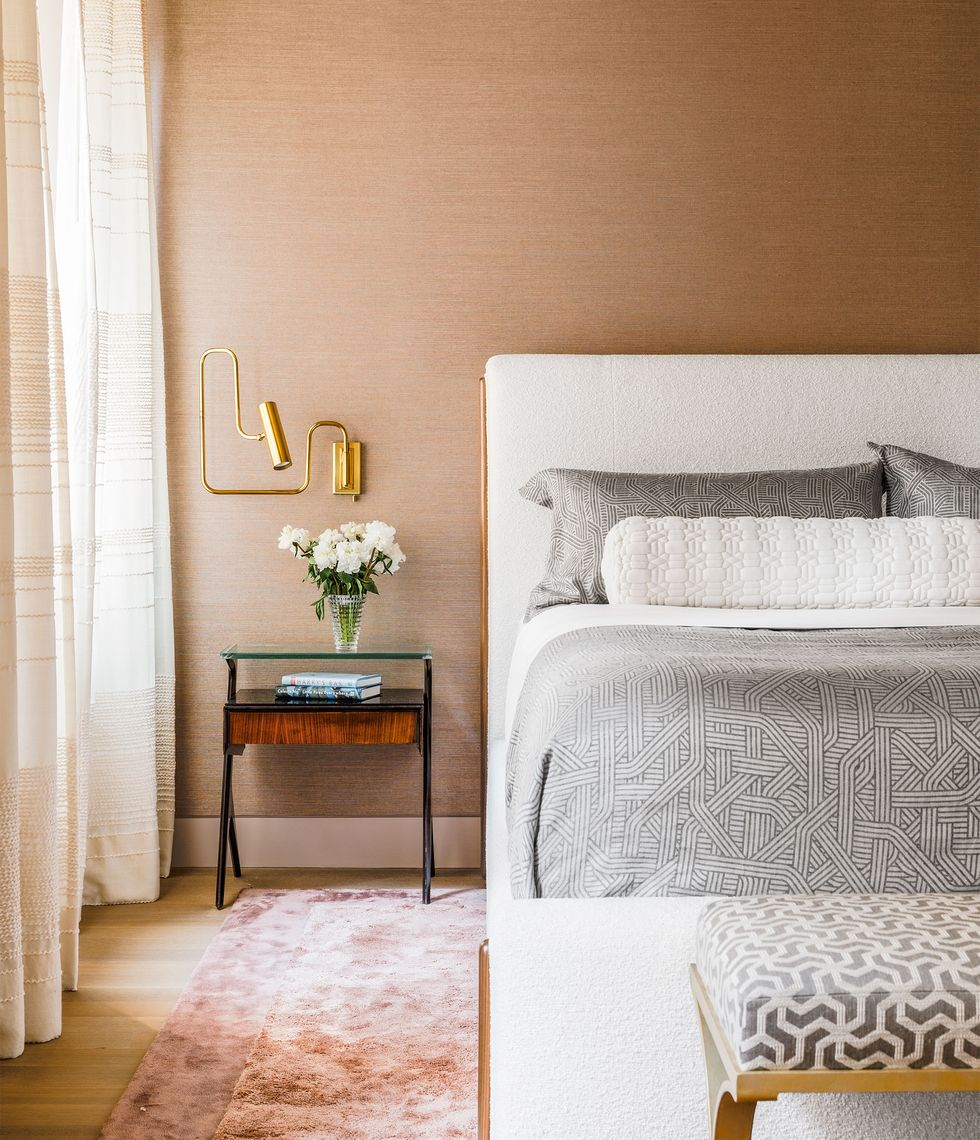 Consider this apartment in Manhattan's Carnegie Hill neighborhood, designed by architect Michael K. Chen, a master class in textures. Instead of a wooden or metal bed frame, this bed is upholstered in Jiun Ho fabric.
18
STYLISH SYMMETRY
marie flanigan house tour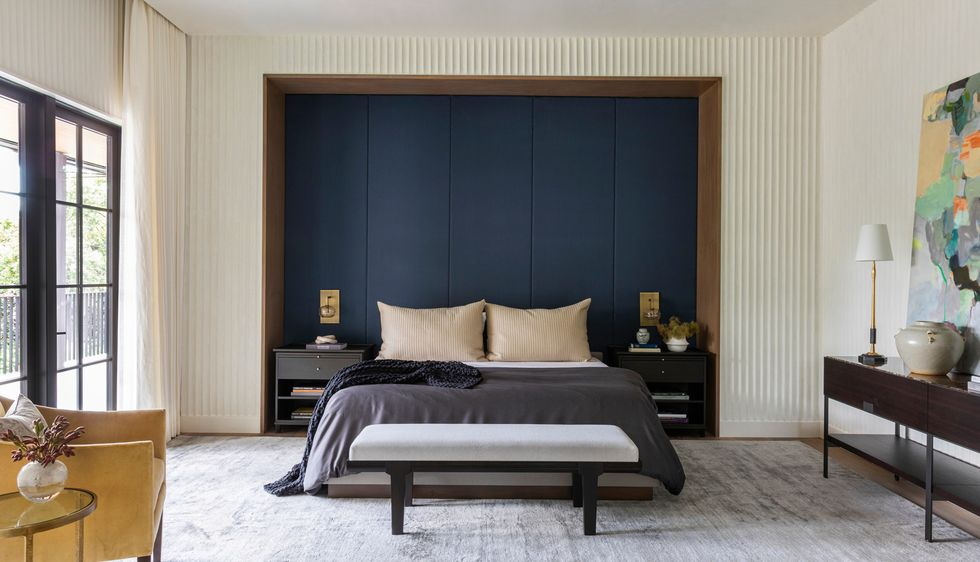 Symmetry is a surefire way to give your bedroom a serene flair. In this Houston family home designed by Marie Flanigan, plaster walls from Segreto Finishes are paired with matching sconces and nightstands by Jiun Ho.
19
LET THERE BE LIGHT
isabel lopez quesada madrid apartment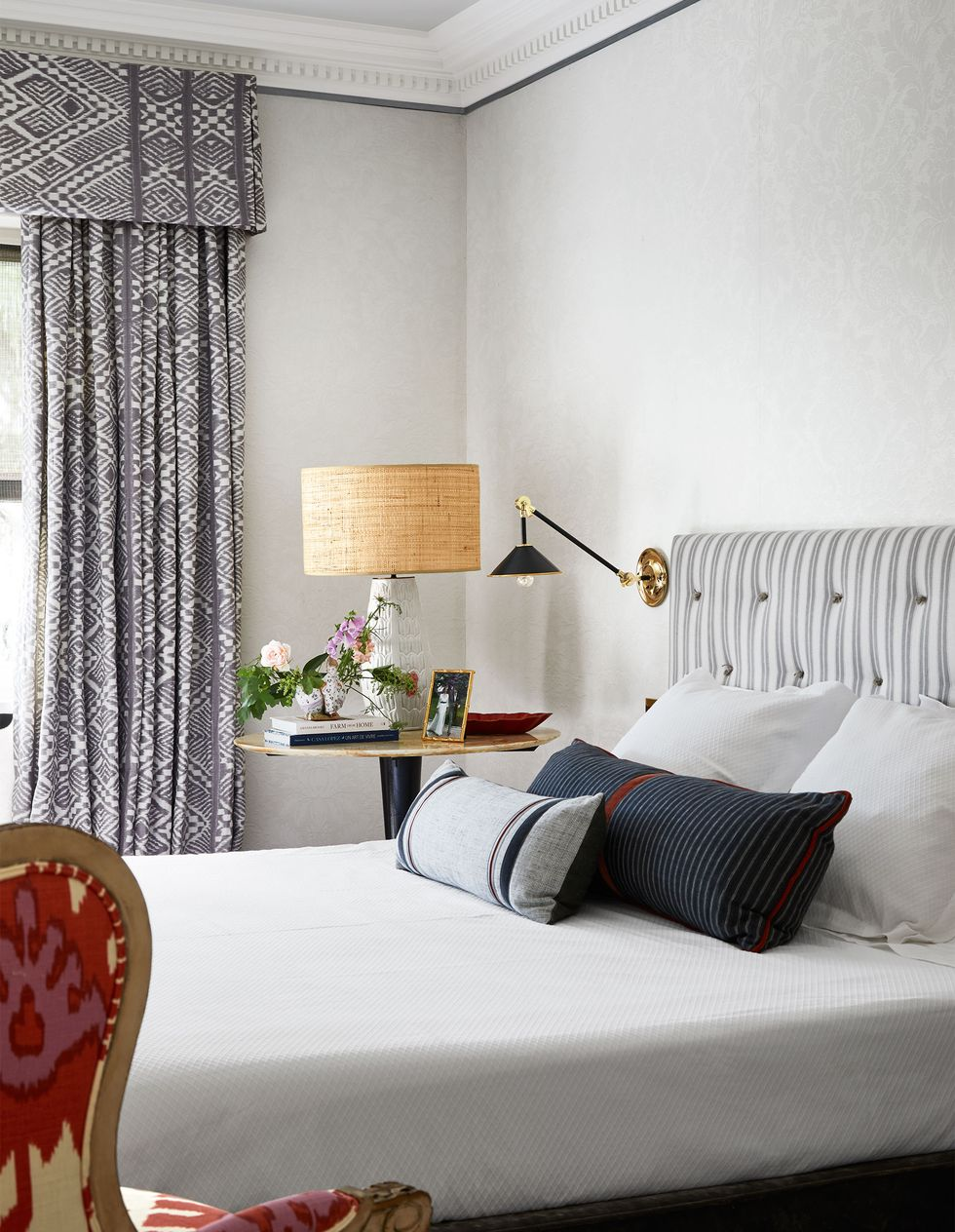 Want to make your bedroom feel like a five-star hotel? Add a convenient—and stylish—reading light, just as Isabel López-Quesada did in this Madrid apartment once owned by Ava Gardner.
20
A SHOWSTOPPING HEADBOARD
emiliano salci apartment in milan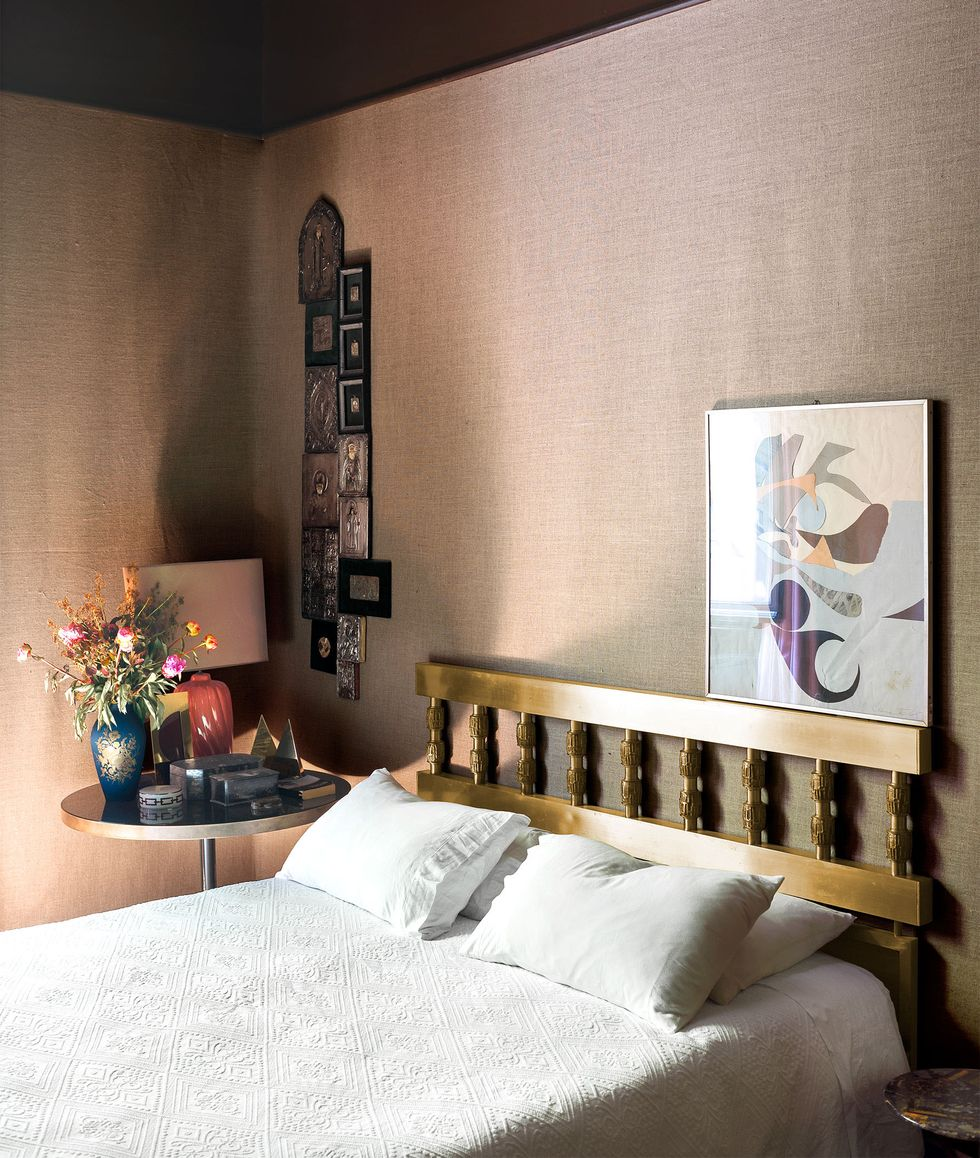 For a low-maintenance way to make a statement, consider adding a unique headboard to your bedroom. Emiliano Salci of Dimorestudio masters the look in his Milan apartment with this Luciano Frigerio bed.

21
A PERSONAL TOUCH
mumbai apartment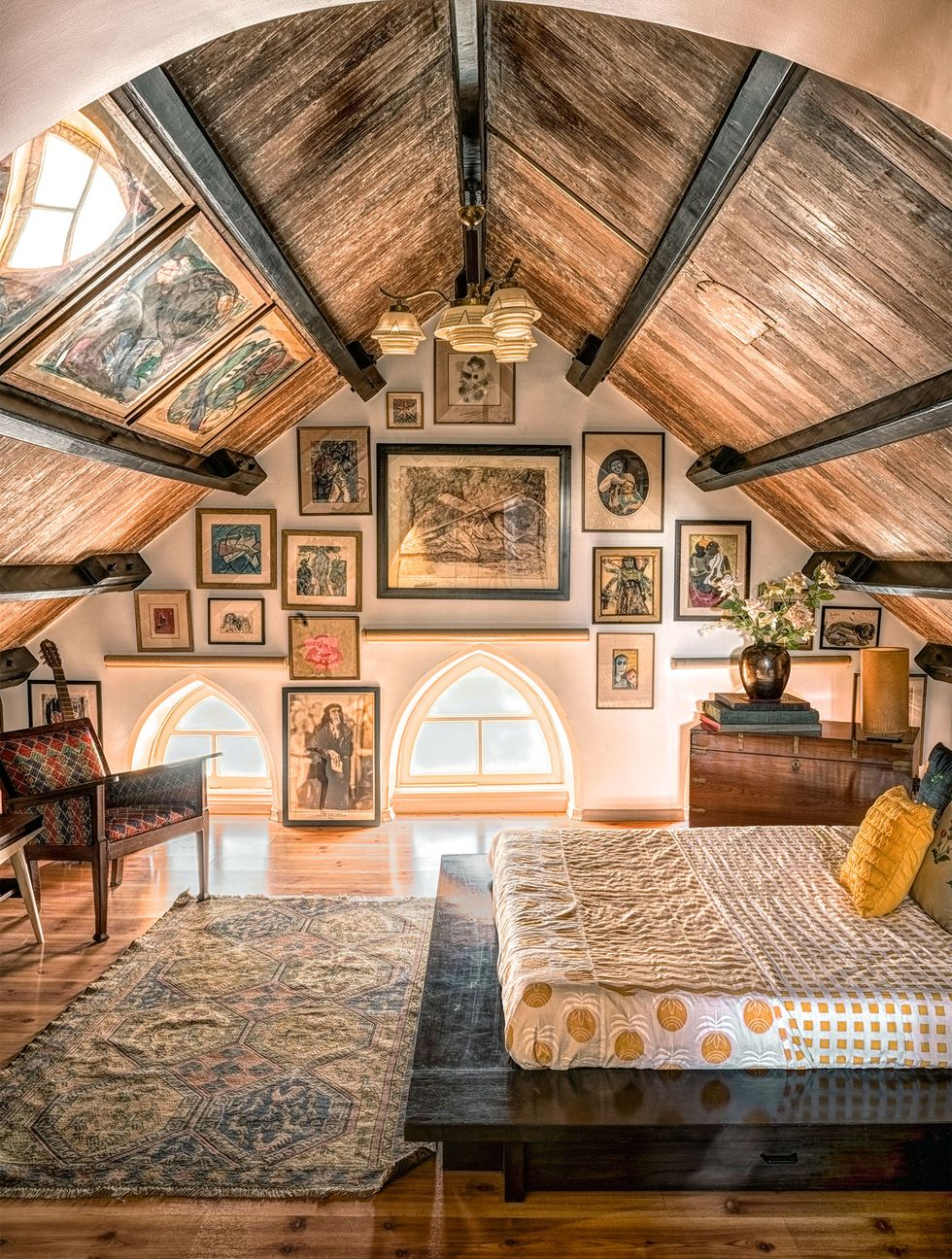 From the gallery wall of illustrations to the printed quilt that adorns the bed, Srila Chatterjee and Mahesh Mathai's Mumbai bedroom has no shortage of personality.

22
FLOOR-TO-CEILING CREATIVITY
michael s smith beverly hills house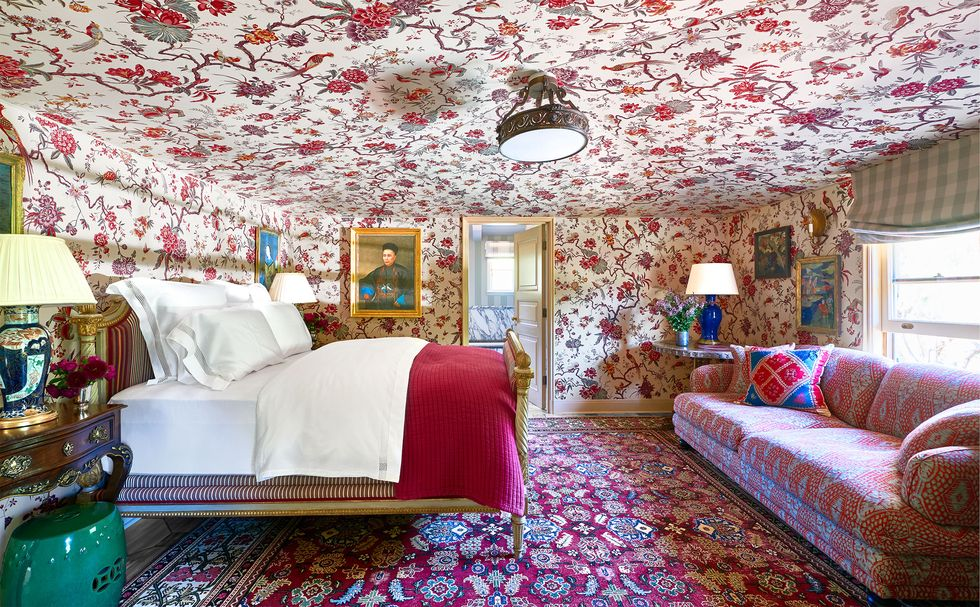 Designer Michael S. Smith took his style to new heights—literally—by covering this Beverly Hills bedroom's walls and ceiling in a whimsical fabric by Cowtan & Tout. While this idea may not be for design wallflowers, it's poised to make a major statement.
23
PATTERN PLAY
sheila bridges upstate ny home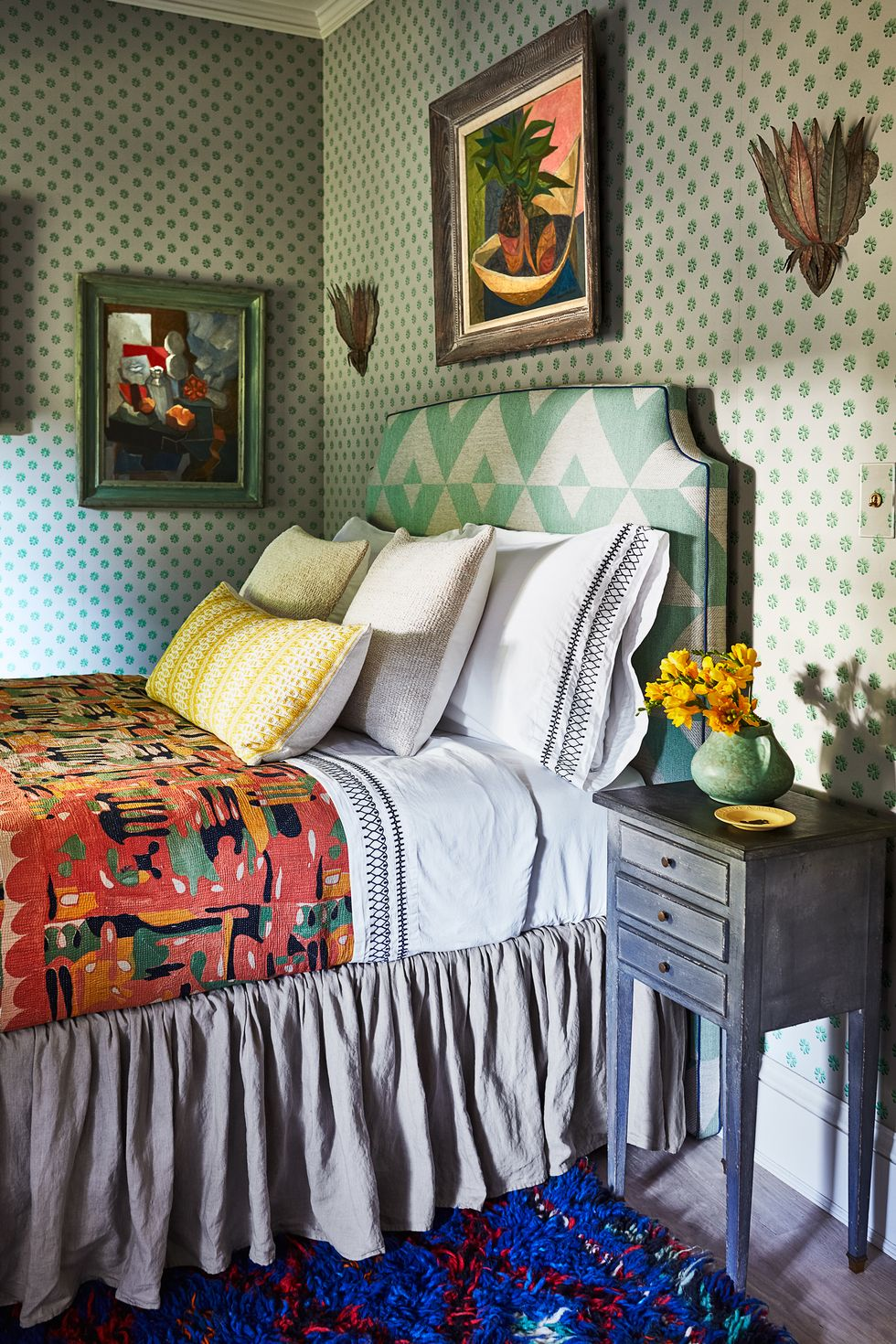 Why settle for one pattern when you can have three or four? In her Hudson Valley, New York, home, Sheila Bridges embraced her bold eye for design with a headboard upholstered in a Gastón y Daniela fabric, a vintage kantha quilt, and an Adelphi Paper Hangings wallcovering.
24
A POP OF COLOR
nebihe cihan apartment main bedroom

To bring a pop of color into your bedroom, take a cue from this London flat designed by Nebihe Cihan. Not only do the purple lampshades breathe some energy into the space, but they also complement the wall mural perfectly.
25
SITTING PRETTY
natasha baradaran house tour

Just because your bedroom is where you sleep doesn't mean you can't design it with your waking hours in mind. In a Santa Monica, California, house, Natasha Baradaran created all-day appeal with a signature settee, a sculptural stool by Natan Moss, and a statement chandelier courtesy of Lindsey Adelman.
26
SOFT SIDE
rech carstens bedroom johannesburg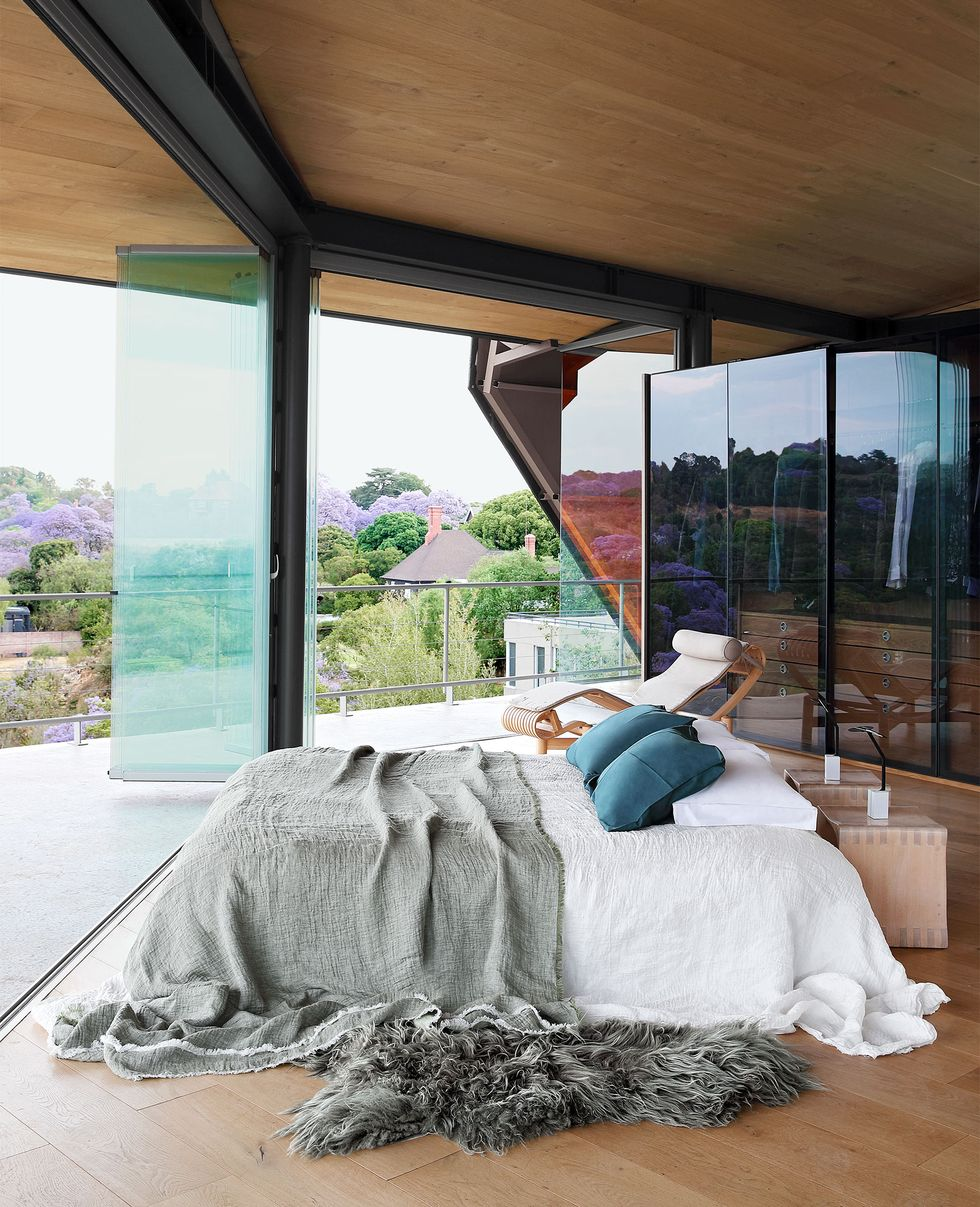 Talk about a room with a view! In Silvio Rech and Lesley Carstens's South African home, they blur the lines between the modern interior and the great outdoors with linen bedding and a textured rug. A custom bed and Cassina chaise complete the look.
27
COASTAL ACCENTS
large bed with mosquito netting and fan overhead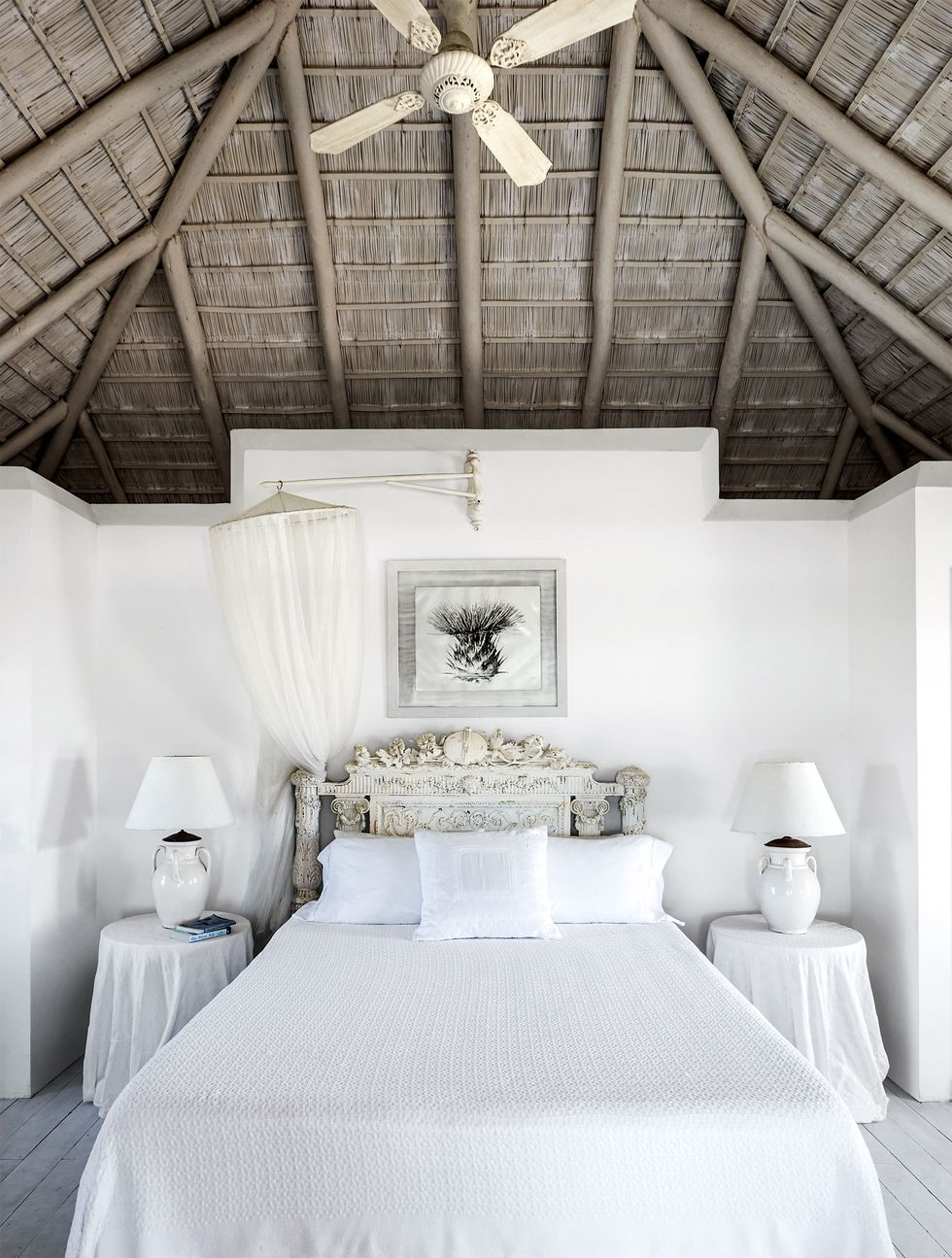 Contrary to popular belief, a monochromatic room doesn't have to be boring. When a couple purchased the late architect Mario Connio's former Uruguay beach house, they infused plenty of texture into this all-white bedroom. An ornate headboard, practical mosquito net, and photograph by Vicky Aguirre round out the space.
28
WALL-TO-WALL PATTERN
bedroom wallpaper ideas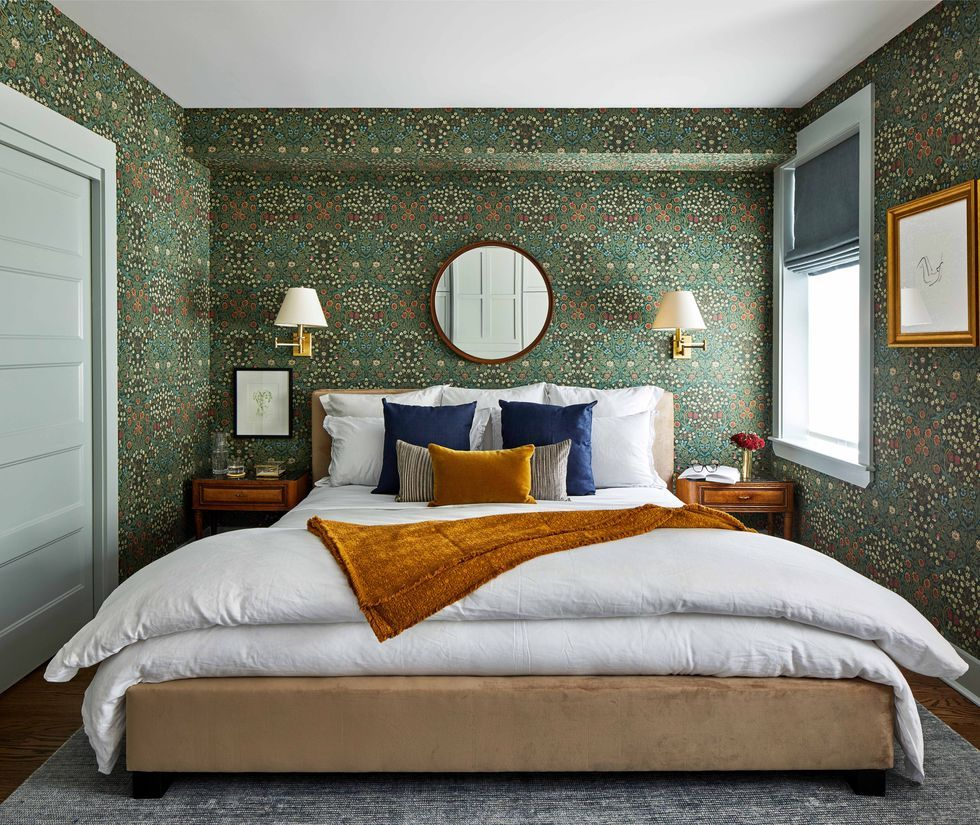 A pattern can seem chaotic when used in abundance, but a neutral colorway gives it a more subtle and refined appearance. Designer Zoe Feldman used a floral wallpaper with soothing sage floor covering to add interest and elegance in this Washington, D.C. bedroom.
29
LIGHT AS AIR
nicole fuller master bedroom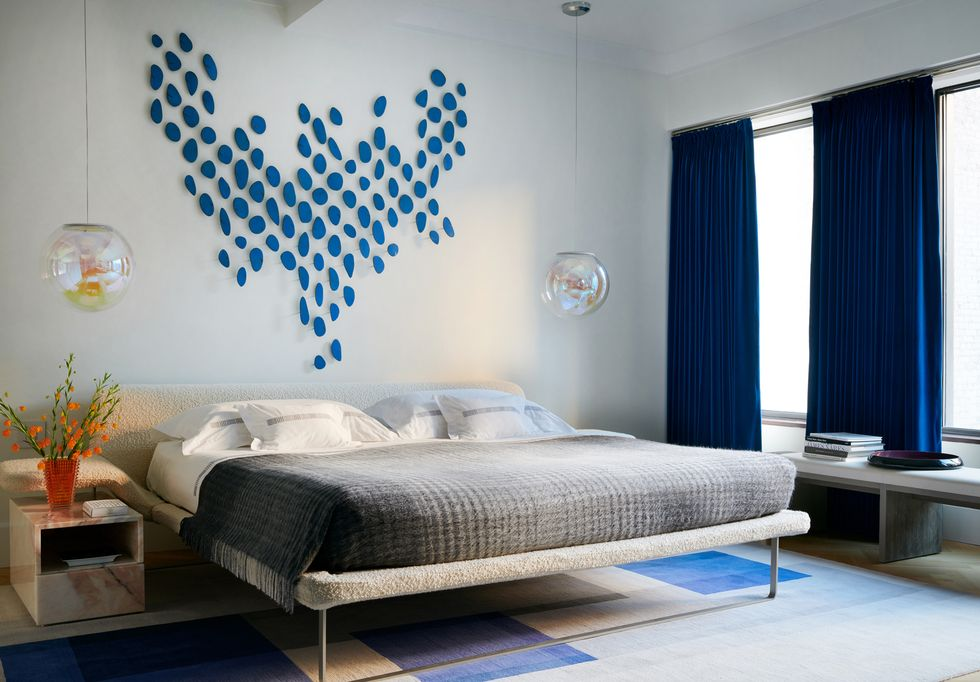 New York City–based designer Nicole Fuller flanked a master bed with two hanging pendant lamps in this Greenwich Village apartment. While very chic, they make a quiet statement and don't distract from the graphic art posited above the bed. The added perk of not using table lamps is the extra surface space on the nightstands.
30
ART, ABOVE ALL
four-poster bed with black-and-white zigzagged linens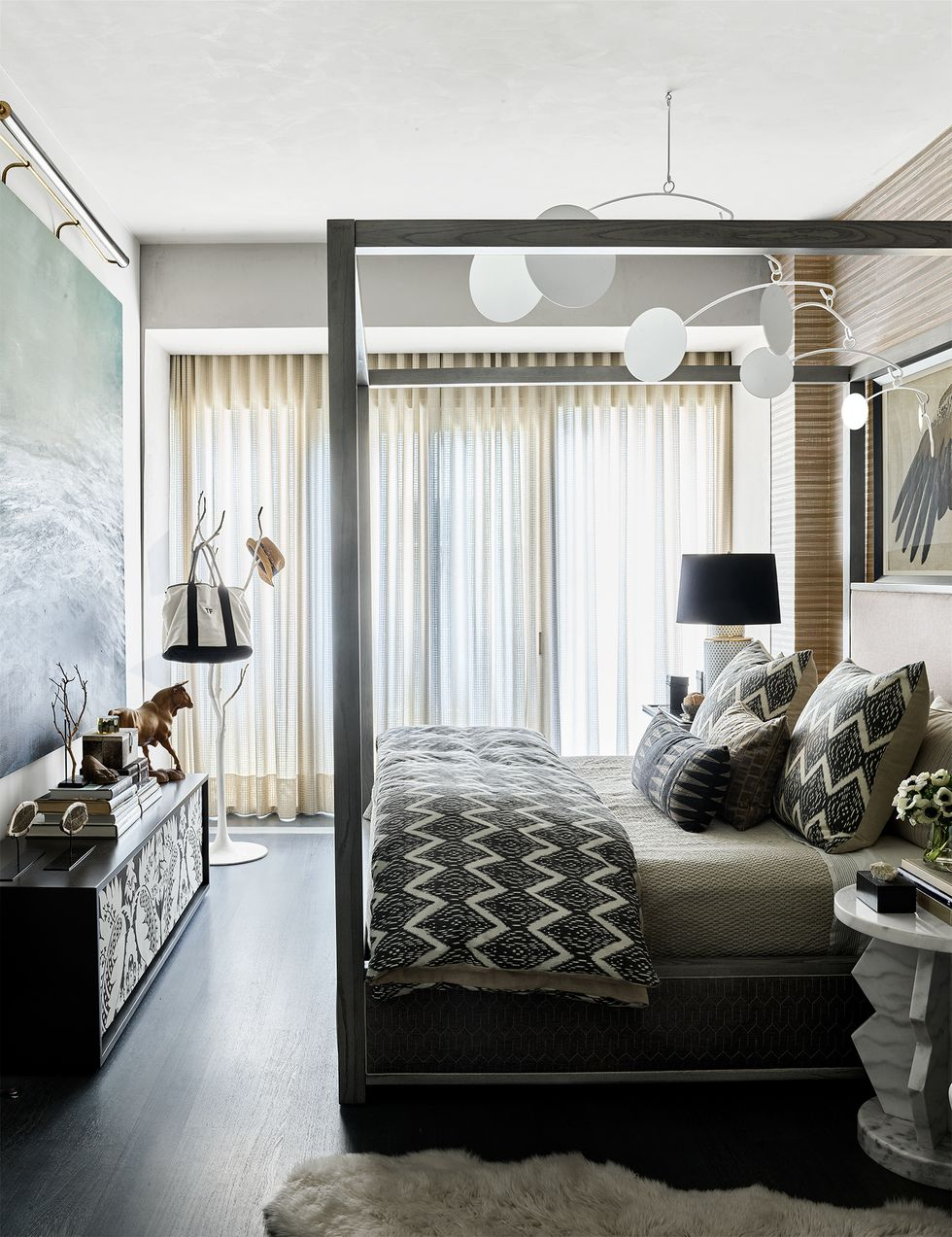 Installing a mobile as a sculptural piece centered above a bed adds quirk and excitement to an artfully composed room. New York City–based designer, Thom Filicia, used a custom piece inspired by Alexander Calder in his Manhattan bedroom.
31
TEXTILE FANTASY
beautiful bedroom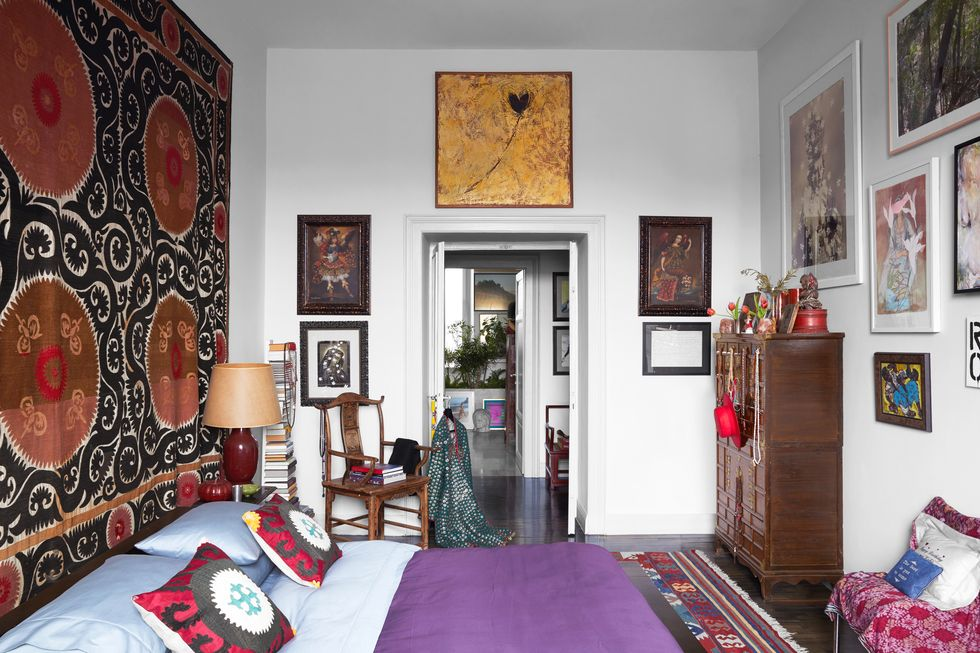 A suzani wallhanging doubles as a headboard and blends in as a piece of art in Carlos Souza's Rome apartment. Bold in color and pattern, the Istanbul-sourced fabric adds texture without overwhelming the space. It's a visually stunning partner to the facing gallery wall.
32
INSIDE OUT
cartagena vacation home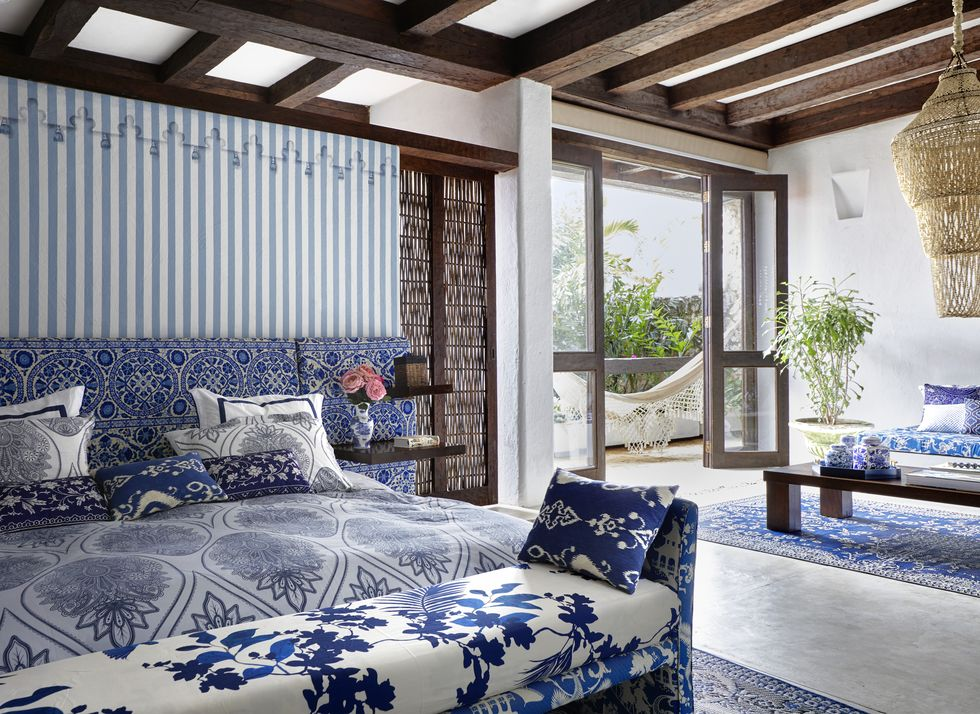 Yes, the bedroom of Colombian fashion designer Johanna Ortiz's Cartagena vacation home enjoys the benefit of large glass doors leading to a hammocked balcony al fresco. But natural materials—like the raffia-and-seashell pendant and a woven room divider behind the headboard—lend an elevated, earthy feel.
33
ECLECTIC ELEMENTS
New Orleans Manse Remodel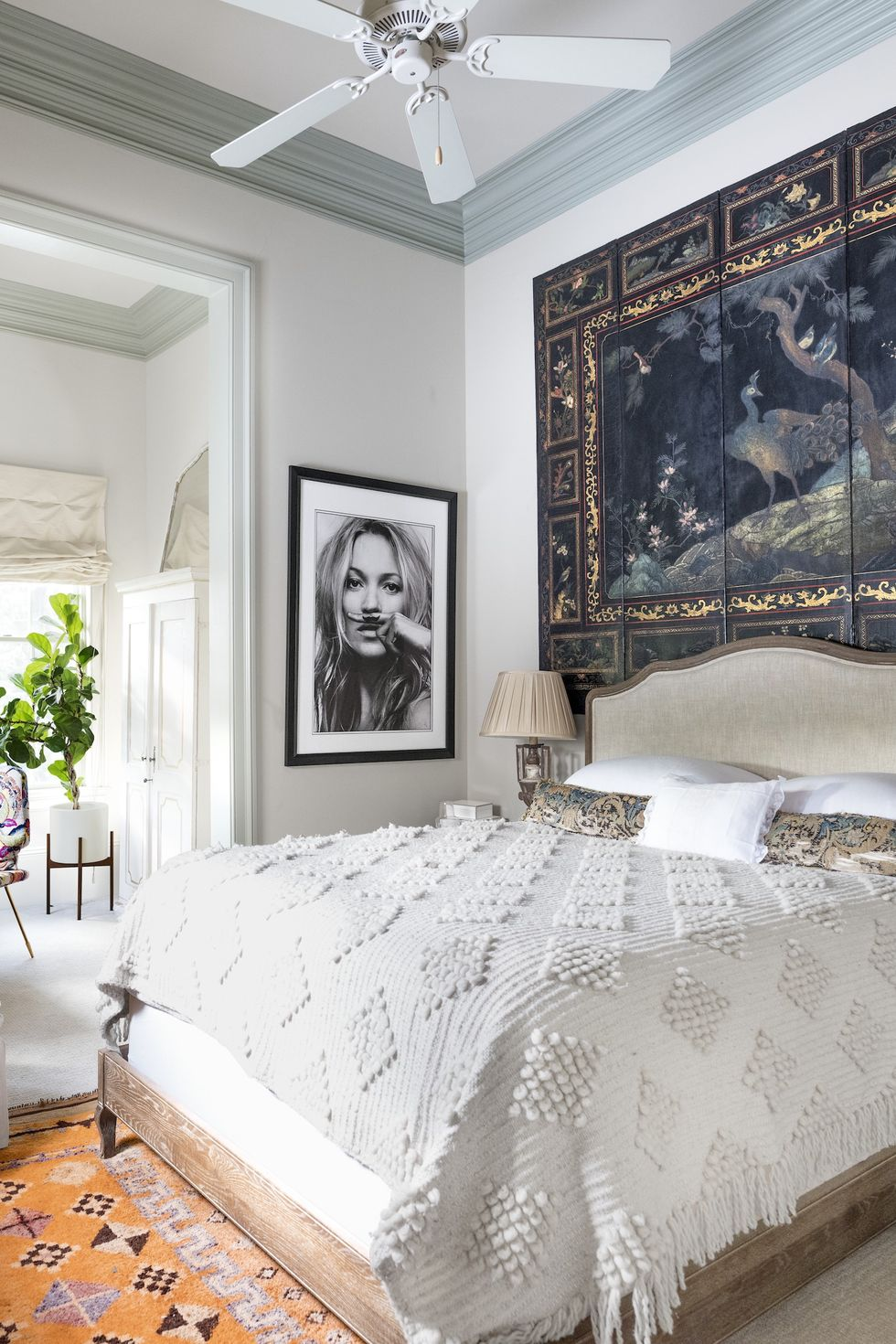 A bedroom is the most personal space in your house, which makes it perfect for expressing seemingly disparate facets of your own unique sensibility. In this New Orleans home, an antique bed resides happily alongside a vintage Chinese screen, a handmade Moroccan rug, and a black and white photograph of Kate Moss.
34
TAKING A SHINE
inside a transformed 1950s beverly hills home

Canopies of the frilly and flouncy variety are best suited for the childhood bedroom of your dreams. But in luxe materials—here, a mirrored bed frame is upholstered in Romo velvet—the accent feels all grown up. (This one is in a Beverly Hills bachelor pad!)
35
WHITE AND WHIMSICAL
Inside an Italian Design Firm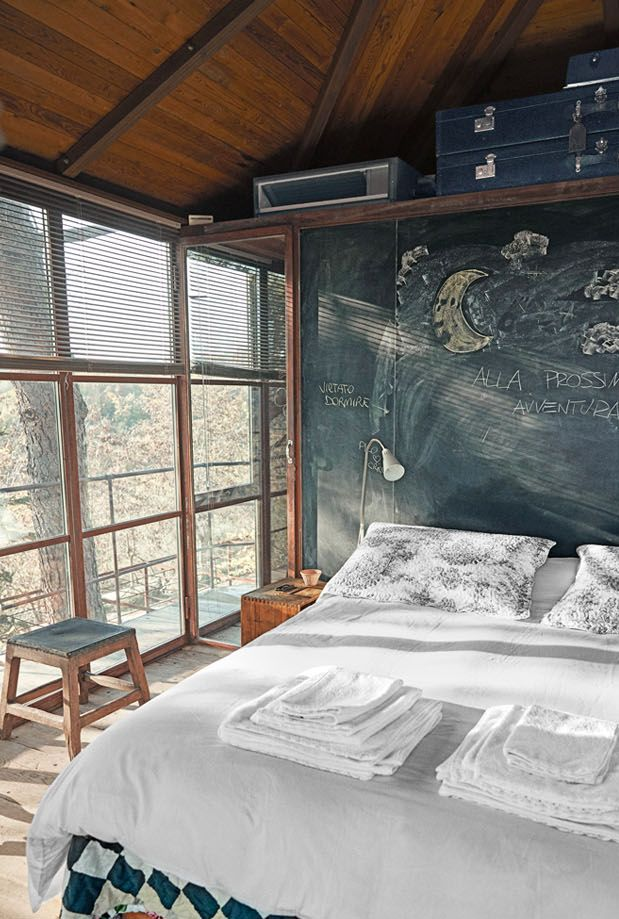 Chalkboard paint has found its place in kitchens, playrooms, and children's bedrooms, but it's also an innovative and evolving element for adult spaces, too. In this rental treehouse in Florence, Italy, a chalkboard doubles as a headboard and a message space for hosts to leave welcome missives to guests.
36
SUMPTUOUS FINISHES
Sophia Amoruso house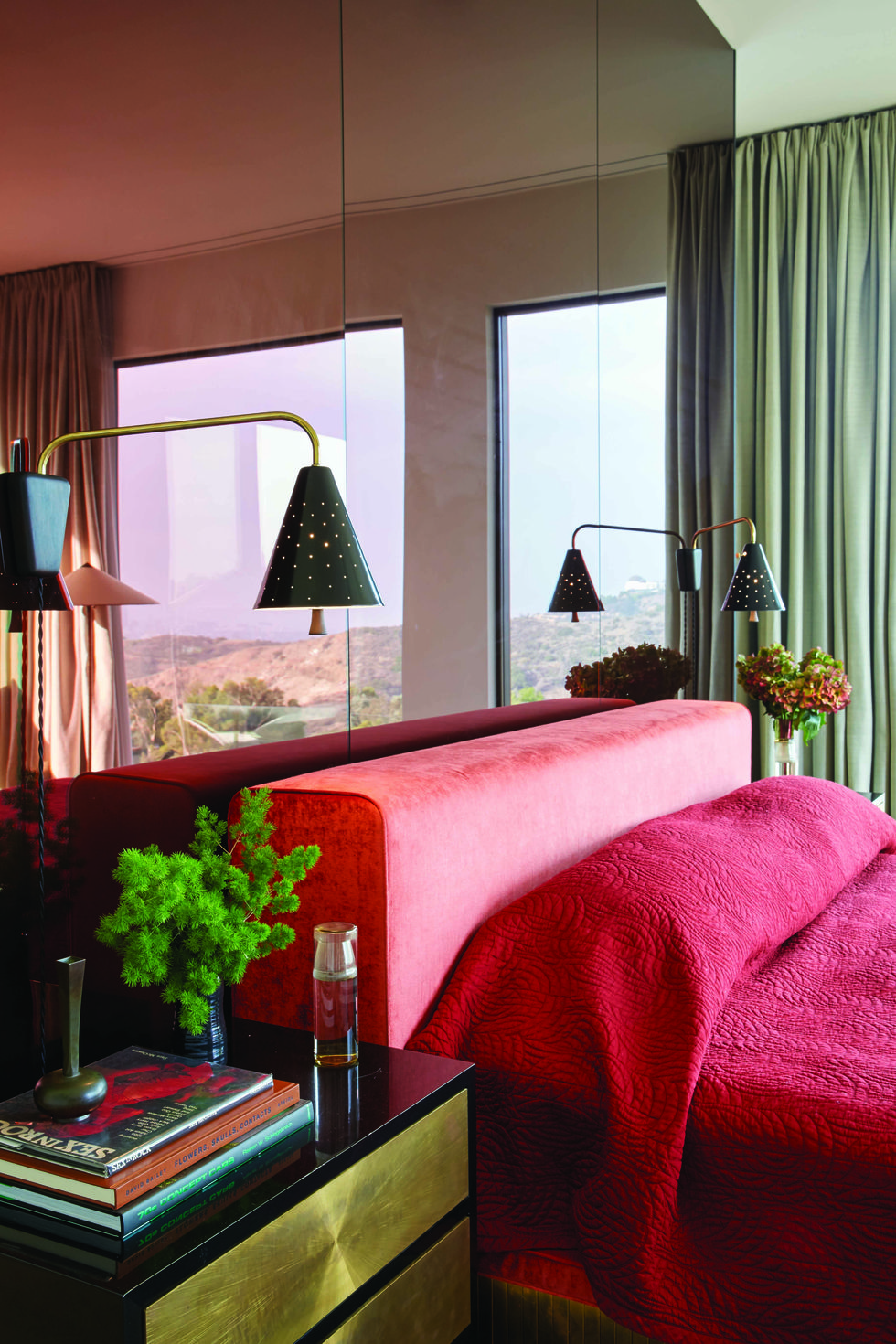 Perhaps there is no other room in the house where you'll appreciate lush, opulent textiles and finishes than the place you'll spend most of your time. In Sophia Amoruso's Los Angeles jewel box, a custom silk velvet bed frame is dressed in Frette sheets and blanket, and placed aside brass and black lacquer nightstands and handmade silk drapes.
The 49th Jinhan Fair
Jinhan Fair Online Exhibition