Livestream Shopping: A $500 Billion Market In 2022 As Amazon, Google, Facebook, TikTok Jump In?
2022.02.16
---
Livestream shopping is projected to rake in a massive $480 billion in China this year, according to eMarketer, but only $11 billion in the United States, according to Foresight Research. That could change quickly, however: Facebook, Amazon, TikTok, Twitter, and other tech giants like Pinterest are jumping into livestream shopping hard.
What's the appeal of livestream shopping?
It's pretty simple: streaming is entertainment, we're bored, and we like to shop.
"Social media has become sort of like your entertainment hub," influencer and entrepreneur Elma Beganovich told me on the TechFirst podcast. "People ... are bored, they're filling in time, taking a break between their job ... flipping ... through their phone and scrolling down the Instagram feed ... then all of a sudden, you see in your feed someone's promoting something. So they could be saying like, 'Come to my Amazon channel,' right, 'so check me out there.' And now YouTube has just launched also live commerce."
Live social shopping is certainly big in the verticals you might imagine: fashion, beauty, fitness, home decor.
But it's not just for women, Beganovich says.
Home improvement is also a major vertical for livestream shopping, and marketers also target men for tech devices and in fitness verticals.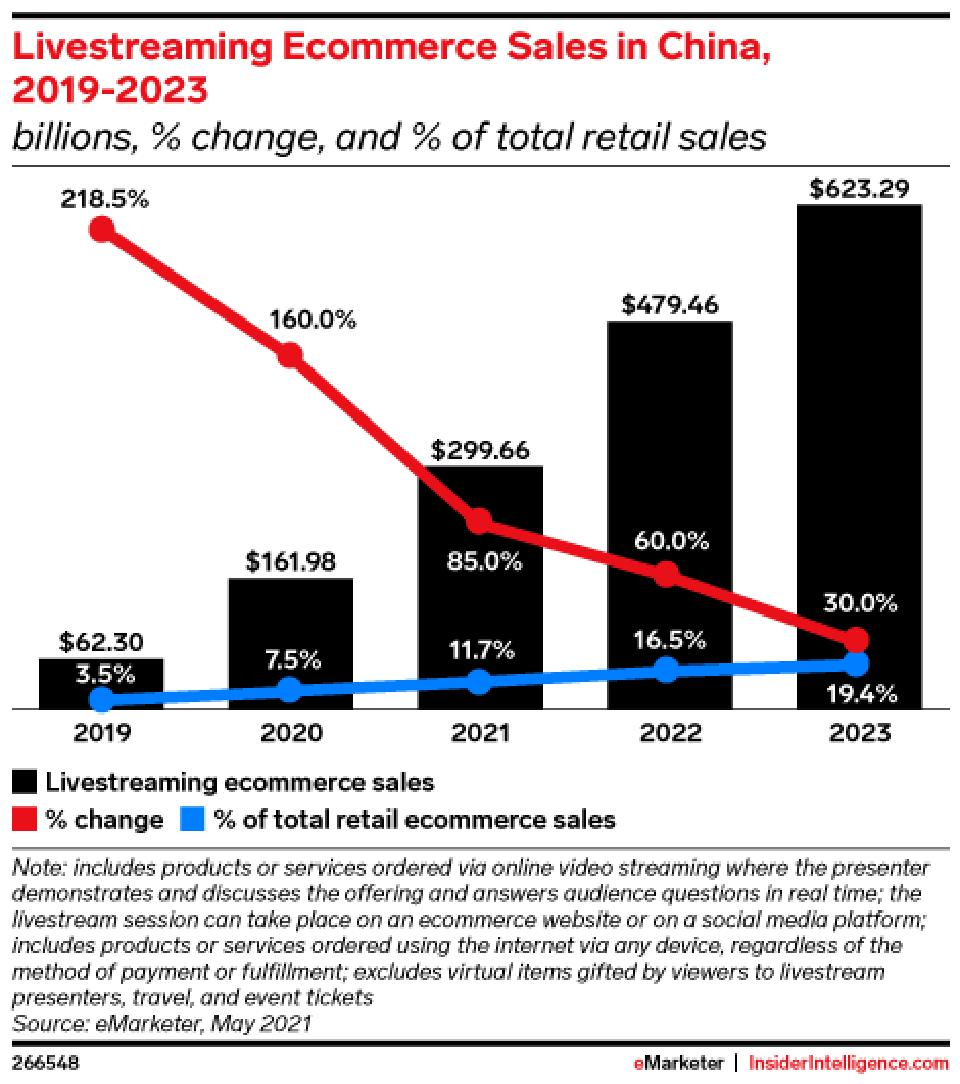 The key, perhaps surprisingly, isn't necessarily the shopping. Rather, it's the entertainment, the fun, the interest, and the engagement that an interesting and passionate influencer brings to a space. And if it happens to be one you care about, and the product happens to interest you, you might just click the buy button.
Just three years ago this was almost nonexistent in the west, and was a small segment of commerce, just 3.5% of all retail e-commerce, in China. Last year it was a $300 billion segment in China at just under 12% of retail sales, and in 2023, eMarketer estimates it will be 19.4% and worth over $600 billion. The corresponding numbers in the U.S. are $11 billion this year and growth to $25 billion by 2023.
The question, of course, is whether livestream shopping is a pandemic flash-in-the-pan, not unlike Peloton, which is reportedly shutting down production for two months to sell off existing inventory.
It's not surprising that livestream shopping took off when people couldn't actually go to a real store, or were doomscrolling social media during shutdown, lockdown, and quarantine times.
But will it have staying power?
It will if big tech has anything to say about it.
Amazon is investing big in Amazon Live. Google has live shopping on YouTube. Pinterest, seemingly a great fit for this kind of venture, announced a livestream shopping project late last year. Twitter, which has put innovation around creators and monetization in overdrive lately, is working on livestream shopping. Facebook is investing, particularly on Instagram. TikTok, with roots in China, is a particularly interesting player to watch here.
Beganovich thinks this has legs.
"It's so much more powerful when someone's talking at you as we've seen with QVC," she says. "I think there's going to be a lot of opportunity there and definitely the tech companies are investing and are going to continue to invest in this space."
She's got an interesting perspective on the space, both as a participant and as a coach. With her sister Amra Beganovitch (an economist) she's launched a digital agency, Amra & Elma, that boasts clients like Uber, Olay, Wells Fargo, Netflix, P&G, and L'Occitane. Trained as a lawyer and now a startup founder, Elma has over 700,000 Instagram followers, and Amra isn't far behind.
As interesting as livestream shopping is from a consumer perspective, Beganovich says, it's just as valuable from a brand perspective. And not just for the sales.
It's also branding. Time. Attention.
"You've now basically opened yourself up to a whole lot of consumers that otherwise wouldn't have considered you or given you more than two seconds of their time," she told me. "The type of customers ... that are driven to these livestreams ... they're ready to ... give you a chunk of their time."
And that, whether it drives massive billion-dollar industry growth or not, can't help being valuable.
Subscribe to TechFirst; get a transcript of our conversation.
Follow me on Twitter or LinkedIn. Check out my website or some of my other work here.
The 49th Jinhan Fair
Jinhan Fair Online Exhibition