Designers make their style predictions for 2022
2022.01.24
---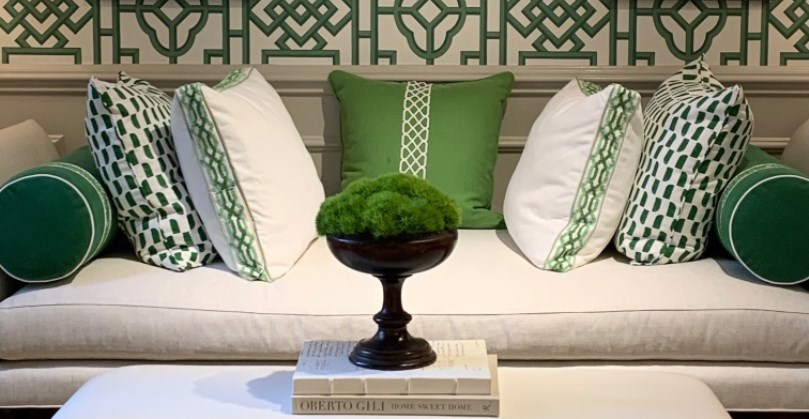 The Thibaut Showroom at the Fall 2021 High Point Furniture Market, an industry trendsetter, according to designer Sharon L. Sherman, featured rich green wall covering, trim and fabrics against a muted color scheme. Botanical decor abounds, reflecting the desire to bring the beauty of nature inside the home.
Midland Park, N.J. – Several members of the New Jersey chapter of the American Society of Interior Designers have outlined their design predictions for the coming year which include vibrant colors, high-gloss finishes and a return to vintage.
Keep Up-To-Date on the latest Home Textiles News
Stay on top of the events and trends shaping our industry with news, analysis, product coverage, and award-winning commentary
Delivered daily, conveniently to your inbox.
Designer Sharon L. Sherman of Thyme& Place Design said that while neutrals still rule the day, strong colors are making a bigger splash in homes.
"Everyone is looking for some good cheer and they're finding it in bright florals and bold colors with blue and green the standout color trends," said Sherman.
Shiny surfaces (i.e. high-gloss finishes) are also making a comeback, according to Karla Trincanello from Interior Decisions, Inc.
"A front door with a beautiful high-gloss lacquer makes a great first impression," Trincanello said. "And I never forget the fifth wall – or ceiling – for all it adds to a space."
Trincanello said she particularly likes metallic finishes for ceilings in gloss or satin because they provide interest and add height to a space as well as reflectivity. Paint is the best, especially if sprayed, notes the designer. Another treatment she recommends is metal leafing as well as wallcoverings.
"Carefully crafted décor is grabbing the spotlight these days as more people invest in high-quality, long- lasting workmanship," said Sherman.
Since she has also been a fan of vintage, designers Terri Fiori from Fiori Interior Design said she's happy about this trend.
"Due to long lead times and labor shortages, vintage has become the "go-to" design trend," said Fiori.
Fiori believes in a touch of whimsy and that in 2022, homeowners can explore the lighter side of home design with fanciful items that are fun and fashionable, but can also be functional.
"Bespoke furniture allows you to create pieces that truly express your style and match the design of your home," Fiori said. "Custom crafting is a trend that supports a give-back mentality."
Small, custom furniture makers tend to use local, sustainable materials, according to Fiori, and their furniture takes no more time to make than non-custom pieces.
Upholstery can also completely change the look of furniture or a room and can give it distinction, Fiori said. To make upholstery unique, a 2022 trend is to focus on distinctive details like bullion fringe, upholstered pieces with a wood back or a detailed curve on the arm. "When choosing upholstered furniture, let intricate designs set the tone for the piece and your space," she added.
The 48th Jinhan Fair
Jinhan Fair Online Exhibition