With Retail Bankruptcies Increasing, Look At Supply Chains To Identify The Likely Survivors
2020.08.25
---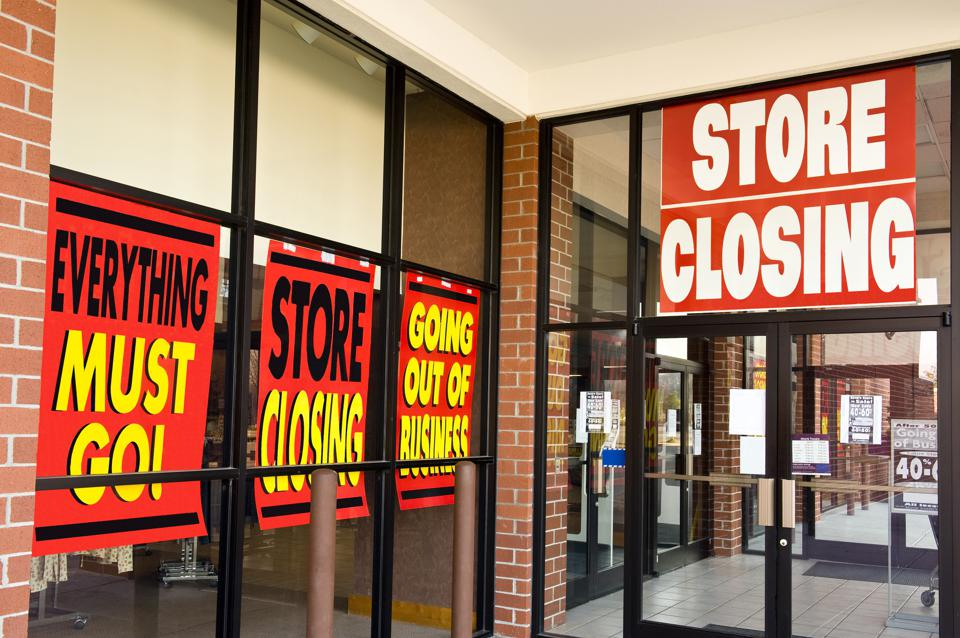 Store Closing GETTY
The apparel industry is dealing with what has felt like a meteor strike, COVID-19, and which has left many companies facing extinction. When a massive meteor struck the earth some 66 million years ago, it was our fleet-footed fellow mammals—not the larger and more powerful dinosaurs—that were able to survive in the radically changed landscape. The agility, adaptability and nimbleness mammals had developed living amongst dinosaurs paid off in evolutionary terms.
There have been 43 U.S. retail bankruptcies as of August 1, according to CNBC. An industry commentator speaking at last month's Festival of Curiosity estimated half of independent fashion brands may not make it to 2021. While the scale of impact can be debated, investors and business leaders are looking for ways to discern which companies will turn out to be the nimble, adaptable mammals and which may be the lumbering dinosaurs that can't adjust to the new world. E-commerce infrastructure and supply chain agility will be two of the keys to survival.
Scale and Might Can Power Growth, but Often at the Expense of Agility
Size and momentum have been powerful tools for major retail names such as Nike NKE 0.0%, Macy's M -0.9% and H&M, which have opened hundreds of stores globally and created massive economies of scale in procurement and presence with consumers. H&M's scale enabled it to launch multiple sub-brands that offered appealing styles at the right price to customers. H&M's new CEO Helena Helmersson, appointed in May, is moving quickly to address speed-to-market and scaling e-commerce among other things, two areas that may have been hampered by an emphasis on physical retail channels and maximising the cost efficiency of the production machine to feeding those channels.
Three Clues to Whether a Brand Can Successfully Adapt to the New Retail Landscape
Recommended For You
It's Time For Amazon & Kohl's To Consummate Their Relationship With An Amazon Go Partnership
Meet Mimi G, The Rags To Riches Mogul With A Million-Dollar DIY Empire
3 Reasons To Love Nike's Reported Decision To Cut Ties With Wholesalers
1) Does the brand have an established e-commerce infrastructure that it can rapidly dial up?
Companies that just had to ramp up their e-commerce efforts when COVID-19 hit—rather than build new infrastructure to support online operations—have been rewarded for their prescience and preparation. E-commerce was not the dominant channel for either Walmart WMT +0.1% or Target TGT -0.1% prior to the COVID-19 outbreak, but both companies were able to rapidly accelerate their online business in response to unprecedented demand. Their earlier investments in e-commerce, their ability to quickly shift inventory and resources online, and their rapid scaling of options like "buy online, pick up in store" and curbside pickup have enabled them to compete with Amazon AMZN +2.9%during the COVID-19 crunch.
Lululemon is one of the companies proving itself new-world ready. The brand had begun to scale its e-commerce business prior to the pandemic and is now focused on extending the reach of that business and its consumer engagement through innovative acquisitions that complement its core product offering. The recently announced acquisition of in-home fitness startup Mirror for $500 million is a move that will allow Lululemon to deepen its relationships with customers and expand its brand community through new experiential commerce models that leverage its online infrastructure.
2) Has the company digitized its supply chain?
While many apparel brands had focused on building out their omnichannel retail operations, neglecting to invest sufficiently in supply chain digitization at the same time has made it very hard to handle the dramatic shifts in volume between physical, e-commerce and third party channels the COVID-19 world is driving. The critical capability is to be able to gather and connect information about materials sourcing, production and logistics across the network of companies involved in the supply chain to provide visibility of what's happening in real time and to be able to make decisions to adjust how the supply chain is working. Those companies making use of digitized sourcing have been better able to flex production and logistics across their supply network and are ahead of the game.
While outsourcing supply is enabling brands to reduce fixed costs and adjust to geographical exposures that may have shut down part of their production, it can leave brands unable to track products and raw materials across their supply chain. Without close to real time visibility into their supply networks, brands can't rapidly redirect to support greater e-commerce demand or new sales channels, implement on-demand production business models, and continue to adjust sourcing or production in response to ongoing regional disruptions. At the same time companies with insourcing models that give then good visibility across their operations, like Inditex, may find that their well-planned and highly optimised vertical integration may limit flexibility. A company that runs its own factories and manufactures its own products can enjoy cost efficiencies and high speed turn-around processes, but has less ability to shift production among geographies and easily plug into new sales channels in response to shifting consumer demand.
Logistics provider Li & Fung has been able to move supply between Bangladesh and various other markets in Southeast Asia in the wake of factory shutdowns and logistics challenges, flexing digital supply chain capabilities for brands who depend on them and ensuring they have the raw materials and production available to get finished goods to market in a timely manner.
3) Can the brand link data from its e-commerce business with its supply chain to ensure dynamic, highly responsive production?
Brands that have both powerful and close to real time consumer data analytics as well as full visibility into their supply chains are better positioned for success—but only if they can connect these two capabilities together. The goal is to link consumer demand and product information from multiple physical and e-commerce retail channels and combine this intelligence with visibility across the supply chain to be able to be highly responsive to market shifts with dynamic production and distribution.
H&M's Helmersson understands well the limitations that may be introduced by poor connectivity between the demand and supply sides of the business, having previously served as H&M's COO. It's notable she has spoken of the company's focus on digitization, both to make its supply chain more efficient and support reaching H&M's sustainability goals. This recognition at the highest levels of leadership of the importance of integrated digital capabilities across both the retail and supply sides of the company bodes well for H&M's ability to leverage its might and scale with nimbleness and agility through data-driven technologies.
The laws of momentum make changing direction hard for the large and single minded. The mammals that survived while the dinosaurs died out millions of years ago were mostly small, nimble and adept at sharing information about dangers and opportunities through their social networks. The brands that have invested in digital infrastructure on both the demand and supply sides of their businesses, and are maximising data exchange with their business partners and customers in their supply and demand networks, will be able to share and use information like our ancient mammal cousins were to adapt and thrive in this new retail environment.
---
Jinhan Fair online exhibition will be held this October from 21 to 27.Should you have any query, we are glad to extend help at marketing@jinhanfair.com or you may reach us by a phone call to 0086-20-89308925.
To discover more about JINHAN FAIR, Please click to view the previous post-show reports.
The 48th Jinhan Fair
Jinhan Fair Online Exhibition