Why Is European Retail Recovering Nicely While U.S. Stores Continue To Struggle From Covid?
2020.08.21
---
Why Is European Retail Recovering Nicely While U.S. Stores Continue To Struggle From Covid?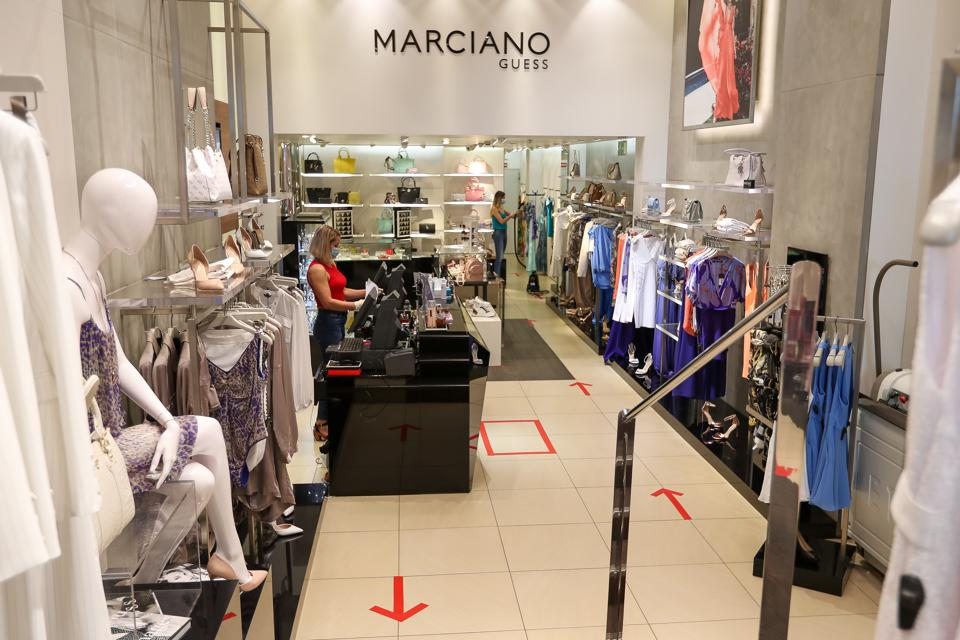 Retail sales in Europe, including at this Marciano Guess store in Spain, continue to recover in ... [+]
EUROPA PRESS VIA GETTY IMAGES
If you want to see how the retailing industry would be performing in the United States right now if there had been a national, intelligent and consistent approach to dealing with the Covid-19 pandemic, just take a look at Europe.
While American retailers continue to struggle to get back up to speed and get shoppers to return to their physical stores, retail sales in the Eurozone countries have returned to year-ago levels and in fact are beating them.
According to new results just released by Eurostat, retail sales in the zone — 19 nations encompassing western Europe and some countries in the eastern portion of the continent — were up 1.3 percent over a year ago when nobody ever heard of coronavirus.
What's more, June sales versus May were up 5.7 percent, coming on top of a record 20.3 percent jump in May over April.
Recommended For You
Amazon Into Malls, Foot Traffic Off, Stein Mart Out And Penney Sale: Bad Month For Dept. Stores
What Home Depot's And Lowe's Great Numbers Say About Where Retail Is Headed
Amazon Offers Fashion Brands A Lifeline In A Market Disrupted By The COVID Pandemic
Of course, these physical store gains occurred as people returned to shopping centers and districts after months of big online increases. In fact e-commerce in June in the Eurozone declined versus the four months before.
Eurostat said they saw especially big gains in apparel and footwear, two categories that have been particularly devastated in the U.S. during the collapse of the economy. In fact by any measurement, the results in Europe, where countries initiated nationwide stay-at-home proclamations and governments enacted worker subsidies that protected jobs rather than fostering unemployment filings, beat what we're seeing in American retailing this summer.
U.S. retail sales in June had not pulled even with a year ago after seeing serious declines during the spring months. And with a second wave of the pandemic now impacting large parts of the country, economists are not optimistic about future prospects. "It's going to take a long time to wring this out of the system to the point that we can re-reopen the economy properly," Ian Shepherdson, chief economist at Pantheon Macroeconomics, was quoted as saying in a recent Wall Street Journal article.
The patchwork of state and local measures addressing the pandemic has produced wildly divergent results in dealing with Covid and its impact on the American economy. While states in the Northeast, especially New York and New Jersey, were hit early and are recovering, other parts of the nation, particularly in the South and Southeast are now reporting record numbers of cases and deaths.
We have not yet seen a corresponding second wave of store closings similar to what occurred in the spring but observers don't rule it out. "It may be a flatter trajectory upwards," Richard Moody, chief economist at Regions Financial Corp. told the Journal, as rising virus cases impact retail sales.
So too may reduced government support programs, now stuck in a political logjam at the national level, cause retail spending to decline again.
The recovery in retail sales in Europe stands in as sharp a contrast to the situation in the U.S. as do the number of cases and deaths from the pandemic. And as schools attempt to reopen and the fall weather brings more people back inside, the prospects do not seem promising for the economy in general and retailing specifically.
---
Jinhan Fair online exhibition will be held this October from 21 to 27.Should you have any query, we are glad to extend help at marketing@jinhanfair.com or you may reach us by a phone call to 0086-20-89308925.
To discover more about JINHAN FAIR, Please click to view the previous post-show reports.
The 47th Jinhan Fair
Jinhan Fair Online Exhibition