NIAMH O'CARROLL'S EXTENSION IS A LESSON IN MAXIMISING YOUR SPACE
2020.04.26
---
Looking at how you can maximise your existing footprint can deliver incredible benefits, as Niamh O'Carroll has discovered, with a fantastic two-bedroom annexe now adjoining her home
Extension Details:

LOCATION: Glasnevin, Dublin 9
HOMEOWNERS: Niamh O'Carroll and husband Paul
THE PROJECT: The rebuild of an adjoining 42.2 sq m annexe
ARCHITECTURAL DESIGNER: Richard McGrath Architectural Services
BUILDER: Ciocan
BUDGET: Around €200,000
PROJECT COMPLETED: 2019
BEFORE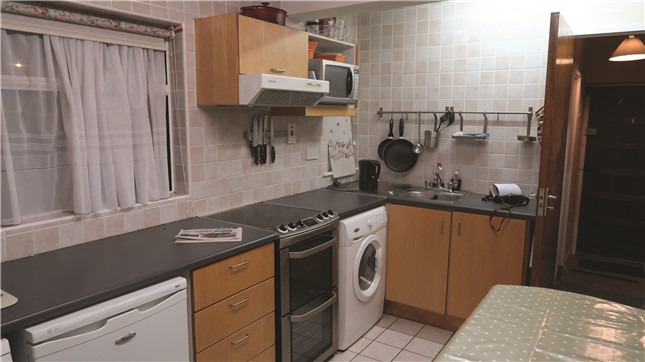 AFTER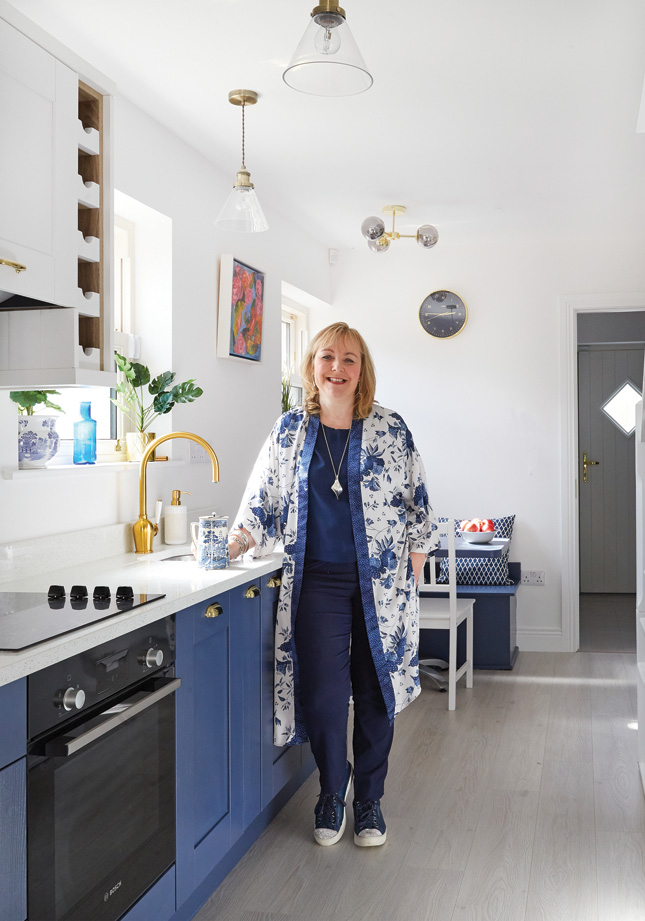 The self-contained unit adjoining Niamh O'Carroll's Glasnevin home has a history. The main house belonged to Niamh's grandparents who bought it in 1928, and from there, the house passed to an aunt and uncle.
The adjoining annexe, originally a garage, was converted into usable space years ago. It ably saw Niamh and her cousins through their college years.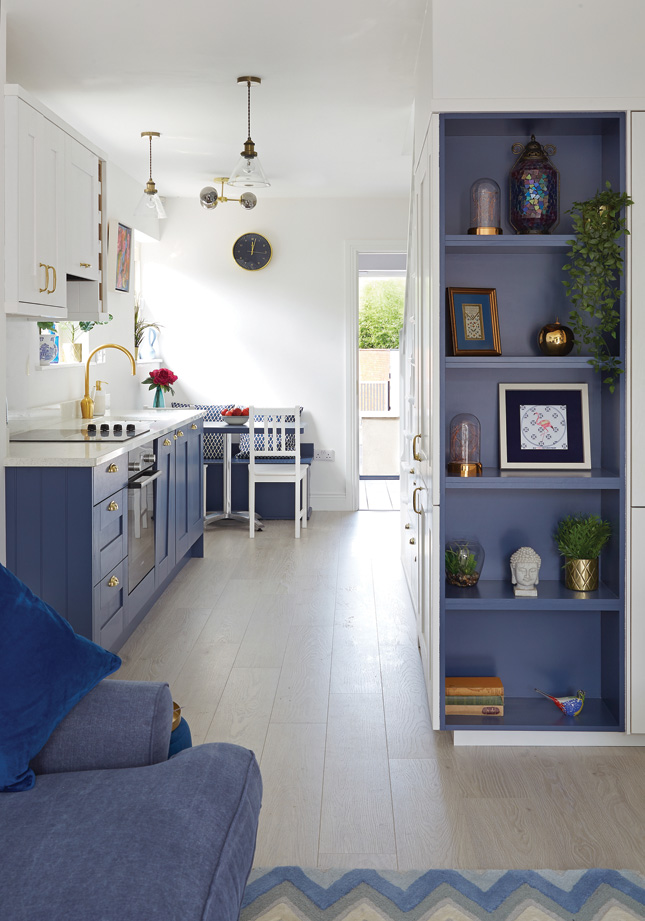 These days, Niamh and her husband Paul own the house and have lived here with their three teenagers, Cian, Tara and Barry, for the past 20 years.
The garage annexe remains in her aunt's ownership and recently, the whole family decided an upgrade was past due.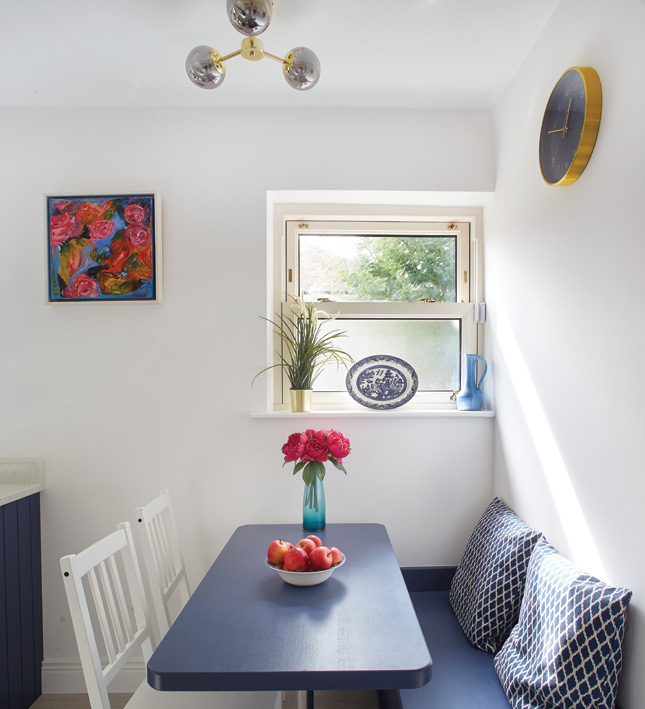 Maximising space, a built-in seating bench also hides some handy storage

Anyone with a house that has a similar footprint or a garden with some extra space, will recognise that the idea that you could potentially add another smaller home alongside your own – for a family member or for rental – is timely, given Ireland, and particularly Dublin's, housing crisis.
"The option to turn a garage into a modern two-bedroom apartment, in your own community, might work well for some older people, or alternatively would be a great starter home for younger people," Niamh agrees.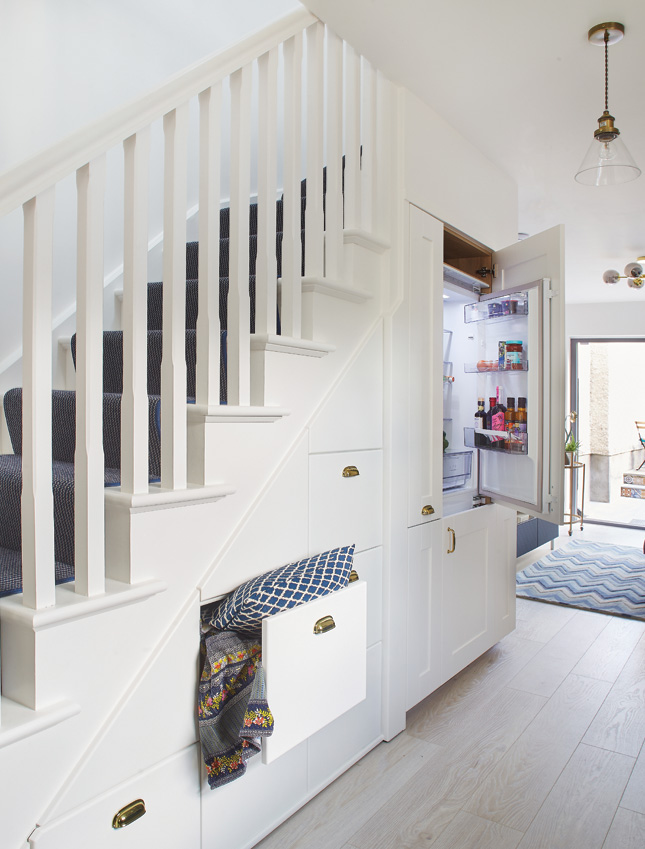 CREATE MADE-TO-MEASURE UNITS TO FIT THE SPACE: If you're working with smaller room dimensions, standard furniture might not fit. Finding a good joiner to create bespoke furniture can be best. "The storage under the stairs is excellent and the built-in bench in the kitchen also has plenty of storage as do the clearly designed wardrobes made by Ciocan. It's a wonderful feeling to draw out something on a piece of paper and have someone execute it with such style," Niamh says.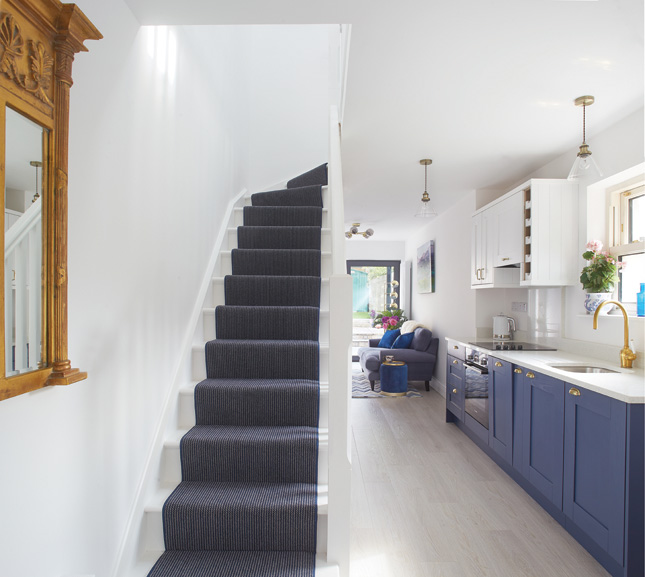 The catalyst for the project was the discovery of a bathroom leak in the unit. "There was a desire to upgrade it, so from there we started with a wish list – proper insulation, an extra bedroom, a downstairs loo, a low-maintenance garden – and then suddenly, we had a project," she says.
To bring the unit up to standard, it underwent a major remodel which saw the renovation of the existing two-story structure, with the creation of a second bedroom, a downstairs toilet, utility room and a mini boot room.
The unifying blue theme continues upstairs, which helps to tie the whole scheme together

Now, the results speak for themselves. Combining clever space-saving solutions with sleek and modern design, Niamh has utilised every inch of this small footprint, without it feeling cluttered or overdone.
"We found the process a great way of expressing our creativity," she says. "It's a really peaceful, welcoming space with every modern convenience. Of course, now I am looking at our own house which needs a refresh," Niamh smiles.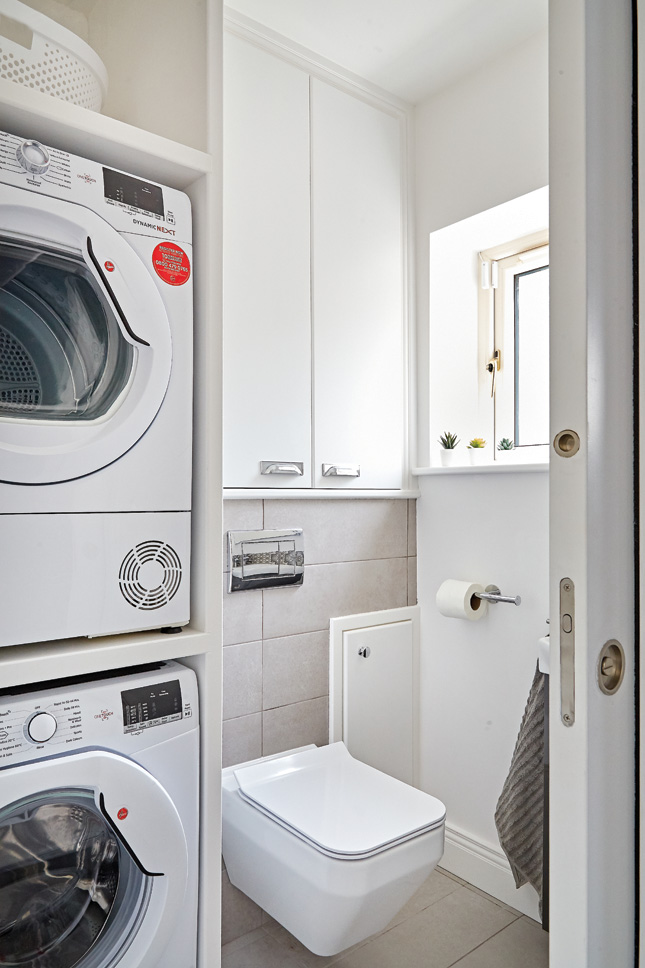 The downstairs loo-cum-laundry is space-saving and functional as it cleverly removes noisy elements from the living space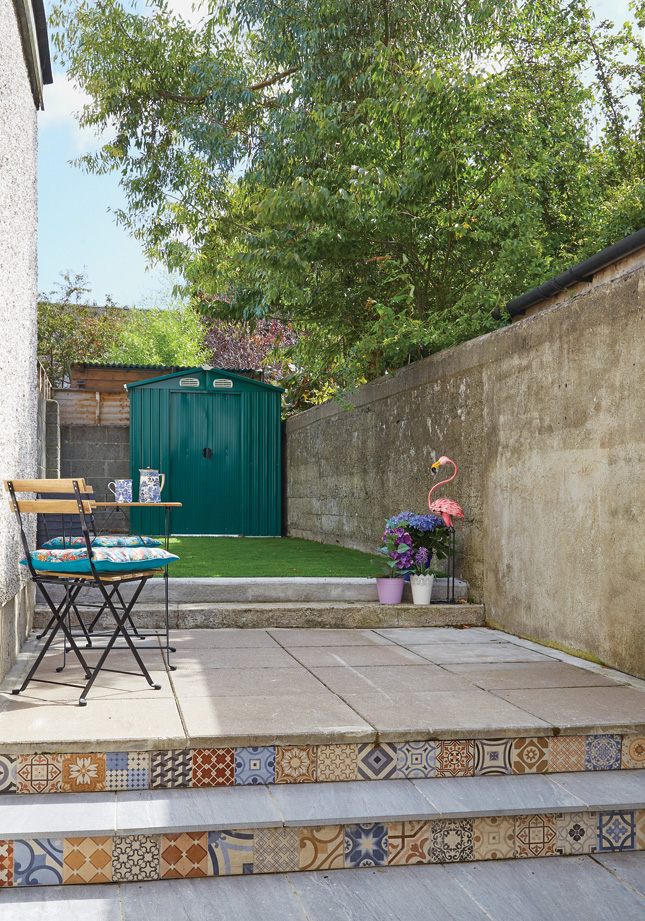 Niamh has added some personality to the back garden and added colourful tiles the border of the patio slabs
3 WAYS TO MAXIMISE A SMALL SPACE

1. Integrate appliances to fool the eye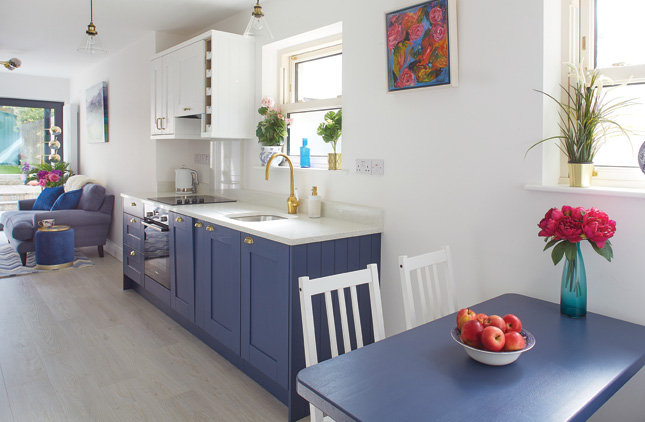 Cluttered countertops and cabinets can look messy. Integrate appliances to achieve a sleek, streamlined look and painting the wall cabinets a pale shade helps them to fade into the background
2. Choose furniture with legs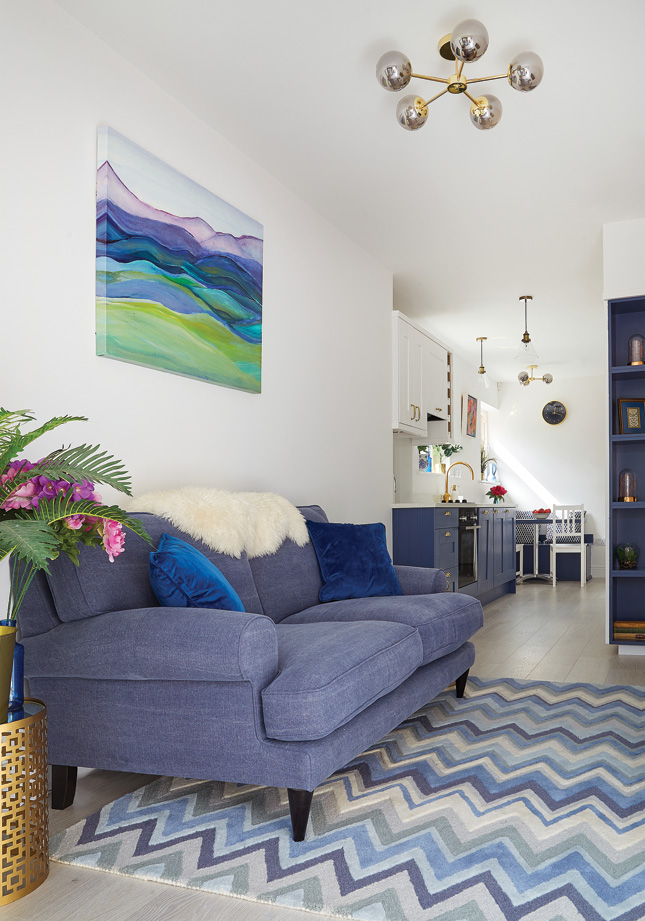 Niamh chose the Viv sofa from DFS's So Simple range, and it's a perfect fit for the space.

When buying a sofa or bed, consider choosing pieces that have legs off the floor as your eye is drawn to the ground under the furniture so it creates the illusion that the floor space and room is bigger.
3. Use the walls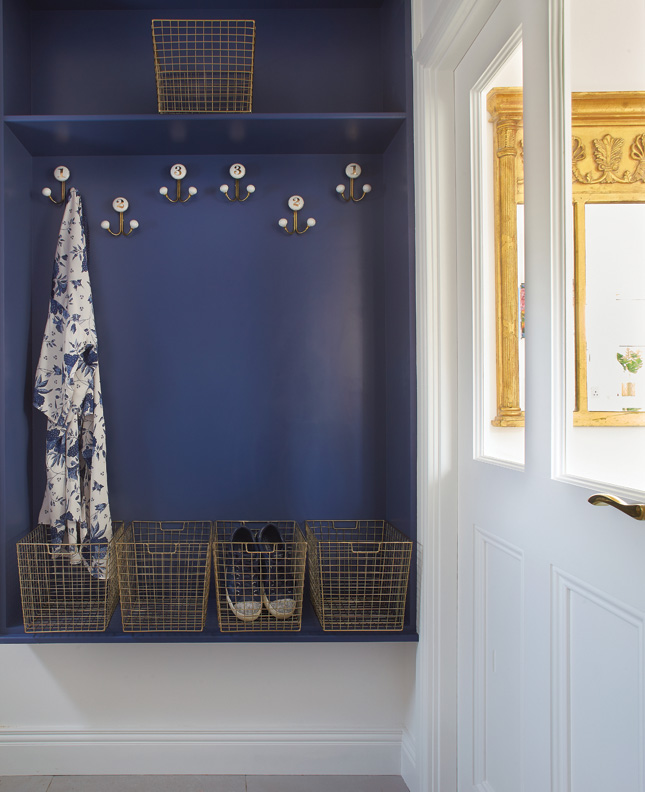 Space is at a premium in most homes and in this small home of just 44.2 sq m, Niamh has maximised it to its full potential. Using the walls is a trick to try; here, she's created boot room-style storage in the entryway to store cumbersome coats, shoes and boots.
If you liked this, you might also like: Small space design ideas: 23 tricks to try for spaces with no wiggle room
source: House and Home Magazine
---
The 41st Jinhan Fair for Home & Gifts will be held at the Guangzhou Poly World Trade Center Expo.Should you have any query, we are glad to extend help at marketing@jinhanfair.com or you may reach us by a phone call to 0086-20-89308925.

To discover more about JINHAN FAIR, Please click to view the previous post-show reports.
The 48th Jinhan Fair
Jinhan Fair Online Exhibition