THE ULTIMATE GUIDE TO BRINGING THE OUTDOORS INTO YOUR INTERIOR DESIGN
2020.03.31
---
Opening up our homes to the outdoors has never been more popular. When your interior is cut off from the outside, rooms feel smaller. While we're all for maximising light, encouraging views and 'bringing the outside in'by decorating with natural materials, the latest design trend calls for even more connectivity between the two spaces.
Blurring the boundaries is about seamlessly integrating your home, both visually and physically, to your immediate surroundings so you don't know where one space ends and another begins. And it's a solution that works whether your plot is a pokey patio or a generous garden.
Changes can be as transformative as replacing walls with huge expanses of glazing or as simple as reworking the internal layout and introducing more greenery. Here's how you can unlock your home's potential.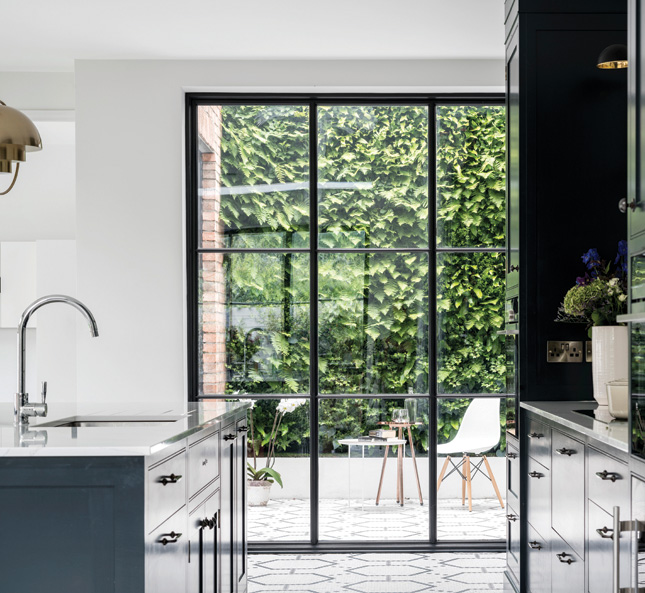 This Crittall-style glazing by architect Denise O'Connor lets ample light flood this contemporary kitchen and makes for a graphic divider between inside and outside. Made from timber, rather than steel, it boasts a higher U-Value.Optimise-home.com

TRY: Removing solid barriers

Removing solid barriers is key when trying to blur the boundaries between inside and outside. The solution? Large expanses of glass, whether that's a floor-to-ceiling glazed wall or a glass-box style extension. Crittall-style windows are very on trend and can bring an architectural element to the design while eaves windows and roof lanterns are perfect for embracing views and light from above which is equally important.
The latest must-have in modern properties is walls of bi-fold doors which can be completely peeled back to seamlessly reveal the outdoors. For even more connectivity in a barely there way. consider frameless fixed glazing windows (check out Fairco's new Lumi collection) and super slim sliding doors (from German manufacturer Keller).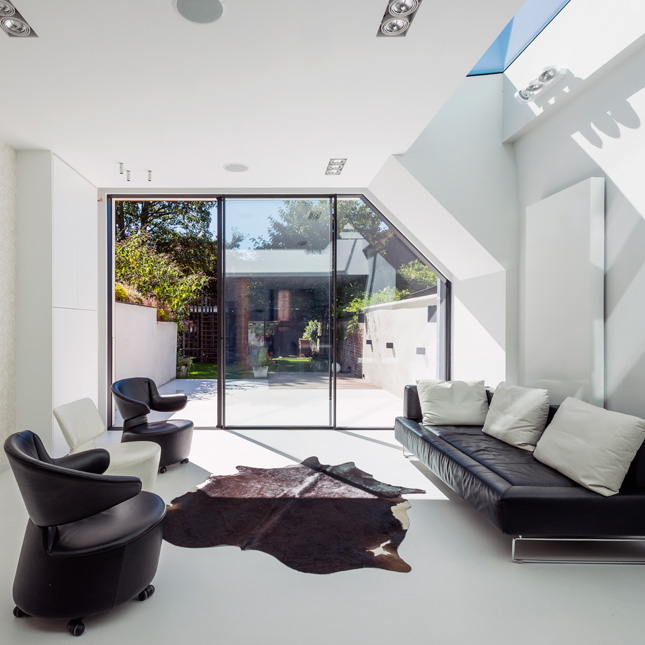 Highly insulated and triple glazed, the 4+ version of the frameless sliding 'Minimal Windows' by German manufacturers Keller is ideal for the low energy and passive house standard. Nrgi.ie

Whatever style of glazing you decide, Stephen Ryan, director of NRGI bespoke glazing (Nrgi.ie), which offers a large range of some of the world's best glazing products across a variety of styles and materials, advises taking usage, quality and ease of operation into consideration.
"While slim frames are a big trend, some of these systems are only designed for a Mediterranean climate where wind load, water tightness and air permeability are not major issues. And don't get caught up in U Values if the main aim is noise reduction. Triple glazing is highly energy efficient, but double glazing with an acoustic laminated glass will give better sound proofing," he advises.
TRY: Reworking the layout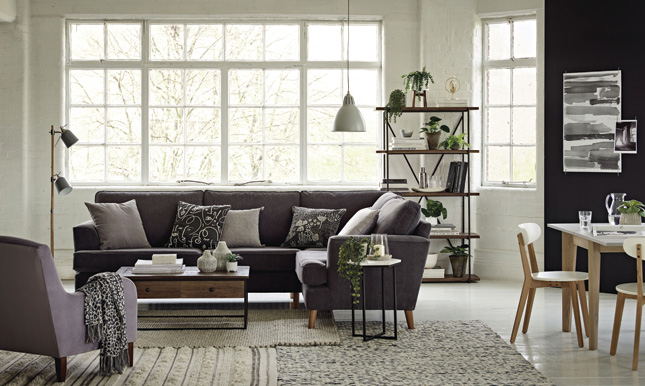 Make the most of windows by letting them do their thing. Remove any unnecessary dressing and make sure furniture fits below the sills. The Copenhagen relaxed extra small corner sofa, from €2,428, Marksandspencer.ie, is ideal for maximising light and space in a smaller area

Throwing open your doors to the outside is not always possible, but by reworking your internal layout, you can feel more connected to your plot – even on rainy days. In rooms that link directly to the garden, keep the floor plan open and clutter-free.
Pay attention to the style and positioning of furniture, and if necessary, swap bulky, high-backed sofas and chairs that interrupt sight lines for something low profile or that will sit below a window sill. If your dining table is isolated from the garden in a living-dining space, move it closer to the windows or glazed doors.
Knocking down internal walls to open up pokey rooms is an obvious solution. But it is also costly and is not always viable – especially if walls are load bearing. For rooms that are buried deep within the floorplan, consider punching out openings in walls to create through-views to the outside. Including an internal courtyard in the layout of a long and narrow plot is a clever way of preventing rooms from feeling dark and disconnected.
TRY: Continuing the same flooring outside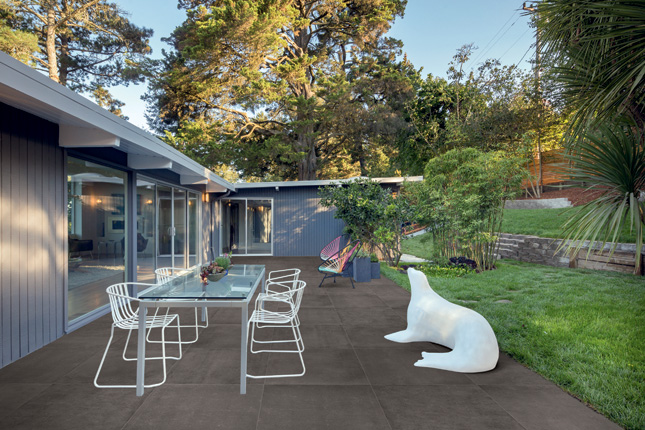 Lack of doorsill and having the flooring on the same level inside and out enhances the connectivity of your spaces. Betonstil concrete-effect porcelain outdoor frost proof, R11 anti-slip tiles, €61 sq m, Tilestyle.ie

Running the same or a similar flooring from inside to outside is a great way of achieving flow and maximising that sense of endless space. If using a tile, speak to your flooring supplier first. "Outdoor tiles should have a slip rating of at least R10," says Stephen Leonard, tile expert at Tilestyle (Tilestyle.ie). "This finish can be used on internal tiles, but we wouldn't recommend it. It renders the tile difficult to maintain and is rough to walk on barefoot."
For a seamless transition, choose the same tile size and floor pattern for both spaces. The current trend is for concrete or wood-effect tiles in warm greys and natural hues. If using decking, try to match the colour as closely as possible to internal floorboards and run the timber in the same direction. If you can, avoid the physical barrier of steps between the house and garden; keeping floor levels and thresholds flush will enhance connectivity and give that all-important uninterrupted sight-line.
TRY: Greening-up indoors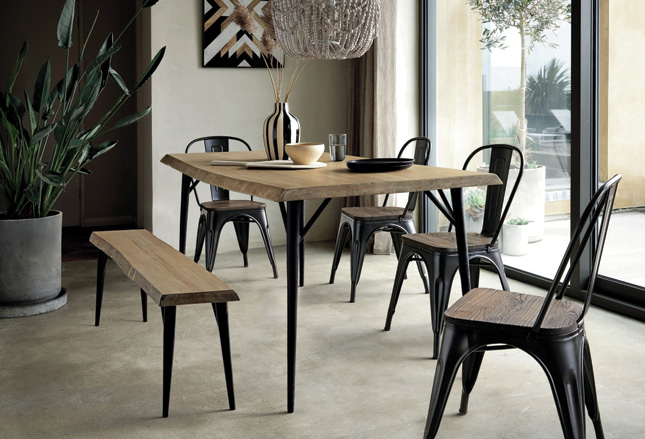 Echoing wall and floor colours inside and out and adding greenery and natural furniture such as the Devin table, €790, Next.ie, all helps to create a harmonious, seamless scheme

Introducing plants is one of the easiest ways to literally bring the outdoors indoors, so think about where you can put them and how to display them. Lifting plants up off the floor and into your line of sight by placing them on pedestals, windowsills and in hanging baskets can be extremely impactful. For maximum effect cluster together a variety of sizes, textures and containers.
Positioning potted plants near door openings and on a terrace immediately outside can help link the two spaces. Evergreen planting is essential with large expanses of glazing because the garden must look good year round. For a full-on 'biophilic' experience (the technical term for greening your interior) consider creating a living vertical wall of greenery adjacent to your outdoor space, or making the outdoor wall a planted one.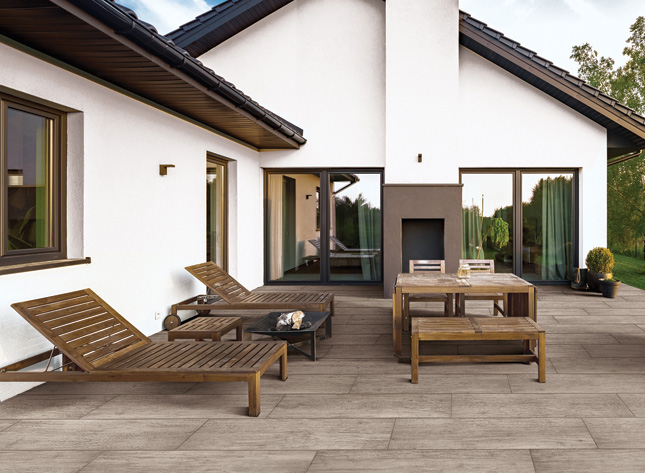 For continuity, outdoor tiles should be the same size and follow the same pattern or direction as internal tiles. Wood-effect Marstood Wood 04 outdoor porcelain frost-proof tiles with R11 anti-slip rating, from €63.53 sq m, Tilestyle.ie

Improve your home's sight lines with these creative internal glazing solutions:

1. Roof lanterns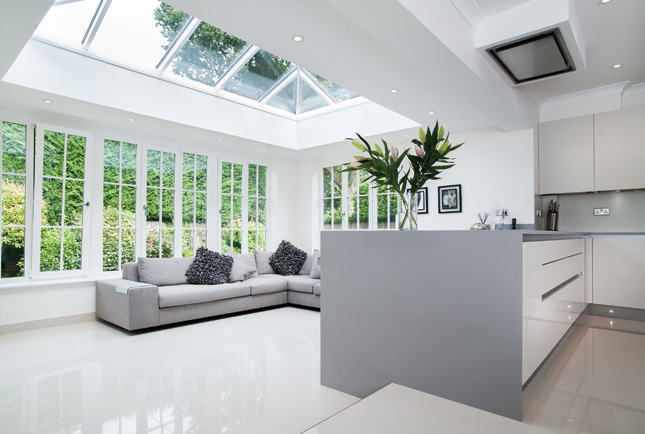 They let in three times the amount of natural day light as vertical windows do, offer unparalleled views of the sky, plus they look super-stylish. Enhance your home's connection to the outdoors with this lantern roof light in white thermally-broken aluminium from Fairco.ie.
2. Frameless glass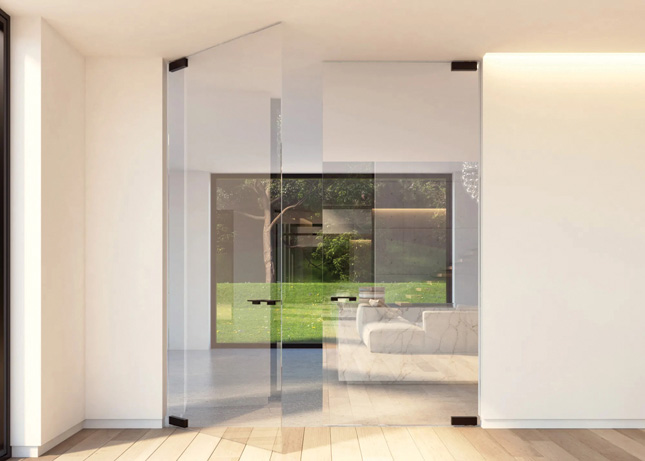 Sleek and super contemporary, frameless glass doors are the perfect see-through solution for disconnected spaces. Leading specialists in bespoke glazing, Creative Interior Solutions (Interiorsolutions.ie), frameless glass doors can be custom-made in clear, etched or patterned glass.
3. Picture windows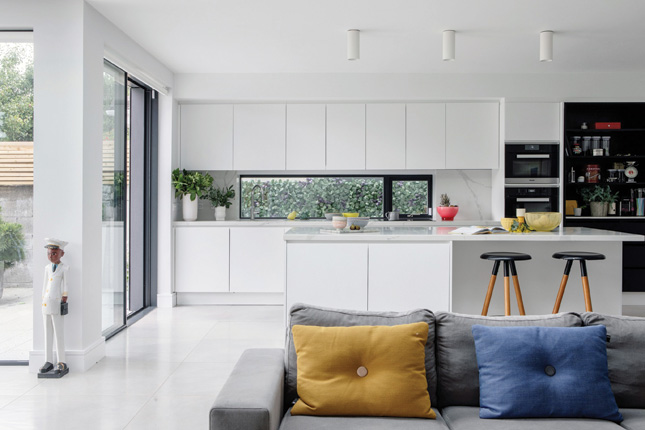 So-called because they frame your outside view like a beautiful image. Be inspired by architect Denise O'Connor (Optimise-home.com) and replace your kitchen splashback with a long picture window and bring the outdoors (and light) in.
Q & A

Denise O'Connor, architect and founder of Optimise Home, Dublin (Optimise-home.com) shares her top tips for blurring the boundaries through decoration.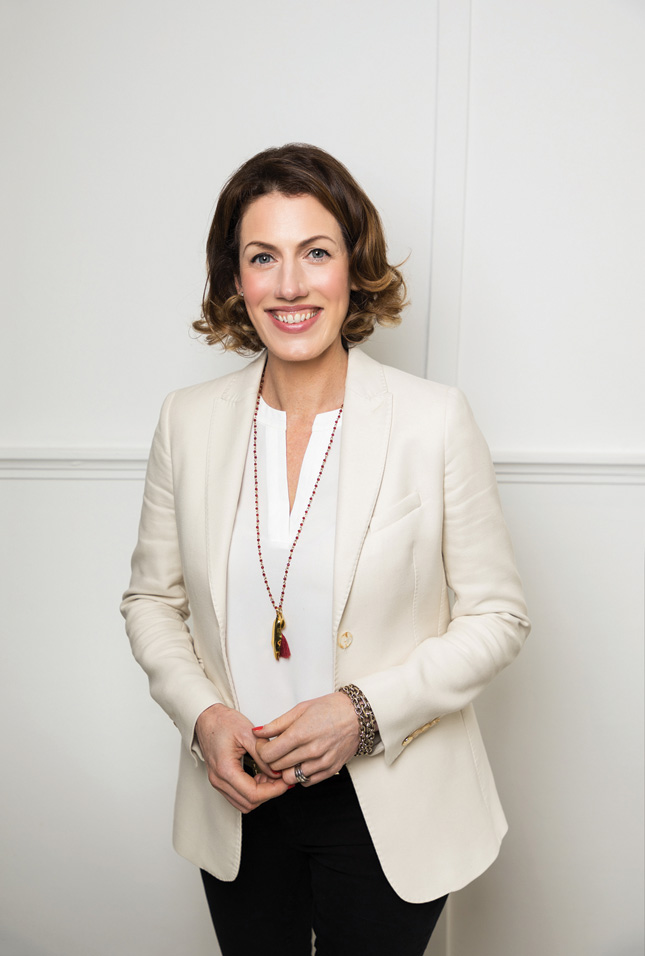 1. Mirror what's indoors outdoors Continue floor finishes, wall treatments and roof structures between the two areas so that you can't easily define where the one space ends and the other begins.

2. Go for green When choosing colours for your interior look to the garden for inspiration. Green is a fantastic accent colour and works really well in any room. Use it on walls, upholstery, soft furnishings and even art work. Layer shades to create interest.

3. Choose custom-built furniture Extend your living space outdoors by opting for custom-built furniture rather than traditional patio furniture. This is a particularly good idea for small gardens as the furniture can also double as storage.
4. Comfort is key Make your outdoor space just as cosy as your living space. Use cushions and throws to encourage lounging. Floor cushions as seating is perfect for smaller outdoor spaces and can be used indoors on colder months. Outdoor rugs are great for covering up unsightly surfaces and help to define a space.

5. Lighten up Lighting your outdoor space will help maintain the connection between inside and outside during the darker months of the year and at night. Use lights to highlight plants, trees and any nice architectural features.
Decorative lighting is an inexpensive way to dress up any area; solar powered garland lights are easy to install and will give a lovely soft glow.
Source: House and Home Magazine
---
The 41st Jinhan Fair for Home & Gifts will be held at the Guangzhou Poly World Trade Center Expo.Should you have any query, we are glad to extend help at marketing@jinhanfair.com or you may reach us by a phone call to 0086-20-89308925.

To discover more about JINHAN FAIR, Please click to view the previous post-show reports.
The 47th Jinhan Fair
Jinhan Fair Online Exhibition