HOW TO DECORATE YOUR HOME WITH DARK COLORS
2020.01.08
---
Looks like the color of 2020 will be a quite dark one, the elegant and timeless Pantone Classic Blue.

Today we are indeed exploring further about how to decorate with the dark colors, like dark blues, greens, even blacks.
Rumor has it that it's difficult to decorate with moody hues. But, I'm here to tell you that it's not. Actually it's not any more difficult than doing i.e. an all-white interior, or any other monochromatic scheme for that matter.
A basic difference between any neutral color paint and deep saturated colors is the level of commitment. Committing to an inky blue, Marsala red, hunter green or a deep charcoal grey is a bold decorating decision. Yet, the sense of fulfillment at the end of that decorating journey is most worthwhile. That's because moody interiors have the potential to exude a natural, effortless sophistication with a vintage flair. When done properly, they are warm and inviting, and anything but gloomy. They are also the perfect backdrop for that eclectic vibe for they add weight and depth.
So, in order to create that perfect moody interior, here we go with some tips and steps to be considered.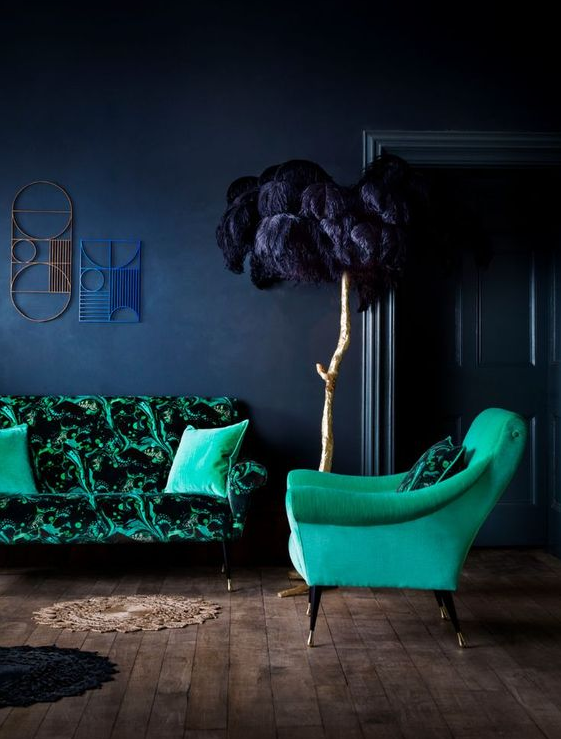 Desire to Inspire
How to Decorate with Dark Colors? #1 / The Room layout
This is the first and most important design decision where you need to designate which surface areas will be covered in a moody hue. For example, if you have a large open plan space, but a low ceiling then it's best to make the walls dark, but keep the ceiling light. However, if the ceiling is high, then you could consider going for a darker ceiling too.
Again, in an open plan space if the ceiling is high, then go for a dark ceiling. Personally, I recommend opting for a ceiling color that's at least two shades lighter than the walls. That's because the natural light bounces off the walls but not the ceiling. Hence, the ceiling will appear darker by default.
Now in the case, your room is not an open floor space and you have a standard or high ceiling height, then it is possible to use the same color of the walls for the ceiling too. But what if painting all the walls is too much of a commitment. Then, it is also possible to paint a moody hue only an architectural feature like a fireplace, an insert or a built-in bookcase. That may still be enough to make a statement while highlighting that feature.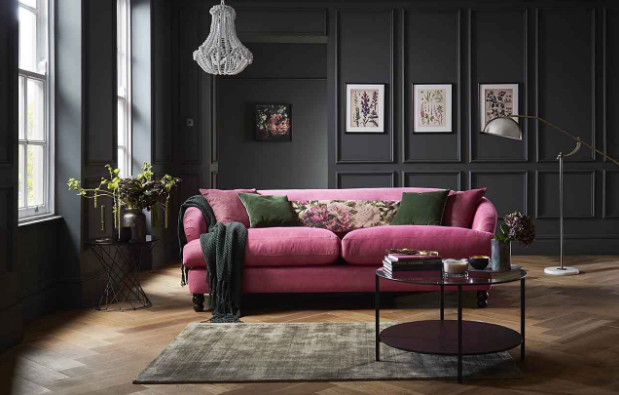 DFS Furniture via Te Esse

How to Decorate with Dark Colors? #2 / Flooring

The next thing to consider is the color of your flooring. Obviously there are no tangible rules. Yet, if both your flooring and ceiling are dark in color, then I would definitely create a contrast by employing a light area rug(s). In fact, I would even lay out a zebra pattern rug. That would ensure an eye catching statement that could never go wrong.
One thing I would most likely not do is opting for a dark ceiling with light flooring.
|| Be inspired: Forest Green Color Trend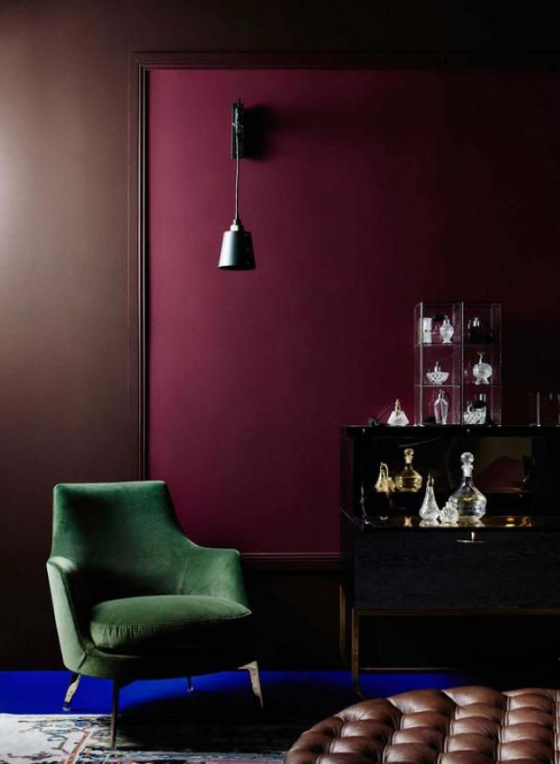 via

How to Decorate with Dark Colors? #3 / Décor
Also, I think it's important to add any home décor with personality that is both a) moody and b) awe inspiring. Artwork, metallic accents (i.e. door knobs, handles, sculptural pieces), vintage finds and patterned textiles in earthy colors all fit that bill. Floral wallpapers with a dark moody background are yet another option to consider. They have a real punch to them, therefore I honestly urge you to throw in a wallpapered accent too.
As a side note, allow me to mention that dark and total black kitchens are a chapter of their own, depending on their style. However, almost all moody kitchens can look awesome with some open shelves, plants and a few woven baskets.
|| Be inspired: The latest kitchen trends for 2020 and 2021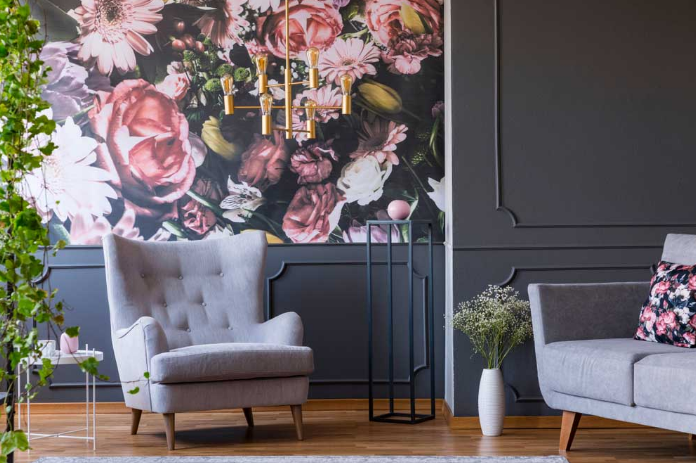 Shutterstock

How to Decorate with Dark Colors? #4 / Lighting
Probably one of the most important things though is to add more light sources. I don't think I can emphasize this enough. Go for statement lighting like (crystal) chandeliers, table and floor lamps. Similarly, layer in some wall lights to highlight your artwork (especially it's moody too). The motto to follow is that the more light sources the more airy everything will feel. And that's exactly what you must always aim for.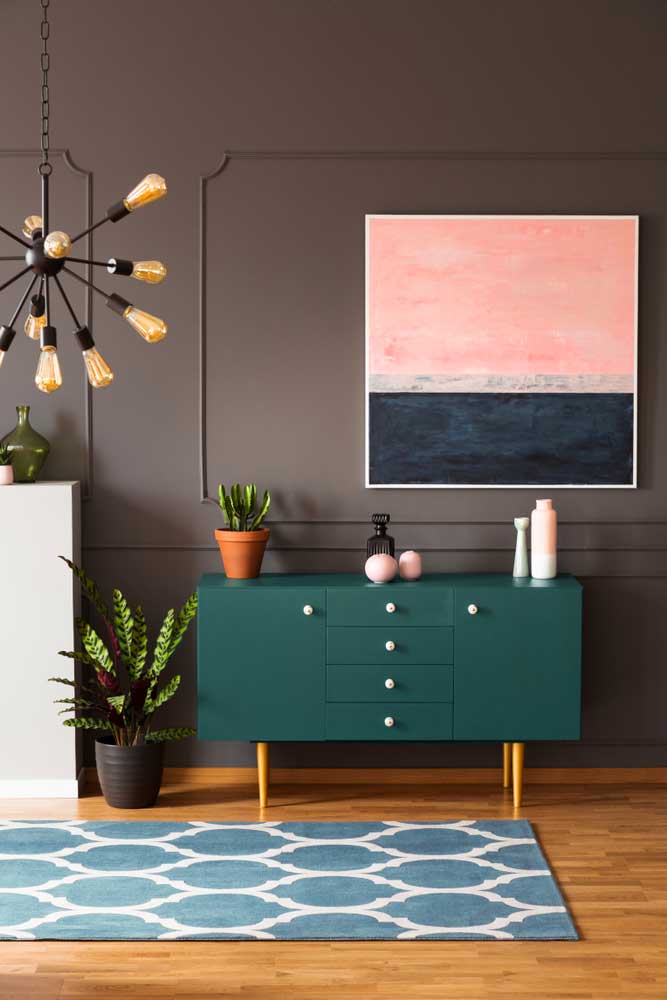 Shutterstock
Concluding, decorating with moody colours is surely a seducing style that requires a good sense of balance to pull off. Saturated hues add weight, therefore, always add on anything that will counter balance that effect. If you don't feel confident enough to take the leap then make a plan of action, start small and elaborate on it, step by step. That way you won't get overwhelmed for you'll be able to stop and edit before proceeding with your plan.
Liked this post? Pin it!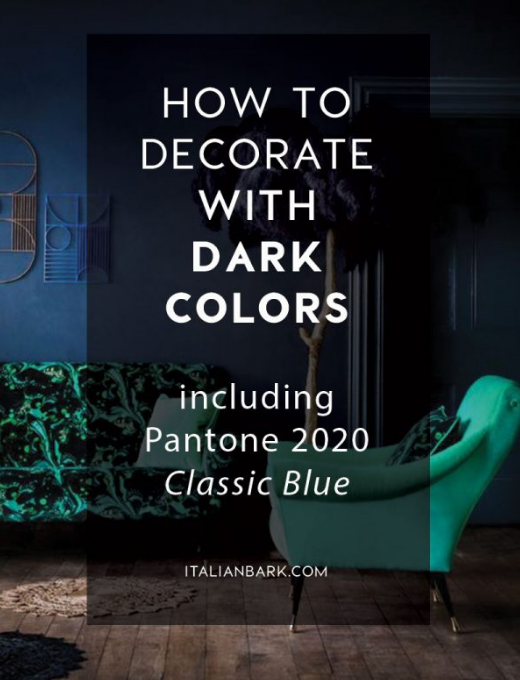 ---
On April 21-27, 2020, the 41st Jinhan Fair for Home & Gifts will be held at the Guangzhou Poly World Trade Center Expo.Should you have any query, we are glad to extend help at marketing@jinhanfair.com or you may reach us by a phone call to 0086-20-89308925.
To discover more about JINHAN FAIR, Please click to view the previous post-show reports.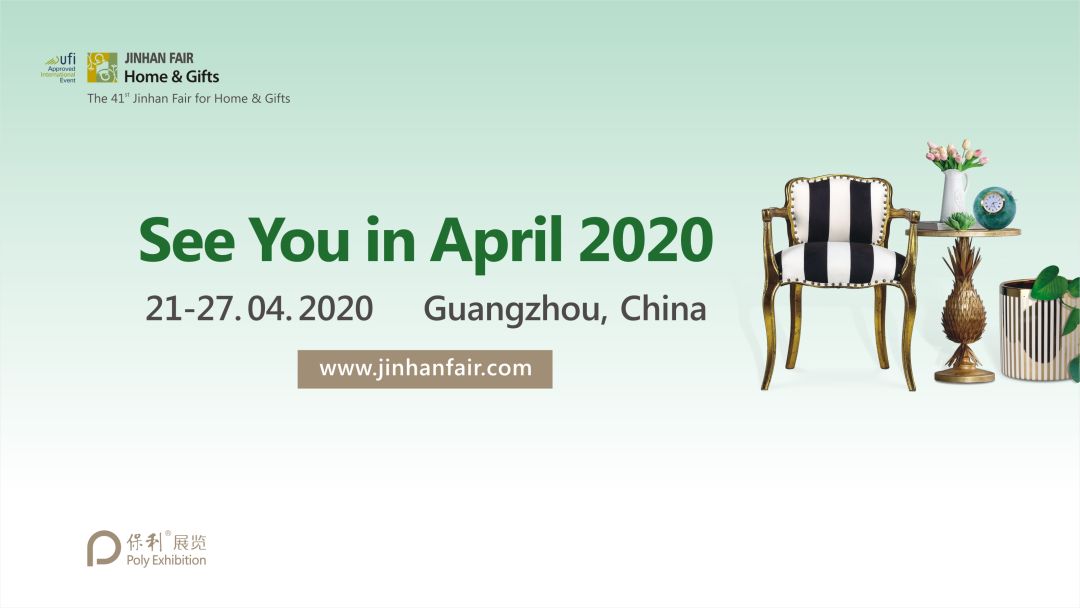 The 49th Jinhan Fair
Jinhan Fair Online Exhibition