Continuing to Pursuing Splendor from a Higher Starting Point -- The 40th JINHAN FAIR Successfully Concluded
2019.10.27
---
On October 27th, the 40th Jinhan Fair for Home & Gifts (referred to as "JINHAN FAIR" hereinafter) was successfully concluded at PWTC Expo in Guangzhou.
The exhibition covered an area of 85,000 m2 and attracted more than 50,000 person-times of professional buyers from over 160 countries and regions. Among them, 56% were European and American buyers.
Geographical Distribution of Buyers
During the memorable 20 years of China's foreign trade of home and gifts, JINHAN FAIR has been forging ahead to upgrade exhibition scale, increase platform value and improve brand influence. It has promoted domestic enterprises of home and gifts to the international market to show the unique charm of China's design and manufacturing.
Global buyers participated for successive years, and China quality shined on the world stage
While constantly discovering and enriching the categories of exhibits, JINHAN FAIR has also been supplying home and gifts with the best lineup and highest level for global buyers through the strictest selection, just as a traditional Chinese saying goes, "prospecting gold in sand through big waves". Here, the aggregation effect of the platform has also been fully released: home accessories, decorative furniture, outdoor and gardening tools, home textiles, kitchen supplies, seasonal decorations and other fashionable new arrivals brought by 900 powerful exhibitors are all available, satisfying the needs for one-stop shopping of professional buyers in an all-around way.
At this session of JINHAN FAIR, the world's major chain stores, wholesalers, retailers, importers, etc. sent teams on schedule for large-scale procurement, including USA and Hong Kong team of Hobby Lobby, Japanese team of Nitori, Hong Kong team of Li & Fung, Canada and Hong Kong team of Walmart, Netherlands and Hong Kong team of Watson, France team of AUCHAN, UK and France team of B&M, New Zealand, Australia and Hong Kong team of Bed Bath & Beyond, Taiwan team of Best Buy, USA and Hong Kong team of Christmas Tree Shops, Netherlands and Hong Kong team of Edelman, USA and Netherlands team of EVERGREEN, Colombia and Peru team of FALABELLA, USA, Canada and Hong Kong team of GANZ; USA and Hong Kong team of Lifetime brands; USA, Taiwan and Hong Kong team of TJX, Canada and Hong Kong team of Walmart, Germany and Austria team of XXXLUTZ; Chile team of CENCOSUD, Netherlands team of KAEMINGK, USA and Hong Kong team of Ross Stores.
Top 10 Origins of Buyers
Through JINHAN FAIR, international buyers have continuously delivered quality home and gifts from China to other parts of the world, and witnessed and participated in the transition and growth of the exhibition in the past two decades.
AUN LIMITED, a company from Japan, is one of the loyal buyers of JINHAN FAIR. Mr. Fujita Jo, head of purchasing of the company, said, "We have been visiting JINHAN FAIR for 20 consecutive years, almost on the same date with the same team for every session. We have been following JINHAN FAIR from the old exhibition hall on Liuhua Road. Most of the products we have purchased, including outdoor and gardening tools, and home decorations, came from JINHAN FAIR. We have cooperated with more than 100 suppliers here, and seen the development and replacement of exhibitors and different styles of operation by two generations in the past 20 years."
Infused with more momentum, Chinese enterprises march more smoothly toward global development
In the last two decades, many Chinese enterprises of home and gifts have taken the express train of foreign trade through JINHAN FAIR to knock open the door of the international market. JINHAN FAIR is constantly transferring in the light of trends. By building an international platform for exchange and display, it helps enterprises grasp the international situation, guides and promotes enterprise innovation, enhances R&D and design capabilities, and fosters new advantages in the competition in foreign trade.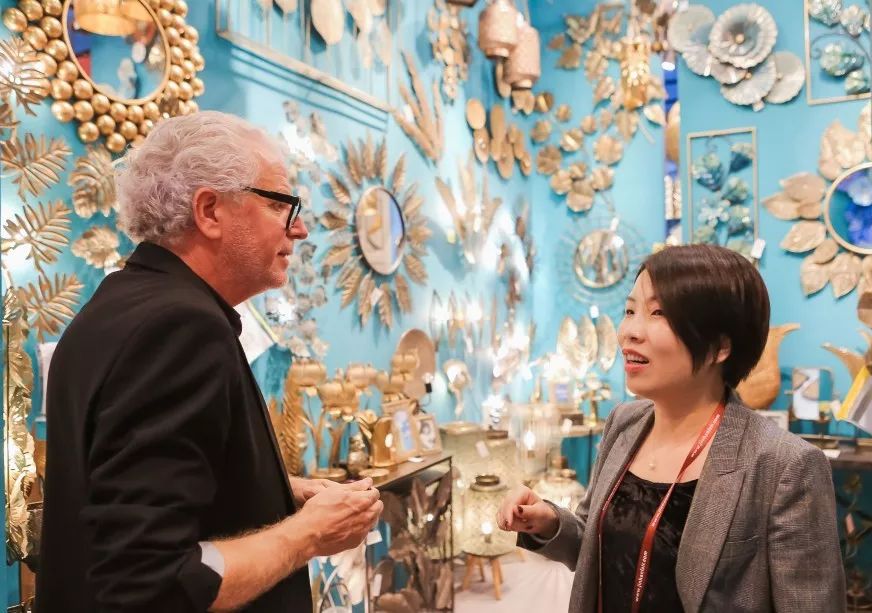 Mr. Lin Liqu, General Manager of Fuzhou Homebroad Craft Co., Ltd., summarized their harvest from this exhibition as "the most product lines, the most product SKUs, the most buyers, and the most orders". He also talked about the company's experience in innovative design, "Homebroad has always been keeping up with international fashion trends. In recent years, we have focused on the transformation from traditional beauty lines to the integrity of European and American styles in product creation, and got recognized by buyers. We have achieved remarkable results."
Taking the relay of 20 years towards a new journey, JINHAN FAIR will stand at a higher starting point to continuously take root in the industry, keep pace with the times, move forward with courage, firmly grasp the new round of opening up opportunities, advance the service level and innovation leading ability, and join hands with enterprises to create new glory of home and gifts export in foreign trade. Looking forward to seeing you again at PTWC Expo in Guangzhou on April 21-27, 2020.
The 49th Jinhan Fair
Jinhan Fair Online Exhibition