Creative Co-Op expands, adds Creative Commons in Dallas
2019.09.26
---
Home décor, soft goods and decorative accessory producer Creative Co-Op is expanding its Dallas Market Center showroom and in the process is bringing its Creative Commons concept to a third market.
Creative Co-Op will expand into Trade Mart 2454 for January's Dallas Total Home & Gift Market as an extension of its current space, with seasonal products in 4,000 additional square feet. Collections include ornaments and botanicals along with a wide range of accents and home décor. The expansion will also create space in the existing Creative Co-Op showroom for showcasing the entire home décor line as well as the European brand Bloomingville in more spacious displays. The Illume brands, including Magnolia Home Fragrance collection, will be featured in sister showroom KBD Sales across the atrium in Trade Mart 2999.
"Creative Co-Op and our family of brands is excited for our new seasonal showroom expansion," said Garry Schermann, senior vice president of sales. "Dallas Market Center is important to our business because of its loyal customer base especially from the Central U.S. If we want to see these customers, we need to reach them in Dallas. Retailers love the convenience, product variety and lower travel costs to visit Dallas. Our expansion is being driven by the ongoing success we've seen in Dallas, the increase of our seasonal product introductions, and new retailer demand for a large variety of fresh product that is both unique and well-priced. We look forward to a very successful 2020!"
Schermann said Dallas provides Creative Co-Op with some of its most consistent business from market to market and the expansion is a way to take advantage of those conditions.
"We're bullish on Dallas for the seasonal business and we're bullish on Dallas for a very loyal customer base," Schermann said. "We feel strongly that Dallas continues to have a strong seasonal customer base and we have a very loyal following in Dallas."
Bridging the two spaces will be a new Creative Commons, a centrally located buyers lounge and hospitality space adjacent to the second floor escalators. Buyers are invited to enjoy the comfortable space merchandised with furniture and décor from Creative Co-Op and to experience exclusive hospitality while attending the show.
"Creative Co-Op is a rare company with the Midas touch. No other exhibitor delivers more hot products, more best-sellers, and is more in demand in Dallas," said Cindy Morris, president and CEO of Dallas Market Center. "We are thrilled with their expansion and the tremendous value they continue to create for Dallas customers. Working together, we are looking forward to a very successful new year."
---
On October 21-27, 2019, the 40th Jinhan Fair for Home & Gifts will be held at the Guangzhou Poly World Trade Center Expo.Should you have any query, we are glad to extend help at marketing@jinhanfair.com or you may reach us by a phone call to 0086-20-89308925.
To discover more about JINHAN FAIR, please visit:38th Fair Review、39th Fair Review.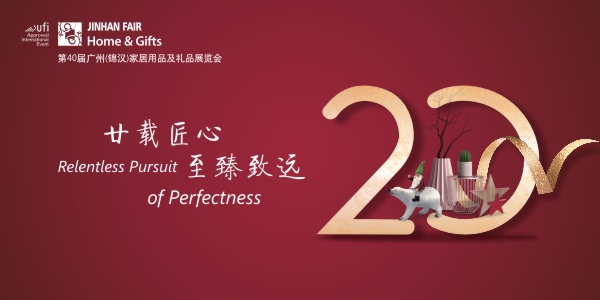 The 49th Jinhan Fair
Jinhan Fair Online Exhibition