Who Killed Sears? Fifty Years on the Road to Ruin
2019.07.22
---
Sears Holdings (SHLD) filed for Chapter 11 bankruptcy on Oct. 15, 2018. A wave of store closures and deals in desperate attempts to stay afloat failed to save the struggling retailer, which listed $6.9 billion in assets and $11.3 billion in liabilities in the filing.

The company announced in a statement that CEO, Edward Lampert, would step down, with day-to-day operations managed by three high-ranking executives. Lampert remained chairman of the board. The firm began to restructure after it failed to pay back $134 million that was due on October 15.
Key Takeaways
Sears Holdings filed for Chapter 11 bankruptcy on Oct. 15, 2018, at which time it had 700 stores across the U.S., $6.9 billion in assets and $11.3 billion in liabilities.

Eddie Lampert, chairman of Kmart, purchased Sears for $11 billion in 2004, changing the name of the company to Sears Holdings.

The company's biggest competitors to date have been Walmart and Amazon. Other rivals include Macy's, JC Penney, Home Depot, Lowe's, and Best Buy.

Sears Holdings spun off and sold many of its business units and brand names.

The company's stock IPO was issued in 1906 but was delisted from the Nasdaq in October 2018.
Where is Sears Today?
A bankruptcy judge approved the sale of the company's assets for $5.2 billion to Lampert in a bankruptcy auction. About 425 stores remained open as of April 2019, with nearly 45,000 jobs intact. When its Chapter 11 filing was announced, Sears had nearly 700 stores open in the U.S., compared to 3,500 Sears and Kmart when they merged in 2005.

The company stopped selling Whirlpool appliances in 2017, which it carried since 1916. An internal company memo reportedly cited pricing disputes. In August 2018, Lampert offered to buy the Kenmore appliance brand for $400 million in cash through his hedge fund ESL Investments after the company failed to find other takers. ESL also offered to buy the Home Improvements business for $80 million in cash.

"Over the last several years, we have worked hard to transform our business and unlock the value of our assets," Lampert said in the statement announcing the bankruptcy petition. "While we have made progress, the plan has yet to deliver the results we have desired, and addressing the Company's immediate liquidity needs has impacted our efforts to become a profitable and more competitive retailer. The Chapter 11 process will give Holdings the flexibility to strengthen its balance sheet, enabling the Company to accelerate its strategic transformation, continue right-sizing its operating model, and return to profitability."

In September 2018, SHLD share prices fell below a dollar, and it further slid to trading close to 50 cents on Oct. 10, 2018.

Sears Holdings filed a lawsuit against Lampert and ESL Investments, saying it was stripped of its most valuable assets, forcing it into bankruptcy. The lawsuit said the assets—including Orchard Supply Hardware Stores, Sears Canada, and Sears Hometown and Outlet Stores among others—were valued at about $2 billion. ESL responded, saying the allegations in the lawsuit are without merit.
A Tale of Retail Hubris
It started by selling a single product category. But when it became clear that a sleepy, overpriced retail sector would crumble before it, there was nothing to stop the company from selling anything and everything. You could order from the comfort of your own home. You could pay a fair price. It would ship the goods right to you. Sales exploded, and if you'd picked up a big enough chunk of stock when the company went public, you'd never have to work again.

That description once applied to Sears, Roebuck, and Co., but now it better describes the company that's blamed for—or credited with—its looming demise, Amazon. Having played the role of an upstart retail juggernaut in the 1890s, Sears now finds itself in the same position as the rural general stores it used to drive out of business en masse.

On the other hand, Sears' demise is not all Amazon's fault, nor is it a simple circle-of-life parable. Sears made its share of mistakes.

In its 2016 annual report, the company listed Walmart (WMT), Target (TGT), Kohl's (KSS), J.C. Penney (JCP), Macy's (M), Home Depot (HD), Lowe's (LOW), Best Buy (BBY) and Amazon as its main competitors. As of October 2018, Sears lost 96% of its value since it began trading under its current ticker in May 2003. J.C. Penney has done even worse, but Lowe's, Best Buy, and Home Depot have all seen their share prices at least double. Amazon shares, on the other hand, are up nearly 33-fold. Even for a brick-and-mortar retailer in the digital era, Sears is struggling.
Sears' Rise: The First 90 Years
In the mid-1880s, Richard Sears worked as a station agent for the Minneapolis and St. Louis Railway in North Redwood, Minnesota. He would sell lumber and coal on the side, giving him experience that came in handy when, in 1886, a local jeweler rejected a shipment of gold-filled watches from Chicago. Sears bought them himself, sold them at a profit, and ordered more. He founded the R.W. Sears Watch Company in Minneapolis, then moved to Chicago in 1887 and partnered with Alvah C. Roebuck, a watchmaker from Indiana. Both were in their twenties.

They launched a catalog of watches and jewelry the following year and incorporated Sears, Roebuck, and Co. in 1893. Two years later a couple of Chicago businessmen bought Roebuck's 50% stake for $75,000—over $2.3 million in today's dollars. By that time, the company branched out from watches. Sales reached $750,000, and Sears' iconic catalog ballooned to 532 pages. Farmers, fed up with understocked and overpriced general stores, flocked to Sears.

The company sold stock in 1906 in the first initial public offering (IPO) for an American retail firm—the first to be handled by Goldman Sachs. It opened a 40-acre logistics center in Chicago that very same year. According to Sears' corporate archives site, Henry Ford made a pilgrimage to this "'seventh wonder' of the business world" to learn about the company's storied efficiency.

Sears Holdings was delisted from the Nasdaq in October 2018 and began trading over-the-counter.

Ford would throw a wrench in Sears' business model, as cars made chain stores more appealing and mail-order catalogs less crucial for rural customers. Sears adapted, opening retail stores in the 1920s that outsold the catalog by 1931. Revenues totaled $180 million that year—around $2.8 billion in today's dollars. The company began to introduce its own brands, including Craftsman, DieHard, and Kenmore. It began selling insurance through its Allstate subsidiary.
Sears' Downfall: The Past 50 Years
In 1969, Sears, the largest retailer in the world, began construction on the world's tallest skyscraper. The Sears' Tower's completion five years later may not mark the company's peak, but its retail dominance began to fade around that time. In the 1980s, it adopted a "socks and stocks" strategy, expanding into financial services beyond its existing insurance business. In 1981, the company purchased Dean Witter Reynolds Organization Inc., a stockbroker, and Coldwell, Banker & Co., a real estate broker. It launched Discover Card through Dean Witter in 1985.

In 1984, together with IBM (IBM) and (for a time) CBS, the company created what would become Prodigy, a pre-Web online portal. Built on a private network, it was distinct from the internet but presaged it in many ways, offering email, games, news, weather, sports, and shopping.

In 1992, when Sears' revenues reached $59 billion, the company announced plans to simplify its structure. It took parts of Dean Witter and Allstate public, then distributed the remaining shares to investors. Having sunk over $1 billion into the Prodigy project between them, Sears and IBM received less than $200 million from the sale in 1996. Sears also sold Coldwell Banker, along with other financial services subsidiaries.
Sears discontinued its famous catalog in 1993.
According to the company archives, it "returned to its retailing roots" by 1999. In fact, it retained a significant consumer credit division, with U.S. borrowers accounting for 61% of the company's $2.5 billion in operating income in 2002. Investors began to worry that the early-2000s recession made credit card issuance too risky, and Sears sold the business to Citigroup (C) in 2003.

At the turn of the century, Sears turned to the web in earnest. A July 2000 press release boasted that sears.com sold home electronics, computers, office equipment, appliances, cookware, baby products, school uniforms, gifts, toys, and sports memorabilia. Amazon, meanwhile, only just began branching out from books to offer software, video games, and home improvement products in November 1999.

At that time, Sears' problem was not so much Amazon as it was Walmart, which became the nation's largest retailer in the 1990s.
Net square footage, millions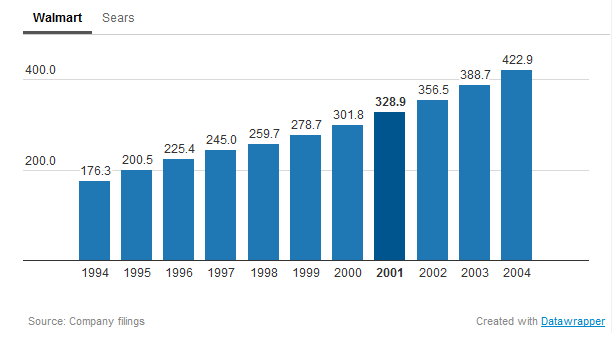 Sears, Meet Kmart
Kmart announced it would buy Sears for $11 billion in November 2004. The combined companies—to be headquartered in Chicago and called Sears Holdings—would operate around 3,500 locations. Analysts expressed excitement at combining the fading giants' mainstays, cross-selling brands such as Sears' Craftsman and Kmart's Martha Stewart Everyday. Management promised to save $500 million a year by 2007, partly through jobs cuts and store closings.

The deal's mastermind was Kmart chairman Edward Lampert, a Goldman Sachs (GS) alumnus and one-time roommate of Treasury Secretary Steven Mnuchin at Yale. Lampert left Goldman to start a hedge fund in 1988 at the age of 25 and bought up Kmart's debt when the retailer declared bankruptcy in 2002. He gained a 53% stake in the company for less than $1 billion. A week after the merger with Sears was announced, Bloomberg reported that Kmart's market capitalization was $8.6 billion.
Lampert Takes the Reins
As chairman of the combined company—he took on the CEO role as well in 2013—Lampert initially attracted breathless praise from the media. A 2004 Businessweek cover story called him "the next Warren Buffett." Just as Buffett turned a failing textile company into a vehicle for superhuman returns, Lampert would use Kmart as a cash cow for savvy acquisitions. His hedge fund's average annual return of 29% from its inception to 2003 boded well.

A little over 13 years later, such comparisons seem ridiculous. Sears Holdings' sales rose in 2006, its first full year as a combined company, but then fell in each of the following nine years. For a while, Sears' stock rose anyway, but the financial crisis wiped 85% off its value between its April 2007 high and its November 2008 low. The recovery was tepid and short-lived. The Chicago Tribune reported in March 2010 that Sears was losing market share. Shares peaked again that April at less than two-thirds their pre-crisis high. They have not recovered since.

Kmart was Lampert's first majority stake, and he proved to be a better speculator than a manager. A 2013 Bloomberg article excoriates his Ayn Rand-inspired approach: In 2008, he split the company into 30 divisions—which swelled to 40 a year later—each of which reported profits separately and had to compete with the others for resources. Lampert was both strict with money and distant, seldom leaving his home in South Florida.

Divisions found themselves acting like separate companies, even drawing up contracts with each other. Compensation costs rose as each division hired its own senior management. These executives, in turn, had to form their own boards, and their pay was determined according to an in-house profit metric that led to cannibalization as some divisions cut jobs, forcing others to step in. The appliances unit found itself being gouged by the Kenmore unit, so it bought wares from LG, a South Korean conglomerate, instead.

The combined company's profits peaked at $1.5 billion in 2006, then dwindled to nearly nothing by 2010. The company lost $10.4 billion from 2011 to 2016. In 2014, its total debt surpassed its market cap.

While Lampert experimented with new management techniques, Amazon built a retail empire. Its total sales were a mere 17% of Sears' in 2005, the first full year after the Kmart merger. But whereas Sears' revenues fell by 14% over the following five years, Amazon's nearly quadrupled. In 2011 the tech giant surpassed Sears, then lapped it in 2013. In 2016 it made $136 billion in sales to Sears' $22 billion.

When Kmart's acquisition of Sears was announced in 2004, Lampert commented, "I don't think any retailer should aspire to have its real estate be worth more than its operating business."
Sears Spins Off Assets, Cuts Staff
As Sears' prospects fade, however, investors began eyeing its real estate. Sears spun off around 200 properties into a real estate investment trust (REIT) that began trading as Seritage Growth Properties (SRG) in July 2015. Other assets have been spun off as well, including Lands' End and Sears Canada. Stanley Black & Decker (SWK) agreed to buy Craftsman in January 2017.

Sears cut the hours, pay and headcount of retail staff to save cash, causing stores and customer experience to deteriorate. "We have a 17-year-old running the office and cash office," one employee wrote to Business Insider in August 2016. "He has no experience in either, but he is a warm body to fill the job. The end is coming soon, get out while you can."

An affiliate of Lampert's hedge fund agreed to loan Sears up to $500 million in January 2017, bringing the total amount Lampert has plowed back into the business since September 2014 to around $1 billion.

In another attempt to save its business, Sears announced a deal with Amazon (AMZN) on May 9, 2018, in which the retail chain would use Sears Auto Centers to install car tires ordered on Amazon. Sears shares jumped almost 20% on the news. This was not the first time Sears partnered with Amazon—the company landed deals to sell appliances and car batteries on Amazon in 2017.

In the second quarter of 2018, Sears posted overall revenue down 25%, but same-store sales decline slowed. The retailer posted a loss of $508 million for the quarter, bringing its total loss since 2010, its last profitable year, to over $11 billion.

Lampert attempted to buy Sears' assets out of bankruptcy for $4.4 billion through his investment company, ESL Investments.

The Bottom Line

It would be easy to read this story as a triumph of e-commerce, or to reflect on the irony that Sears was a first-mover when it came to online shopping, with its proto-internet joint venture Prodigy. But even recently, Sears has been ahead of the curve in that area. According to Bloomberg, Lampert "showered" the online division with resources while the rest fought over a shrinking pie.

Nor did competition with Amazon alone precipitate Sears' decline. When sales and profits began to fade, in the mid-2000s, other big-box retailers—particularly Walmart—were thriving. In 2011, the year Sears lost over $3.1 billion, Walmart made $17.1 billion.

Perhaps the might-have-been next Warren Buffett should have listened to the original, who told University of Kansas students in 2005, "Eddie is a very smart guy, but putting Kmart and Sears together is a tough hand. Turning around a retailer that has been slipping for a long time would be very difficult. Can you think of an example of a retailer that was successfully turned around?"

Compete Risk Free with $100,000 in Virtual Cash

Put your trading skills to the test with our FREE Stock Simulator. Compete with thousands of Investopedia traders and trade your way to the top! Submit trades in a virtual environment before you start risking your own money. Practice trading strategies so that when you're ready to enter the real market, you've had the practice you need.
From:investopedia
---
On October 21-27, 2019, the 40th Jinhan Fair for Home & Gifts will be held at the Guangzhou Poly World Trade Center Expo.Should you have any query, we are glad to extend help at marketing@jinhanfair.com or you may reach us by a phone call to 0086-20-89308925.
To discover more about JINHAN FAIR, please visit:38th Fair Review、39th Fair Review.
The 47th Jinhan Fair
Jinhan Fair Online Exhibition