Walmart Reportedly in Talks to Buy Jet.com
2016.09.13
---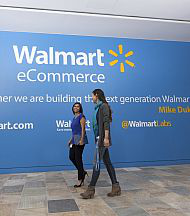 Walmart is in talks to buy Jet.com, The Wall Street Journal reports. If it happens, the acquisition could give Walmart's online business the an edge it needs to compete with Amazon.
Jet.com is just a year old and is run by the entrepreneur who created Diapers.com, Marc Lore. The online retailer offers free 2-day shipping on orders over $35.00 and sells groceries and houslehold items. Amazon charges $99 annually for free two-day shipping as part of its Prime membership.
The Wall Street Journal writes that Walmart would gain Jet's sophisticated pricing software, as well as warehouses and valuable customer data. The retailer also would get a brand that can appeal to higher-income shoppers, something Walmart.com has struggled to do.
For Jet, a takeover by an old-line retailer would demonstrate the challenges of attempting to go it alone in the hypercompetitive e-commerce market. The company has sought to underprice Amazon with a vast marketplace that would require billions of dollars in funding and a plan to rely more on suppliers than warehouse inventory.
Source from: RIS
The 49th Jinhan Fair
Jinhan Fair Online Exhibition