5 design trends you haven't tried (but should!)
2016.07.20
---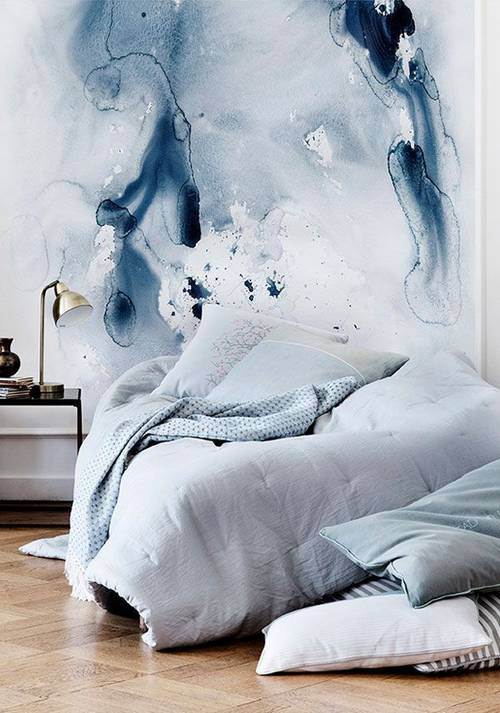 They're not typical, but they're gorgeous anyway. If you've ever dreamed of taking a design risk, you're reading in the right direction. Below, discover unexpected, inspiring ways to transform a space that you have never tried--and possibly have never seen--ever before.
watercolored walls
The statement wall is definitely having a moment right now with bold accent colors, a modern wallpaper revival, and chic wall murals for all. So, what's the latest design trend to join this growing list? That's right - it's good old-fashioned watercolor! There are so many reasons to love this look, like the many options you have for achieving it: wallpaper, murals, or even actual hands on kindergarten-era watercolor (seriously, there are plenty of online DIY tutorials to choose from). But we're not finished. The watercolor wall is also surprisingly chic when done the right way, like in a monochromatic palette or with colorful bursts that are tightly clustered (this is definitely no place for a full room, 4-wall effect). The key is to keep the watercolor confined to roughly one-third of your statement wall, and pair with serious, grown-up furniture pieces to keep the look in balance. And if you're DIY-ing, keep your fears in check by remembering that you can always paint over any mistakes and start again.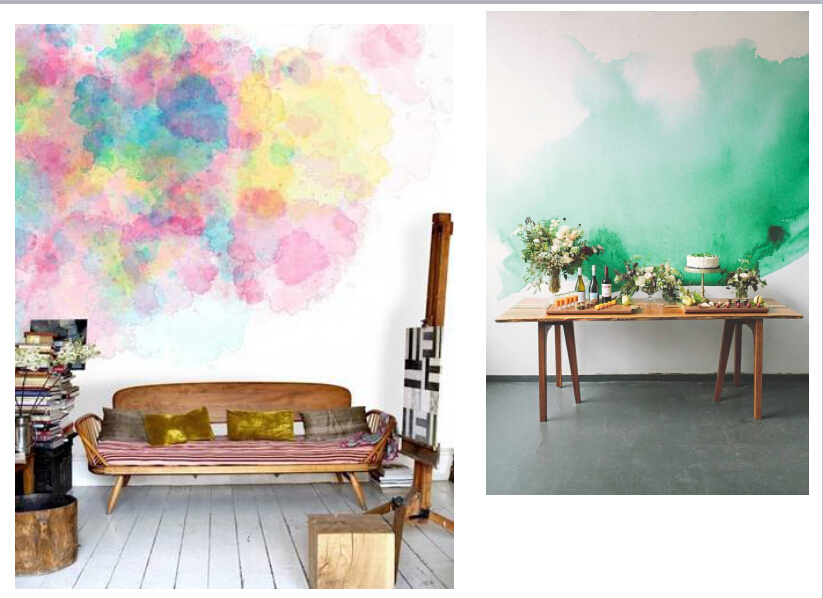 blurred lines (half-painted walls)
Sometimes the best design discoveries are made by accident. Or at least, that's how we imagine the intentionally messy half-painted wall became 'a thing'. We can only assume that someone was attempting a traditional half-wall, and forgot the painter's tape? However it happened, we're glad it did. These blurred lines add a subtle shot of lackadaisical whimsy to a space without taking over. The key is to blur your lines just enough so that the effect looks intentional and not first-time-with-the-paintbrush careless.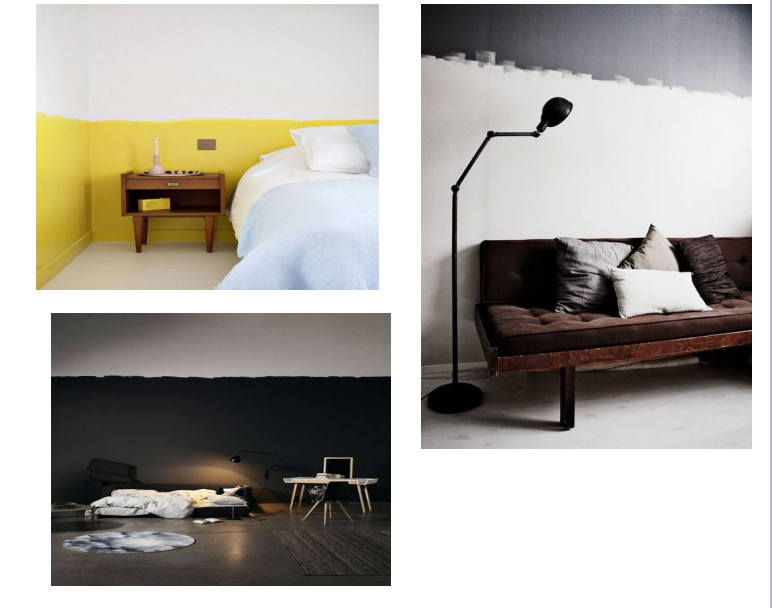 Unfinished wallpaper
Unlike the half-painted wall treatment, these rooms play with the layering effects of wallpaper to create graphic interest. Try cutting around the paper's pre-printed design to create a custom half-wall mural, or layer paper in strips of different thicknesses for a modern striped or color blocking effect. To ensure the effect looks intentional, keep paper edges clean and sharp. Not sure you want to commit? Opt for temporary peel-and-stick wallpaper instead.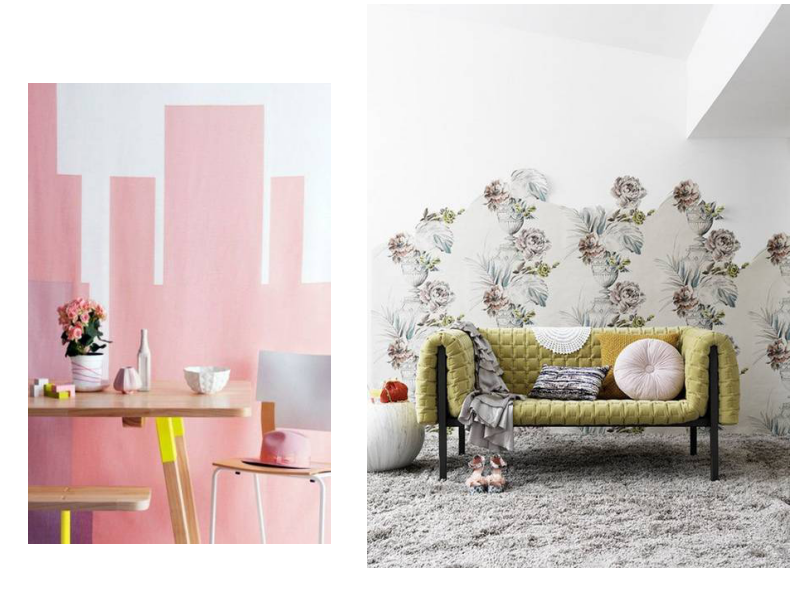 Wallpapered stairs
Can't get enough wallpaper? Stay tuned, because the latest way to reinvent a boring staircase is to add a graphic wallpaper pattern to your stair risers. It's a quick, simple, and economical way to transform a lifeless staircase into a chic focal point with conversation-starting interest. Keep the look modern and minimal by using the same pattern or color scheme on each stair. For a more fun and vibrant feel, choose a theme (like floral) and use varying colors that follow suit. Whatever your look, select a peel-and-stick wallpaper that's easy to wipe clean.
Diagonal door paint
The halfsies paint job has been done before, but how about on the door? And in diagonal? Yes, it's also become 'a thing', and it's easy to see why. The door is like a mini-statement wall, providing a smaller canvas for bold effects like bright paint. Try leaving one half clean and white, or painting both halves in colors that are equally bold, bright, and oh-so-chic. For a look that leans towards minimal, paint door hardware accordingly so that it disappears into the effect. To add a punch of visual interest, leave hardware unpainted and allow its original look to pop against the colorful background. And unless this is a child's space, pair with white or muted walls to avoid a look that's more preschool than posh.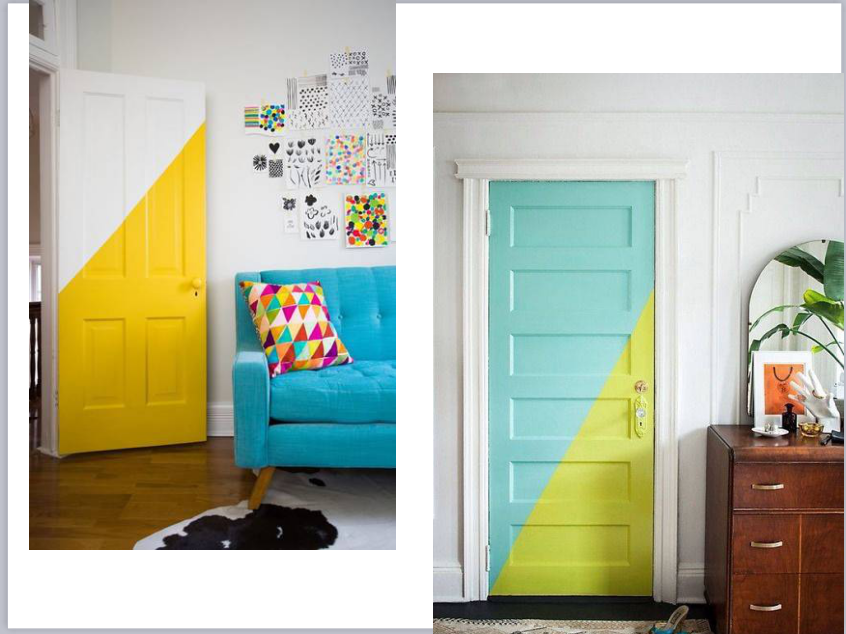 Source: domino
The 48th Jinhan Fair
Jinhan Fair Online Exhibition