4 GREEN BATHROOM IDEAS FOR COLORFUL INTERIOR DESIGN
2016.07.13
---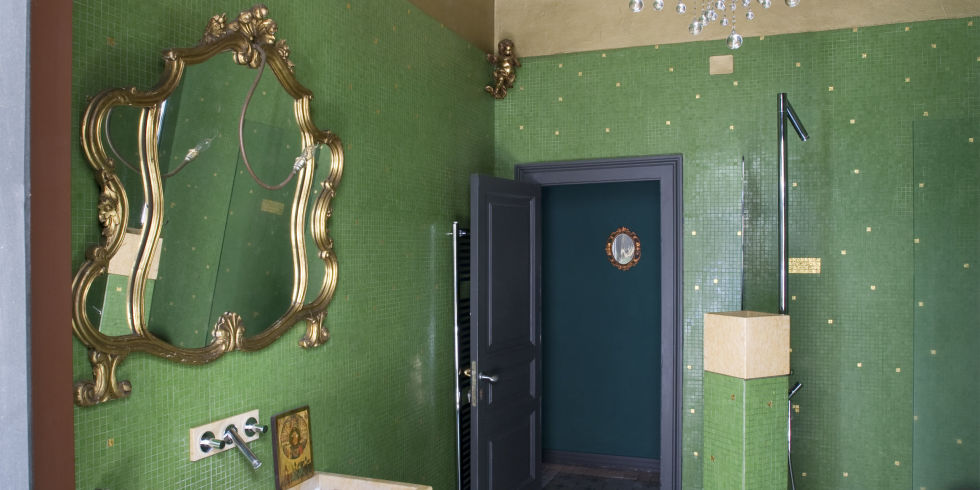 Bathroom design is often thought of in black and white terms — but it certainly doesn't need to be. A bathroom is a small portion of the house that gives you creative freedom to experiment with vibrant hues and unexpected shades. An incredible color to consider for this design feat? You guessed it: green.
"The benefits of going with green in a bathroom is that it's a summery, clean color," says color expert Amy Wax, owner of Your Color Source Studios and author of "Can't Fail Color Schemes, Kitchens And Baths." "It's important that any bathroom color gives you a sense of cleanliness and freshness, and green is certainly a color that feels very fresh."
If you're green for a bathroom revamp, read on for four ways you can approach this versatile hue.
LIME GREEN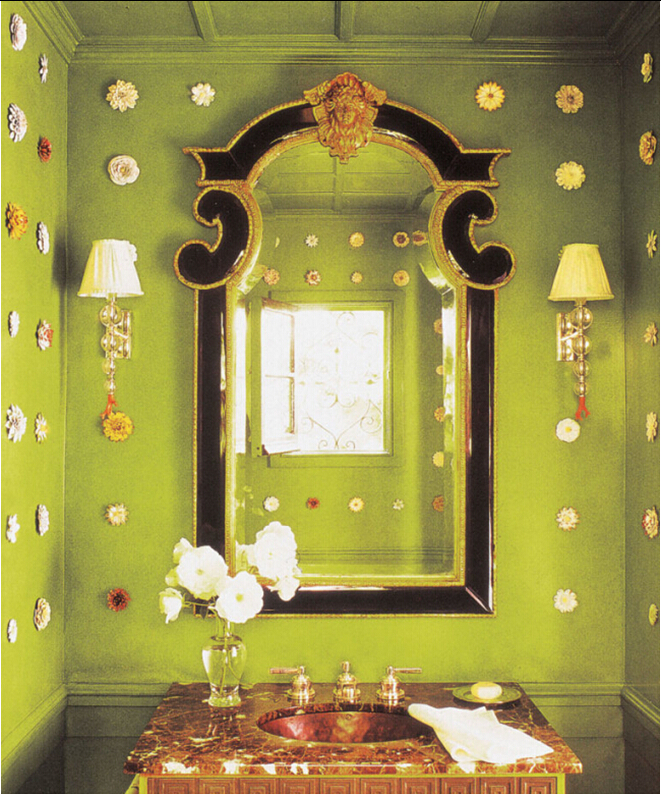 This powder room in a San Francisco house, decorated by Katie Ridder, is an exuberant garden-like oasis with lime green walls dotted with aluminum flowers. A green shade this bright should be reserved for spaces that, like this bathroom, embrace a playful, budding spirit.
"Lime green is good for rooms that are fun, kid-friendly or have a youthful feel to them," says Wax. "If it's a summer house or a place you vacation in, it'll have a lighthearted spirit to it, so that's a nice place to do something playful in the bathroom."
Lime green pairs well with yellows, grape purples and traditional black and white for striking contrast. In this powder room, the Queen Anne–style mirror is framed in cobalt glass and gilt wood. Keep in mind that a powder room, specifically, may be the ideal place to go bright green — if you design a larger bathroom in this color, you may need an accent wall to break it up.
"In a large bathroom, lime green may be a ton to digest," says Wax. "But it can be on all the walls in a smaller bathroom without a problem."
JADE GREEN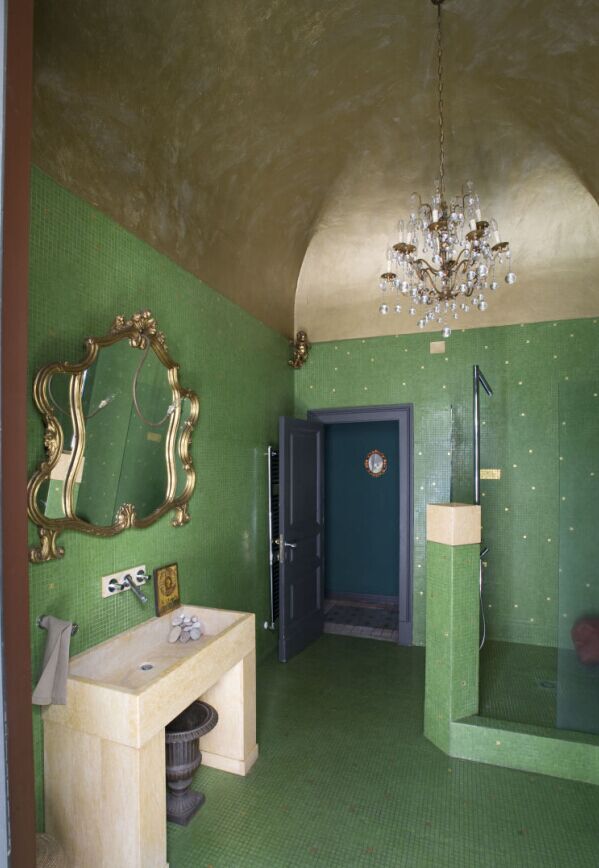 In this 19th-century Sicilian apartment, the walls and floor of the master bath are covered in jade green Bisazza tiles, giving the space a palace-like atmosphere with a grand chandelier and arched ceiling to match.
"While lime green is playful, jade green is sophisticated," says Wax. "This color gives you the opportunity to add decorative elements that are more elegant."
Translation: If you're into funky wall art and contemporary art, this may not be the hue for you.
"Jade has a high-quality, rich feel to it, as though you're surrounded by an emerald," says Wax. "I would pair it with white, gold or black."
You'll notice that in this bathroom, the 1950s French mirror is gold and the ceiling is covered in gold leaf. One material to avoid with this color: Nickel. It may appear too modern for a traditional jade room.
GRASSY GREEN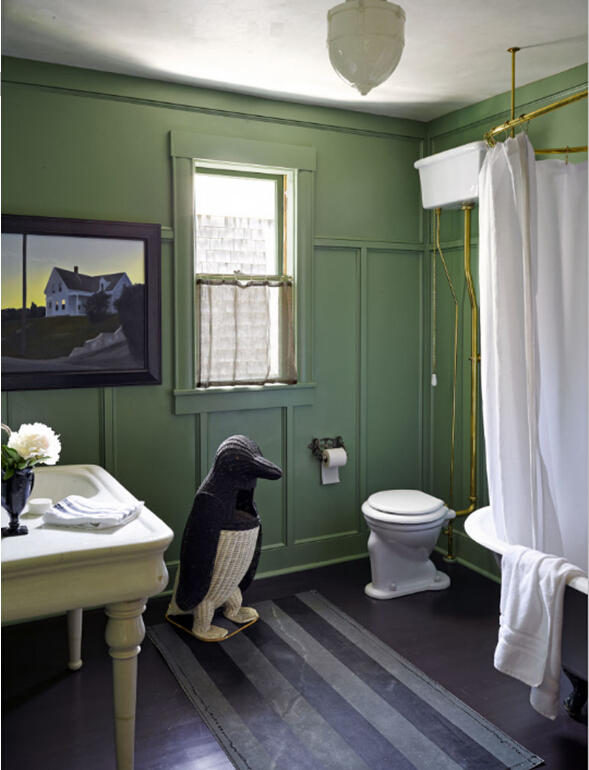 In the guest bathroom of a Cape Cod home, designed by Ken Fulk, the walls are painted in a calming grassy green — one of the most versatile shades of green you can choose.
"Grassy green gives you the option to have a little more freedom in your design," says Wax. "You can make it playful by adding fun accent colors and other bright aspects to the room. Or, you can go with a traditional approach, using colors like charcoal and white."
In this room, there are hints of both approaches: Just take the pairing of a traditional painting by John Dowd with a quirky, oversized penguin.
"In a grassy green bathroom, you're not wed to feeling like the color determines how you'll decorate the rest of the room," says Wax.
Pair grassy green with light colors, such as a creamy yellow. For a darker hue, opt for charcoal rather than black. Since grassy green is already a saturated color, true black may feel too heavy next to it.
SAGE GREEN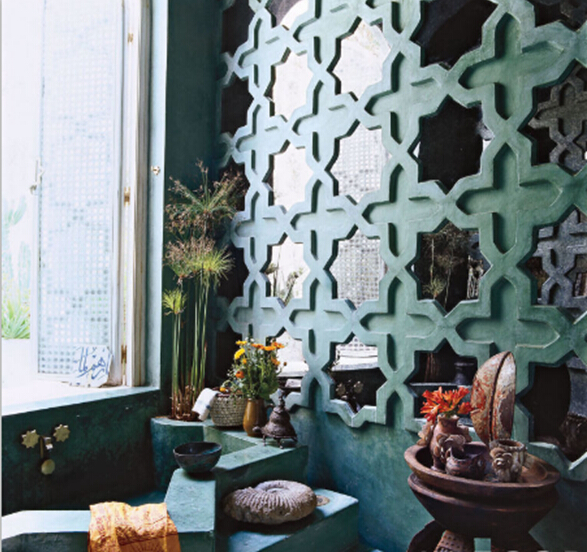 In fashion designer Liza Bruce's Moroccan house, sage green covers the mirrored wall, which is based on a traditional Islamic design. The earthy green hue lends the space a relaxing, spa-like atmosphere that is complemented by small statues and plants.
"Sage green is interesting because it's a little muted, but it's not dull," says Wax. "Of the greens, it's on the softer side, which can give it more of a soothing feeling."
To evoke spa-like relaxation in a sage green bathroom, pair the color with other natural tones.
"This green has an earthy feeling to it, so it's nice with natural colors and natural wood tones," says Wax. "Pair it with colors that give you the sensation of being in nature."
Source: Elle Decor
The 49th Jinhan Fair
Jinhan Fair Online Exhibition