Cultivate Your Love for Modern Farmhouse Décor
2016.04.01
---
It's not often that the terms "modern" and "farmhouse" are heard together, but the combination of design styles is more than noteworthy. We'll show you how to cultivate your love for modern farmhouse decor with tricks that put a fresh spin on rustic details.
Lap Up Farmhouse Character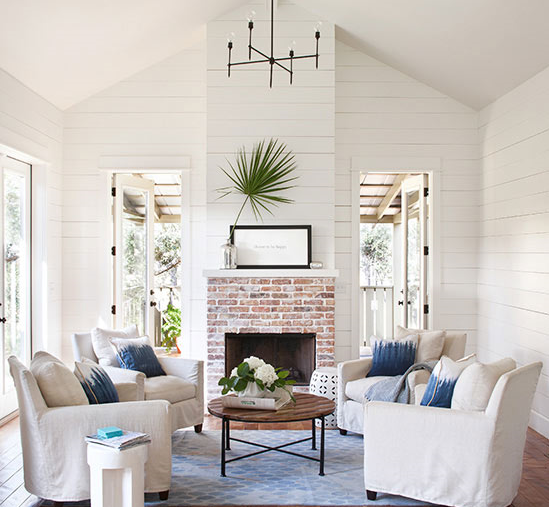 Although shiplap was once relegated to utilitarian buildings like barns and outhouses, the style of rough-hewn wood slats is now a mainstay in indoor farmhouse spaces. Modernize the look with simple furnishings in a crisp neutral color scheme.
Expose Your Penchant for Casual Design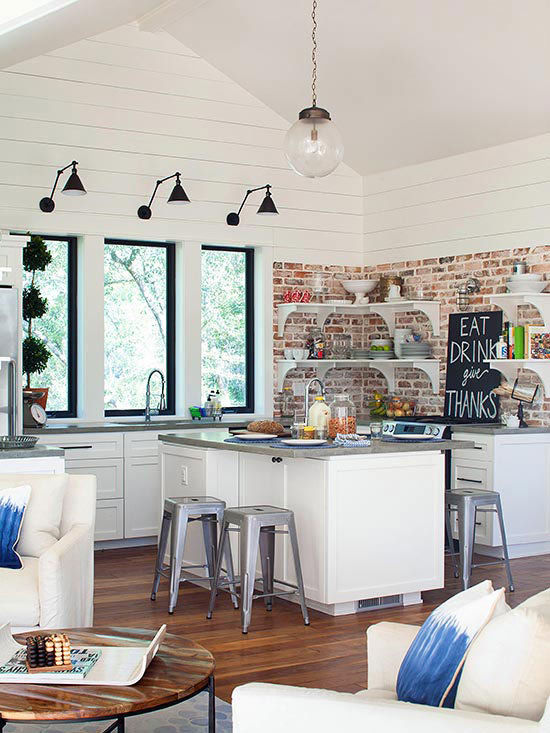 Exposed brick is one of those cool design tricks that can be industrial, traditional, or edgy. Give the raw texture modern farmhouse flair by pairing it with open shelving packed with curvy antiques and vintage books. Consider keeping the rest of the space bright white so you don't overpower your sophisticated exposed masonry.
Hand-Stitched Farmhouse Style
Quilts are practically a dime a dozen at quaint farming stores and antiques shops, so be sure to pick one up for your modern farmhouse. Make this decorative accessory look contemporary by choosing a quilt or blanket that features pops of bold color in lieu of painterly florals and paisley.
The New Industry Standard
Industrial-chic design is often rooted in hard finishes and raw textures. However, when paired with vintage wall signage and delicate textiles, the look reads as decidedly farmhouse. To add a contemporary twist to your rustic industrial accents, try them in bright, saturated colors, like these swanky yellow metal barstools.
The Looking Glass of Farmhouse Decor
There's nothing more thrilling than uncovering dusty treasures like beat-up wooden boxes and oversize, bubbled glass vessels from an old farmhouse. Or is there? Rather than plopping your farmhouse antiques on the floor or shelf where you'd expect them, try rethinking their modern purpose. Here, old glass bottles are given new lives as contemporary pendant lights.
Antique Signage Adds Key Comfort
Pause for a moment and imagine this bright white kitchen without its green and yellow accents and irregular handwritten sign. It would be cool and contemporary, yes, but also far from cozy! The introduction of an accent color or two on top of a black-and-white foundation, plus that quaint, personalized sign, give the ultramodern space a down-home, farmlike feel.
Meet the Farmhouse Table's Alter Ego
For generations, farmhouse tables have been a gathering place for friends and family. Yet, the rustic, worn-in tables of old have since seen a modern facelift. These days, rather than mismatched chairs, sleek seating and pared-back benches finish off a large wooden table.
A Playdate for Wood Tones
While raw wood is anything but groundbreaking when it comes to farmhouse design, including broad tonal shifts in the material is something new to consider. Try incorporating the entire gamut of wood finishes -- from ultralight to dark ebony -- in your space. Wood grains naturally complement each other, no matter the color, so it's hard to go wrong.
Oversized Pendants Light the Way
One might assume that adding homey character to a stark gray-and-white kitchen like this one would be a challenge. But think again! It's easy to add fresh farmhouse style to a contemporary kitchen simply by incorporating elements such as nautral wood, plants, and oversize pendants, like the iron lanterns seen here.
Slide into Modern Farmhouse Design
One design technique that has catapulted farmhouse decor into the mainstream spotlight is the sliding barn door. Try giving this on-trend accent a modernized mood by outfitting the door with contemporary X-shape molding and a bright white paint color.
Farm-Friendly Mix of Metals
Iron, copper, chrome. Farmhouse style has never been one for matchy-matchy detailing, but modern farmhouse designs play up mixed metallic textures more than ever to give spaces an updated lease on life. Here, an iron mount holds up a sliding barn door, copper metal outfits the lighting, and chrome coats the appliances and seating, yet it all feels intentional thanks to the shiny, shimmering finish seen throughout.
Finding Balance with Bench Seating
When one pictures a farmhouse, it's easy to imagine a cozy space built to accommodate large, friendly gatherings. Banquette seating was built for such occasions and has recently benefited from the upgrade of modern chair choices. Rather than opting for the typical spindle-back chair, try pulling up a collection of midcentury-style seating. This simple switch will give your space an updated excuse to throw a party.
Farmhouse Sinks That Shine
The farmhouse sink is another classic detail that has stolen our hearts lately. Whether you are a die-hard loyalist or you're brand-new to the farmhouse aesthetic, it's easy to fall in love with this traditional apron-front sink, especially now that you can choose between timeless white porcelain or modern stainless steel.
Source from: BetterHomes
http://www.bhg.com/decorating/decorating-style/modern-farmhouse-decor-281474979492343/
The 33rd Jinhan Fair for Home & Gifts
21-27. 04. 2016
Online Registration available at
The 48th Jinhan Fair
Jinhan Fair Online Exhibition