WAYFAIR: Look at Our Market Share Grow
2017.02.15
---
Home furnishings etailer says it captured one-third of new online dollars in its space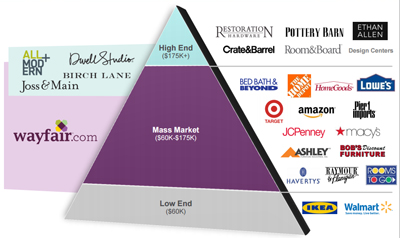 Wayfair's view of where its nameplates complete against other retailers in home furnishings.
Boston – Wayfair claims to have captured a stunning share of new dollars in the online home furnishings business last year.
During the company's fourth quarter conference call with analysts this morning, Wayfair put 2015's total online furniture and home decor retail sales at $20.7 billion, with $2.7 billion representing year-over-year growth. Wayfair said it bagged $930 million of that $2.7 billion.
"Basically, that implies that we took one-third of the dollar growth of the online home market – which would be primarily the U.S. [95% of Wayfair's business in 2015]," said Niraj Shah, Wayfair's ceo, co-founder and co-chairman.
He added: "This would understate the market share we've taken. It's a lagging [figure] because it looks back at the whole year."
Repeat business drove sales, with, repeat customer orders up 92.3% to 5 million orders.
Its three largest categories remain furniture, décor, and soft home. But Wayfair has also begun pushing growth in home improvement and housewares.
"Those could be quite large for us in the future, and the customer base that we have seems to be very engaged with it," said Shah.
Source from: Home and Textiles Today
http://www.homeandtextilestoday.com/article/528933-wayfair-look-our-market-share-grow
The 33rd Jinhan Fair for Home & Gifts
21-27. 04. 2016
Online Registration available at
The 49th Jinhan Fair
Jinhan Fair Online Exhibition