Valentine's Day Mantel and Shelf Displays
2016.01.29
---
ALL OF THE VALENTINE'S ELEMENTS CAN BE FOUND FROM JINHAN FAIR.
Bring some love into your living room for Valentine's Day using inspiration from these real-home mantel and shelf decorations.
Red-and-Pink Valentine's Mantel
Red pillar candles, roses, and jars of candy complement a store-bought heart wreath on this simple and colorful Valentine's Day mantel. To craft the heart garland, Erin (thesunnysideupblog.com) glued twisted squares of red and pink tissue paper onto cardstock hearts. A family photo adds a nice personal touch.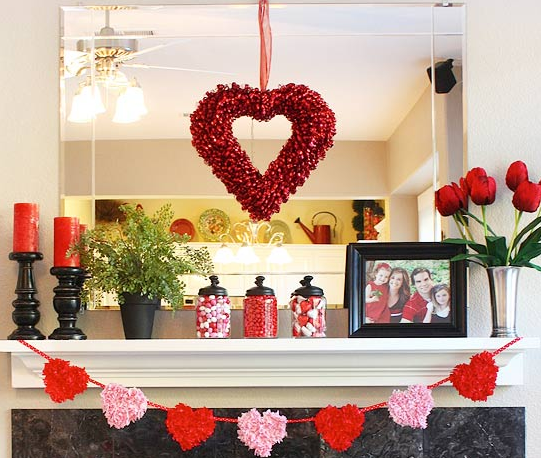 Love Mantel with Valentine Heart Banner
Bright colors make this Valentine's Day mantel pop -- Char (crapivemade.com) decorates around the lime-green shutters she keeps on her mantel year-round. The "love" artwork is made from painted chipboard letters hot-glued to a 16x20-inch canvas. To make the valentine bunting, trace 16 hearts onto pink houndstooth fabric and cut them out. Paint letters onto the hearts to spell out a phrase, sew the hearts onto pretty fabric squares, and attach them to a garland.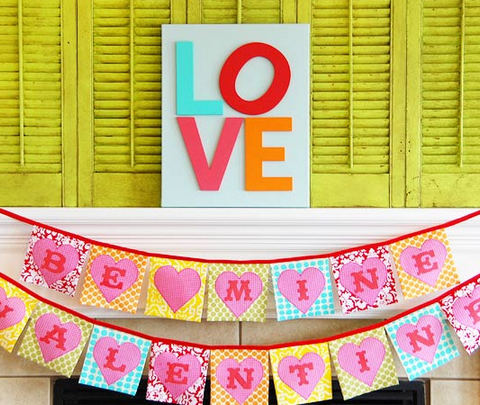 Valentine's Day Mantel with White-and-Pink Accents
The decorative 12x12-inch canvases star on this Valentine's Day mantel, decorated with framed pictures, candles, and small figurines. To make the canvases, attach pink scrapbook paper onto purchased canvases with glue dots. Trace black letters from cardstock and attach the letters to the canvases with glue dots. Gayle (lifeonlilypadlane.blogspot.com) likes to use meaningful items that she already owns to decorate her mantel, so she pulled red, pink, and white items from around her house, including a boy-and-girl figurine that her husband gave her.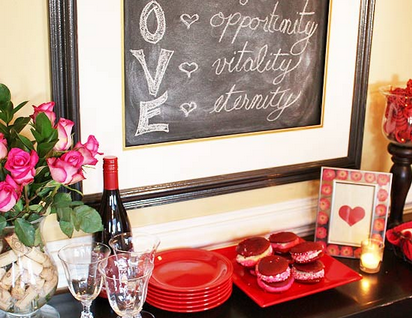 Simple Valentine's Day Mantel with Sheet Music Wreath
A crafty wreath made from sheet music hung in a black frame accents this simple Valentine's Day mantel. To make the wreath, Courtney (adiamondinthestuff.blogspot.com) split a foam wreath form in half, covered it in cream-color satin ribbon, and hot-glued two layers of sheet music cones to it in a circle. She wanted to keep her mantel decorations simple, so she pulled most of these items from around her house. White ceramic angels, a wrought-iron candleholder, and a small box with a quote ("Love: Two Hearts, One Love") finish the display in style.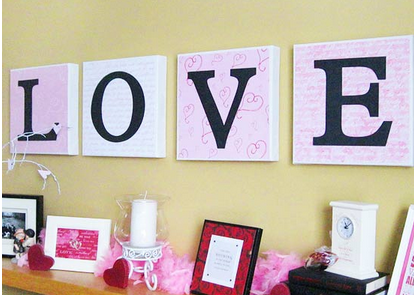 Valentine's Day Mantel with Shakespearean Quote
Beth (thestoriesofa2z.com) decorated her Valentine's Day mantel with her love of tea in mind. She created the heart tags and the heart on the white plate using a die-cutting tool; she painted the tags by hand to give them texture. She cut the Shakespearean quote ("Love comforteth like the sunshine after the rain") using her die-cutting tool and glued the letters to black cardstock. She taped the finished piece to a mirror with a wrought-iron frame. The flowering branches were made by attaching faux greenery to sticks using crafting wire and adding pink tissue-paper blossoms.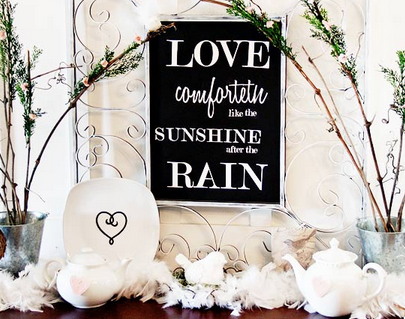 Valentine's Mantel with Candles
When decorating her mantel for Valentine's Day, Lucy (craftberrybush.blogspot.com) wanted to recreate the romance of a French cottage. She made the heart wreath by gluing painted hearts cut from dictionary pages onto a cardboard wreath. The roses on the mantel were made from dyed coffee filters wrapped around florist's wire. For a romantic touch, she made candles a main feature of her mantel, displaying tall cream-color candles in recycled glass jars filled with faux snow.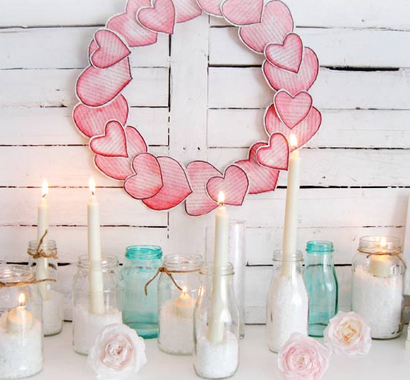 Red-and-White Valentine's Mantel
An old window found in the basement makes the perfect background for a simple Valentine's Day mantel in Stephenie's (decoratingaddict.blogspot.com) home. A white pitcher is adorned with a red ribbon, and a small creamer sits next to it. The plate in the middle is a red plastic charger with a vinyl number 14 centered on it and flanked by tablets with love quote stickers. The milk-glass plate on the right rounds out the display with a red ribbon threaded through it and tied into a bow.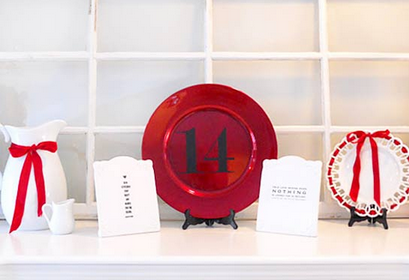 Simple Pink Valentine's Mantel
Bright pink decorations give Jenny's (ourniftynotebook.blogspot.com) Valentine's Day mantel pretty flair. She crafted the wreath using a plastic-foam heart form and 2-inch squares of pink fabric. To make one, use a pencil to make a point in the center of a fabric square, dip that point in the glue, and poke the fabric into the foam, repeating until the wreath is covered on the front. The ragamuffingarland was crafted from strips of fabric, ribbon, and fringe, all tied to a single ribbon. Simple mantel accents include apothecary jars filled with conversation hearts and Xs and Os decorated with scrapbook paper and decoupage medium.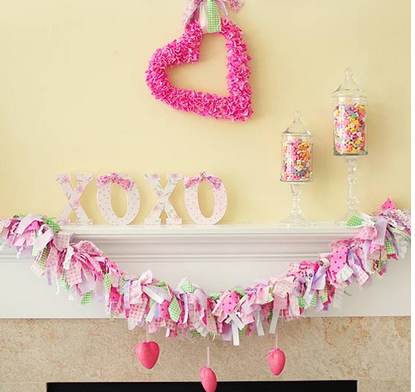 Valentine's Mantel with Red-and-Pink Heart Wreath
Amanda's (babiesandbargains.com) living room mirror is all decked out for Valentine's Day with a few simple decorations. She filled a glass cloche with heart-shape plastic vasefillers and scattered a few extra on the mantel with the other decorations. The "love" decoration was a purchase from Target's dollar aisle, and the X and O letters from Michael's were painted with crafts paint. The wreath at the center of it all was made by hot-gluing red and pink cupcake liners to a ribbon-wrapped plastic-foam wreath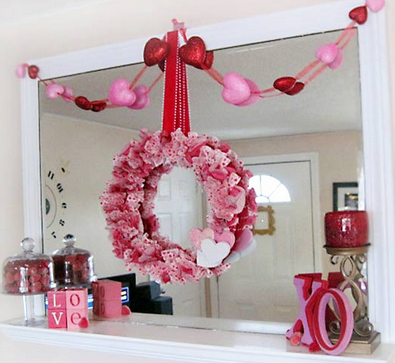 Valentine's Day Shelf with Vintage Decorations
Angie (thecountrychiccottage.net) likes to layer all of her shelves with short items and tall items grouped together, and she works in a plant whenever possible. For her valentine-inspired shelf decorations, she included a lantern filled with heart-shape doilies and stamped muslin tied on the outside, hand-painted candlesticks, a star, old books, and other trinkets. The bunting banner was made from vintage quilt squares found in a thrift store -- she recommends looking for next year's decorations at the end of the season to find the best things on clearance.

source from better home
The 49th Jinhan Fair
Jinhan Fair Online Exhibition