Gaining Success by "Quality", Achieving Win-Win by Innovation
2015.10.28
---
The 32nd Jinhan Fair for Home & Gifts ("JINHAN FAIR") at Poly World Trade Center Expo in Guangzhou was successfully concluded on 27th October. According to early statistics, 50,000 overseas buyers from around 160 countries and regions, including the US, Germany, Italy, France, Japan, UK as well as Hong Kong, Macau and Taiwan, converged at the Fair, and more than 50% of them were US buyers and European buyers. The first two days of JINHAN FAIR were reserved for all buyers to fulfill their purchasing tasks. Despite the complicated and critical market situation, the number of old buyers attending the Fair remained stable and nearly 200 top-notch global buyers came on schedule, contributing to the bustling transactions at the Fair.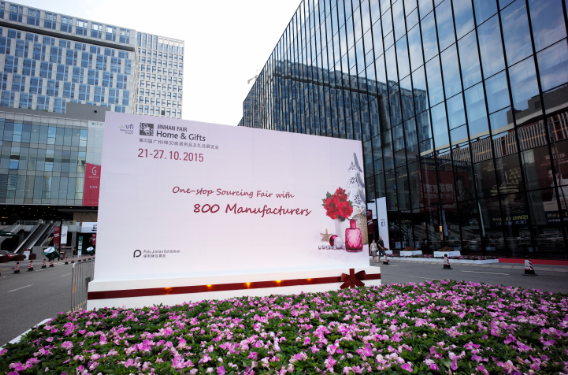 High-quality buyers played a decisive role in winning fierce competition
Despite the sluggish global market and the critical export situation in 2015, the best interests of the exhibitors in their export business were protected at JINHAN FAIR, thanks to its stable number of visitors and high-quality buyer groups attracted and accumulated over the past 16 years. "Quality" was the key to success. Professional buyers thronging to the 7-day Fair were mainly importers, wholesalers, department stores and supermarkets, and their purchase covered relevant products in the whole industry chain, including home décor, gifts, outdoor supplies and festival goods.
Leading buyers who placed big purchasing orders at JINHAN FAIR included Maxima Grupe and Migros (top 250 retailers in the world), Maxita and CP International (renowned French home product importers), Puckator (a leading gift importer from UK), Jumbo Sa (a home product importer from Greece), Michel Toys and Handels-Gmbh (big buyers for Christmas World from Germany), Tedi Gmbh&Co.kg (a German chain with more than 1300 stores), Midwest-CBK (a retailer well known to all families in the US), Zara Home (the retailer tycoon from Spain), etc.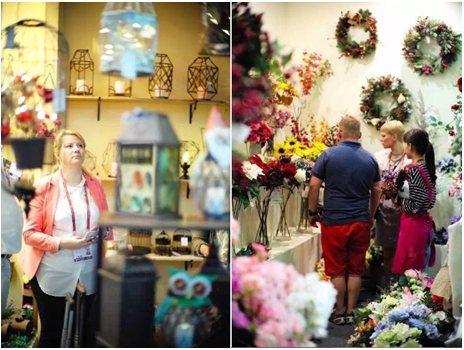 The Spanish company Signes Grimalt has been purchasing home decorative products for sale to European countries such as Spain and Portugal for many years. Its manager Mr. Signes Mulet Emilio said, "The glass, ceramic, wooden and metal home decorative products at this session are a big surprise to me, and I can see the improvements in these products every year. JINHAN FAIR impresses me most for its 'new ideas', and we have many important suppliers here."
Founded in 1921 and mainly targeting at local markets across Germany, the German company Riffelmacher + Weinberger has visited the Fair for 16 times, and its purchasing manager Mr. Tanja Riedel has also been deeply impressed by the "new ideas" from JINHAN FAIR. He said, "The economy in China is not so good this year, but it does not affect our purchasing plan. We purchase Christmas products and seasonal decorative products from JINHAN FAIR every year. Price is very important, but 'new ideas' are of the same importance, too."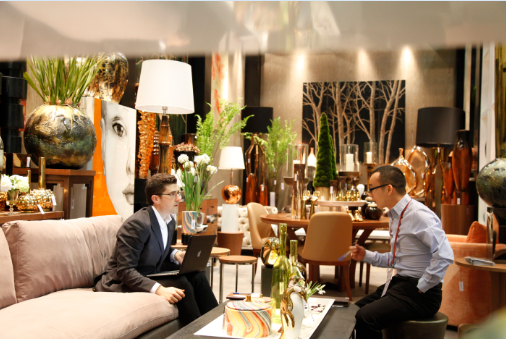 Winning the demand-oriented market by design
A wonderful show of beautiful and exquisite premium home products was presented by 800 exhibitors at the 83,000-sqm venue of JINHAN FAIR. Dozens of thousands of refined products under six categories, including home decoration, decorative furniture, seasonal decoration, outdoor & garden, gifts, and household items, were exhibited in eight exhibition areas plus the outdoor exhibition area of Poly World Trade Center Expo, just to keep your eyes open wide.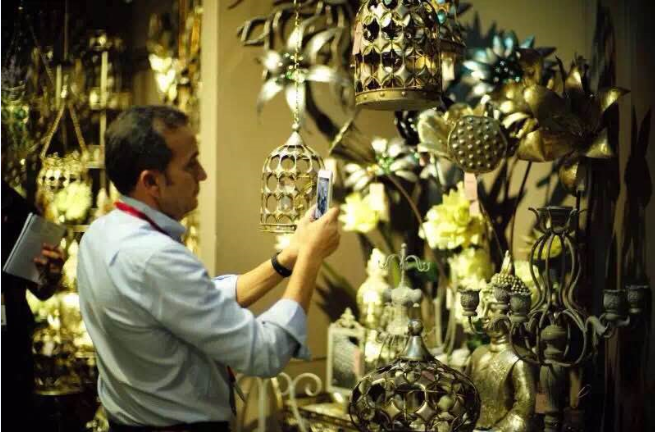 As the "new Asian style" and the "nostalgic style" will be on trend in the new season in the US and EU market, Chinese enterprises keep a close look at the market demand and try to attract the attention of the buyers by taking a bold shot at some crossover ideas, i.e., mix and match of elements for new and different reinterpretation. By offering products of better compatibility and improved seriality for more reasonable prices, Chinese enterprises not only present a grand show of trendy home products, but also make breakthroughs for "made-in-China" products in the overseas market with unique design and creativity.
Mr. Bill Bensley, the "World-class Master of Landscaping" enjoying great fame in the top-class hotel design sector, visited JINHAN FAIR for the first time to purchase products for soft decoration and furnishing. Bill Bensley is the founder of Bensley Design Studio (BDS), one of the few design companies worldwide dedicated to designing luxury resorts in Asia. Four Seasons Hotel and The Peninsula Hotel in Thailand, Grand Hyatt Bali in Indonesia, Four Seasons Hotel in Hangzhou, and Mandarin Oriental Hotel in Sanya are some of his most well-known masterpieces.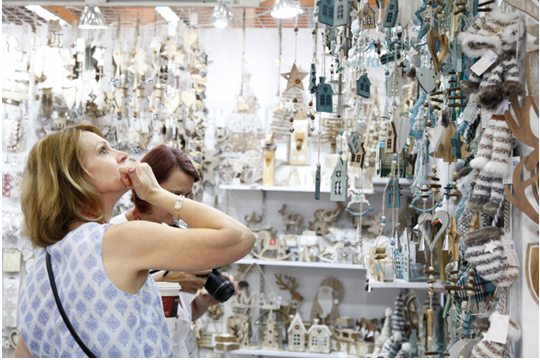 Seeing new changes in the orders and driving transformation with new models
By observing the transactions at the venue, we can infer that the US market is relatively more stable, the European economy is depressed, but German and British buyers are still active. As top design teams such as Pantone and BDS appear at JINHAN FAIR more often, the "project-based" orders are increasing, and those enterprises with the characteristics of a trading company are more likely to stand out and become favorite of the buyers with their flexible product mix and impactful visual display.
Mr. Zhang, General Manager of Xiamen Jinshi, said, "The macro environment is not optimistic, but through strengthening research and development, optimizing exhibits, improving window display and creating good stories and themes for the products, we have gained good feedbacks from our buyers. With the support from JINHAN FAIR, we expect to achieve positive growth under the negative situation this year." Mr. Lin, General Manager of Fuzhou Home Broad, said, "All of our patrons come to visit us at this fair, including four purchasing teams from Hobby Lobby. We can retain these big buyers mainly thanks to our focus on product research and development as well as customer services. We expect to see business growth this year."
The Chinese foreign trade industry is now confronted with many difficulties while nurturing new advantages for the competition. JINHAN FAIR will continue to use its best efforts to keep innovation and bring more trading business opportunities to its exhibitors and buyers. The 33rd Jinhan Fair for Home & Gifts will continue to be held at Poly World Trade Center Expo Guangzhou in 2016. Another wonderful event is sure to expect. Let's get together again from 21st to 27th April next year!
The 49th Jinhan Fair
Jinhan Fair Online Exhibition