• Surya increasing product speed to market
2015.08.18
---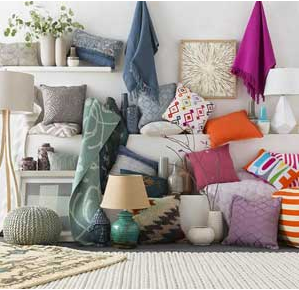 Surya will introduce hundreds of new products at Las Vegas Market, all of which will be available for fulfillment soon after market.
Numerous new products from rug and home décor supplier Surya will be available to buyers and designers shortly after the Aug. 2-6 Las Vegas Market.
Inside its World Market Center C-400 showroom, the Calhoun, Ga.-based manufacturer plans to display only rugs and accessories that are in stock or on the water to ensure that all market orders can be fulfilled during the current season, regardless of whether the products are in line or freshly debuted.
"Surya brings to market more than a thousand new accessories each year," said Satya Tiwari, Surya president. "While it's important to innovate and introduce products reflecting the latest trends, it's equally important to get those products to customers quickly rather than asking them to wait several months for SKUs to arrive in inventory. With this in mind, our operations team has worked diligently to identify factories with very quick turnaround times so that, by the time market season arrives, we can offer our customers truly 'sellable' products that they can quickly get into the hands of their customers."
In addition, Surya has also invested heavily in in-house analytics and product design teams, which has helped to further streamline the product development cycle, he said.
"In addition to regularly seeking feedback from our customers, we carefully analyze market data to determine purchasing patterns and product gaps," Tiwari said. "This attention to detail enables us to make sure we're delivering the right products at the right time and optimizing inventory levels for the 40,000-plus SKUs that we offer."
He said Surya currently ships to more than 23,000 U.S. zip codes and 50 countries, and has one of the fastest fulfillment rates in the industry – with 90% of running line products ready for shipment within 24 hours. Late this year, the company will open a 1-million-square-foot corporate headquarters and distribution center in Cartersville, Ga., which will further increase warehousing and operational efficiencies.
Source: furnituretoday
The 49th Jinhan Fair
Jinhan Fair Online Exhibition