Living room trends : our Style Directory extras
2015.08.18
---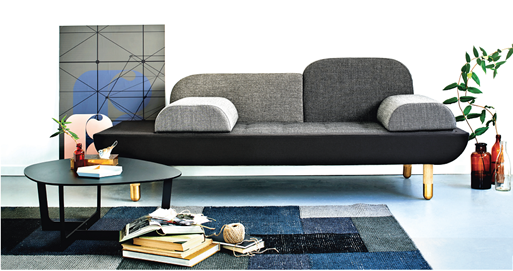 Inside our new Style Directory – on shelf this week – you'll find a guided home-improvement tour of every room in the house, from kitchens and bathrooms to living room trends. Here online, we're bringing you bonus content you won't find in print.
The lounge is, without a doubt, the focal point of every home which is why learning the hottest new living room trends can pay dividends next time you're looking to revamp your interiors.
Hosting family time, entertaining guests, keeping the kids busy and providing the comfort to relax in after a long day at work, the living room is a jack of all trades – needing to be at once tough enough to withstand the rough and tumble of daily life and at the same time a beautiful show-piece representing the style of your home.
Our top tips for living room trends you should consider embracing this season include:
1) LIBRARY NOOKS
Floor to ceiling bookshelves add warmth to an industrial loft living room
For book worms, this is the ultimate indulgence. Free-standing bookcases have been up-scaled and built-in to create wall-to-wall, floor-to-ceiling book walls; for a more contemporary twist, install one as a room divider to break up an open plan living space or large bedroom.
If your book collection is still in its infancy or to mix in a little décor interest, add small, carefully chosen accessories into alternate shelving compartments. A metallic picture frame, a marble clock-face or a potted succulent make ideal companions to rows of well-read spines. Add a recliner to sink into, remember to light the space well for reading and get lost there for hours.
2) GALLERY WALLS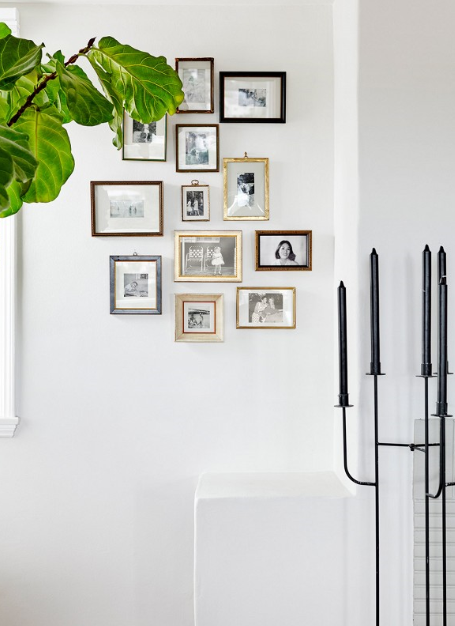 A curated gallery wall takes planning and a little patience but the results can be beautiful and highly personal
Collecting your favourite images, an eclectic array of small frames in contrasting styles and creating your own mini-gallery is a cost-effective and highly personal way to brighten up an expanse of blank wall. DECO recommends consistency either with your frames or the tonal quality of your images – if all your shots are varied, pick similarly coloured frames; if you'd rather contrasting frame styles and materials, select images from the same overall palette or print them all in black and white.
We'd also recommend a few precautions before starting your project such as testing that your chosen wall can sustain numerous picture hooks (old Victorian cottages for example are renowned for weak plaster) and taking some advice from a gallerist on hanging a balanced composition. Before banging in your first nail, it's a really good idea to sketch out your arrangement first, calculating the exact measurements and spacing, and to lay out the collection on the floor to check it has the desired effect you're after.
3) COLOUR CLASH PRINTS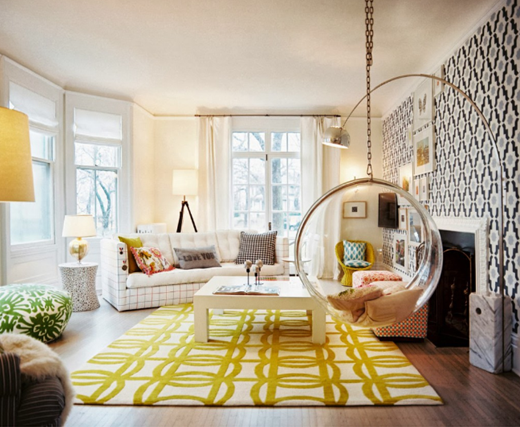 Colour-clashing, large scale graphic prints adds bold personality to a large open space
Not a look for the faint-hearted, those confident with styling choices will love the print clash trend – extending from this season's catwalk (Burberry Prorsum, Peter Pilotto, Jonathan Saunders) to couches. Strong geometric shapes with a single colour on white backing can clash beautifully in a variety of colours without competing.
Start off with small accessories like scatters if you're not feeling too confident, and build to soft furnishings like ottomans or rugs, before going all-out on an expansive feature wall or couch. If you're looking to clash without causing offence, the bigger the print repeat the better – avoid fiddly little ditsy prints unless it's a one-off feature amongst solid colours.
The 47th Jinhan Fair
Jinhan Fair Online Exhibition