Martha Stewart cooks up a new deal
2015.07.02
---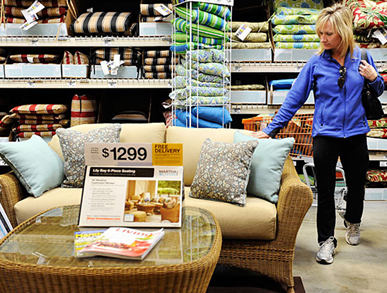 Retail licensing group Sequential Brands, whose brands include Jessica Simpson, Ellen Tracy and Avia, is buying Martha Stewart's lifestyle collection, although the domestic diva will maintain creative control over product.
The company that Stewart launched in 1997 has been acquired in a cash-and-stock deal valued at approximately $353 million. Sequential Brands has struck a definitive agreement to acquire Martha Stewart Living Omnimedia for $6.15 per share in cash and stock, below the company's Friday closing price of $6.98.
Under the terms of the deal, Martha Stewart, 73, will remain as chief creative officer and will be nominated for the board, where she is now non-executive chair. She will also be a "significant" stockholder.
"This is a transformational merger for Martha Stewart Living Omnimedia, the company I founded in 1997," said Stewart. "The Sequential team is smart, hardworking, and understands the power and limitless opportunity of the Martha Stewart brand and its formidable design, editorial and marketing teams. I'm looking forward to working with them."
Sequential is acquiring a fading brand in need of a turnaround. In 2012, the company ended its live television operations, and in 2014, it licensed its magazines to Meredith Corp. The company's home goods products now rank among its most critical holdings, generating 40% of its revenue in 2014. Martha Stewart Living has reported annual losses for the past several years. For its most recent quarter, revenue was down 49% over the same period last year.
Yehuda Shmidman, CEO of Sequential, said: "Martha Stewart's impact around the world is staggering, and the empire she founded is unmatched in its industry. In fact, research shows that the Martha Stewart brand has 96% awareness among women in the U.S. and seven out of 10 women say that Martha has and does influence the way they think about, organize, and manage their homes. Looking ahead, we believe that we can leverage our global activation platform at Sequential in partnership with Martha and her team to develop the next chapter of growth for the Martha Stewart brand."
The deal is expected to close in the second half of the year.
Source: Retailing Today
The 49th Jinhan Fair
Jinhan Fair Online Exhibition