Restoration Hardware builds more momentum
2015.06.17
---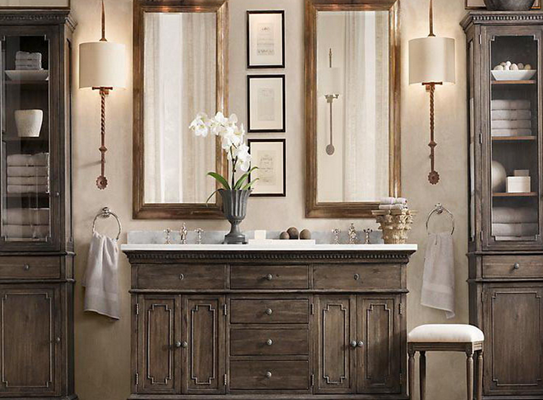 Restoration Hardware earnings surged in the first quarter on strong sales, giving a boost to the company as it embarks on expanding its business with new stores with larger showrooms.
For the first quarter ended May 2, Restoration Hardware reported a profit of $7.2 million, or 17 cents a share, up from $1.8 million, or four cents a share, a year earlier. Excluding tax impacts, a prior-year litigation claim and other items, per-share earnings rose to 23 cents from 18 cents. Revenue increased 15% to $422.4 million.
Gary Friedman, chairman and CEO, said: "RH continues to outperform the home furnishings industry by a wide margin. Net revenues exceeded our outlook and increased 15% on top of a 22% increase last year. Comparable brand revenues increased 15% on top of 18% last year – representing a 33% increase over the two year period. Additionally, we grew our adjusted operating margin by 60 basis points and adjusted net income by 38%, both ahead of our expectations, and further demonstrating the disruptive nature of the RH brand and the power of our multi-channel business model."
For the current quarter ending in July, Restoration Hardware said it expects its per-share earnings to range from 80 cents to 84 cents. The company said it expects revenue in the range of $495 million to $505 million for the fiscal second quarter.
"Looking forward, we remain focused on our key value driving strategies including the expansion of our product offer, the transformation of our retail stores, and the continued enhancement of our multi-channel platform and operating infrastructure," Friedman added. "Later this year, we will be opening next generation Design Galleries in Chicago, Tampa, Denver and Austin. Looking to 2016 and beyond, we now have signed leases for 10 next generation Design Galleries and are in negotiations or have sites identified for at least 25 additional locations. In addition, we have multiple new concepts and services in our product development pipeline that we believe will continue to demonstrate the innovative and disruptive nature of our brand, and drive industry leading performance for years to come. The business momentum we are experiencing thus far in 2015, coupled with the launch of new businesses and the opening of four next generation Design Galleries later this year, gives us further confidence in our financial outlook for fiscal 2015."
As of May 2, the company operated a total of 67 retail galleries, consisting of 57 legacy Galleries, 6 larger format Galleries, 1 next generation Design Gallery, and 3 Baby & Child Galleries, as well as 17 outlet stores, throughout the United States and Canada. This compares to a total of 69 retail galleries, consisting of 61 legacy Galleries, 5 larger format Galleries and 3 Baby & Child Galleries, as well as 17 outlet stores, as of May 3, 2014.
Source: Retailing Today
The 49th Jinhan Fair
Jinhan Fair Online Exhibition