How to Decorate With Brown, Black — or Both
2015.06.15
---
Brown and black are seemingly on two opposite sides of the neutral coin: Black can be considered bold or brash, while brown is sometimes seen as boring or beautiful, depending on who you ask. While you may never change your mind about which is your favorite, both definitely have their place in design. Read on to learn when, where and why you should choose black or brown in different decor scenarios, and why it's certainly possible to truly have the best of both worlds.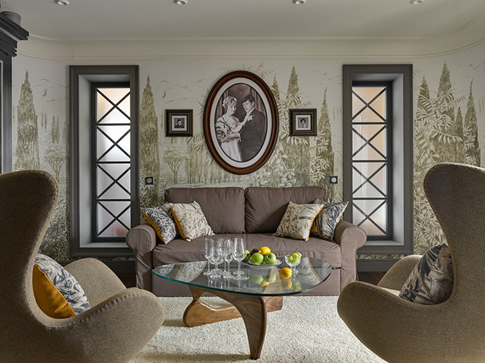 Brown is understated. Unlike black, brown doesn't usually cry for attention, which makes it an excellent choice for a room already busy with patterns, or where you want a more cohesive, restful look.
The sofa here, despite being in the middle of the photo, could easily be one of the last details you notice. It is subtly beautiful and lets the mural be the feature. Choose brown for large furniture pieces that don't need to put on a big show.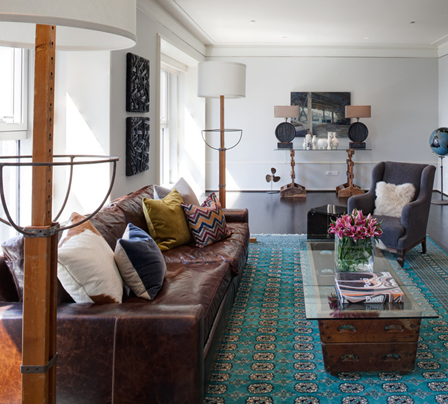 Using brown and other colors.One of brown's major strengths is its ability to relate to other colors. Brown is usually a mix of all colors, just with more red or orange for an overall warm look. Thus, it works well in a space with an eclectic palette, because it can connect with each hue to provide harmony without pulling focus. Black can sometimes work with colors, but brown is a safe bet.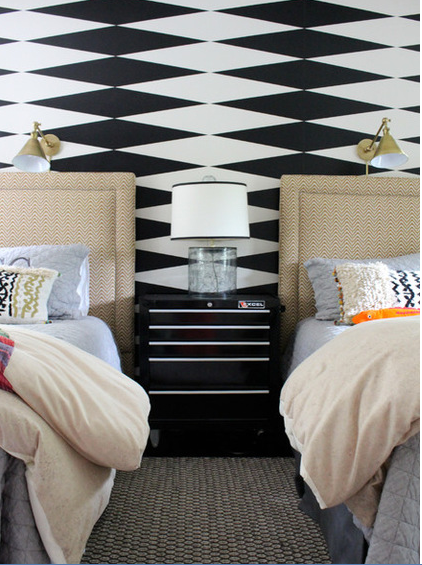 Patterns with black.The crispness of black makes it a great choice for patterns and prints, especially bold geometric patterns with strong angles.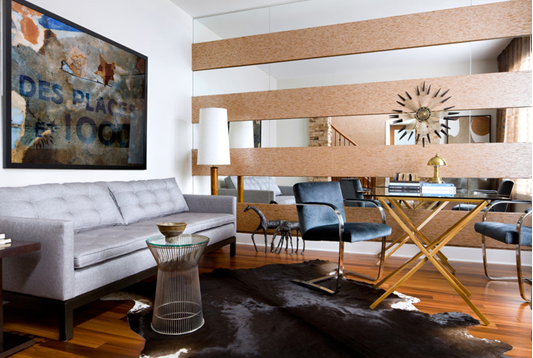 Use brown for textural touches. Not only does brown look great in rich textures, but textures look great in brown. The softness of the hue puts the emphasis on the texture, whereas black can visually overpower it. Choose brown for elements like a hide rug, a faux-fur blanket or a fluffy shearling-style pillow to round out any scheme.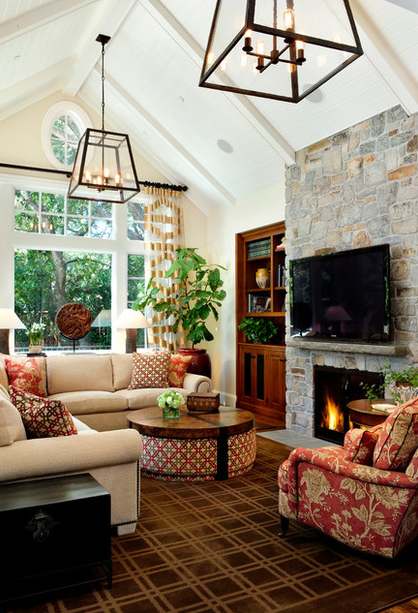 Use black to balance black electronics. Even in a traditional home, it can be hard to avoid some modern elements, the TV being a major one. To make a black screen fit into the decor, add a few other glossy black elements, such as a side table, lamp or lacquered chair, rather than fighting it.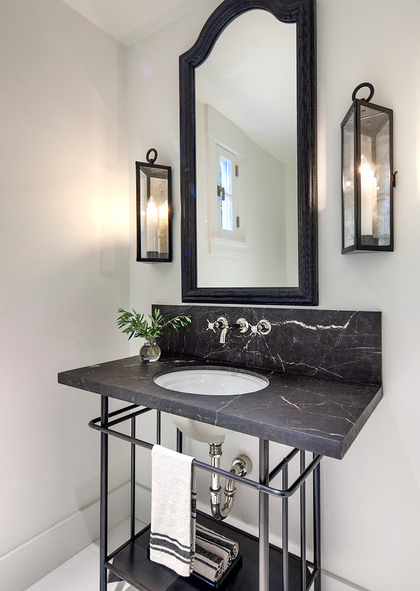 Black works better for clean spaces. Even more than kitchens, bathrooms are expected to be a bit visually cleaner than other parts of the home, so black is usually the better choice. However, a little brown or gold veining on a slab of black stone helps soften the look in a small space.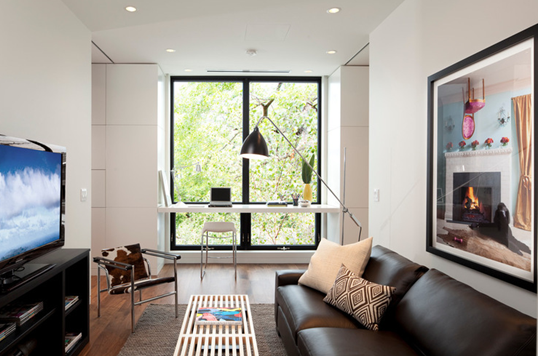 You can't go wrong with a brown leather sofa. When in doubt, choose a chocolate brown or tan shade for a leather sofa. It brings a touch of masculinity to balance a space without looking like it came right out of a bachelor pad.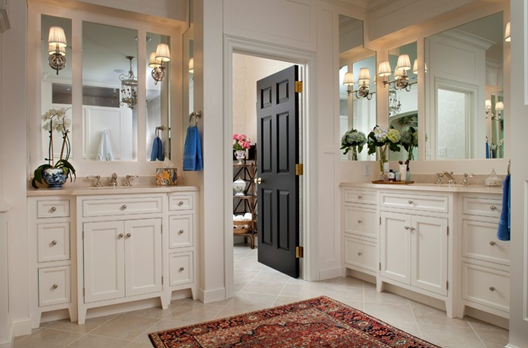 Black is great for accents. Because black makes a strong feature instantly, it's great for smaller punctuations, such as a door or a window sash, creating an architectural look that adds drama to break up light walls.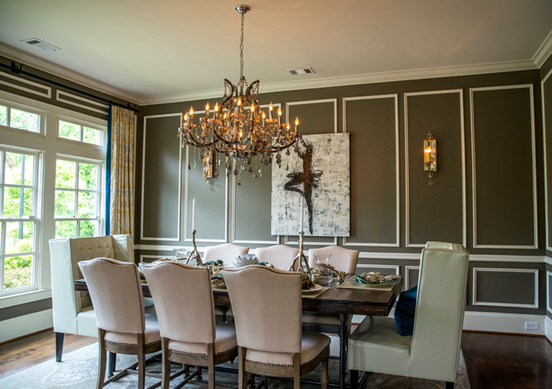 Use brown walls for a historic look. Brown makes a great backdrop, but brown paint can be tricky: A vast stretch of it can go from subtle to overwhelming, and it can look a bit off on hard, flat walls. However, it works beautifully with delicate wall moldings to create a heritage feel, and then you can mix in traditional or modern accoutrements, or both.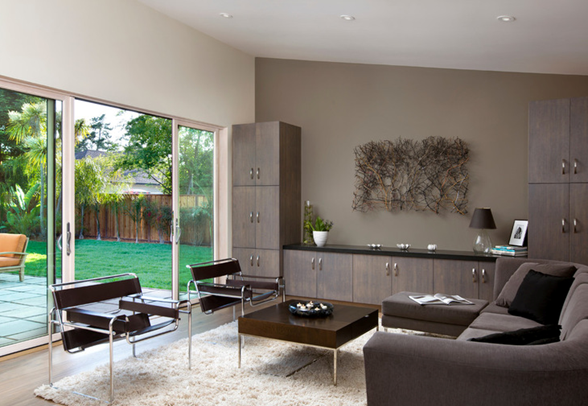 Mixing Brown and Black
Contemporary.Despite their typical associations, black and brown can both be contemporary. For a modern appeal, look to jet black, especially in a gloss finish, or to more muted gray-browns in clay-inspired tones.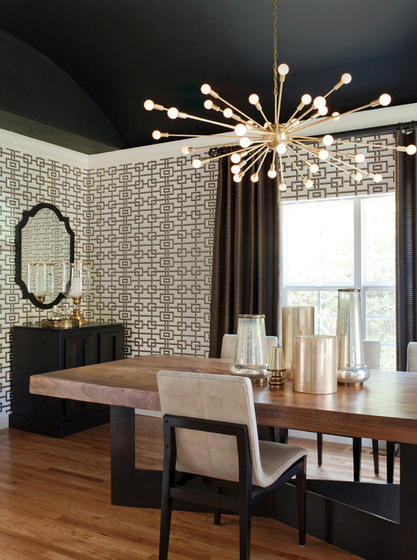 The Best of Both Worlds
When mixing the two, be sure to let one dominate. You can love both, but you can't avoid choosing sides. Usually leaning toward more brown and less black is safer, but as this space proves, any ratio can work. Just make sure to include some other neutrals to bridge the divide, and everything will work out beautifully.
Source: Houzz
The 48th Jinhan Fair
Jinhan Fair Online Exhibition