Designer Space: Walking on Sunshine
2015.06.15
---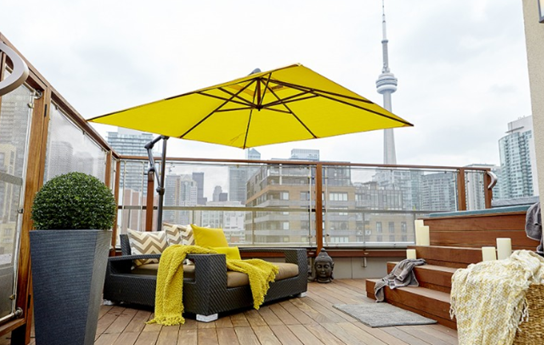 Tessa Moul and her partner Chris, both financial services professionals, wanted an updated design for their loft's penthouse rooftop patio. "The rooftop patio was outdated with old decking, two arbours and lots of trees and plants that required a significant amount of upkeep and maintenance," Tessa notes. "It was a great space but the old design left much unused space," Tessa says.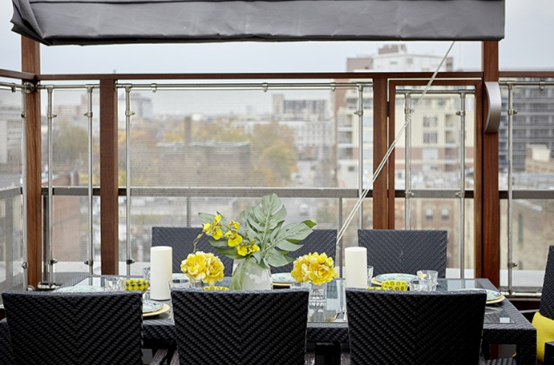 The 825 sq. ft. wraparound terrace faces north with splendid views east and west that include the CN Tower. Situated in the exciting neighbourhood of Spadina and Wellington, Tessa wanted the patio's space to reflect the vibe downtown. Tessa found Designer Lisa Aiken's expertise was "instrumental in helping us design the outdoor space to maximize its functionality for entertaining."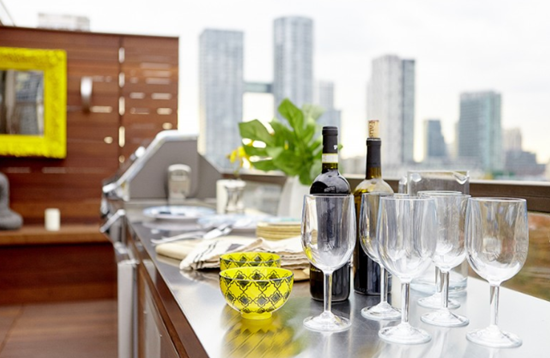 When renovating a patio Tessa suggests, "Make sure you know everything you want done before you begin the project. You will find that you want to add more and more as you begin to see how fabulous the changes are."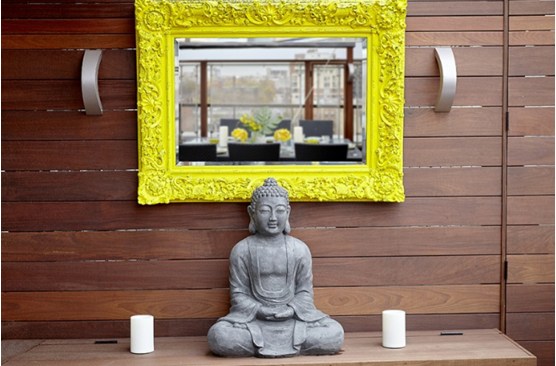 Patio furniture is exposed to extreme temperatures. Lisa comments "We have to be sensible about each client's space and how that affects their decisions based on purchases for outdoors. I suggest furniture with no natural wood—too much maintenance. A composite or resin wicker is popular for a more traditional setting. Ultramodern pieces have state-of-the-art drying aspects to their products and things are made to last."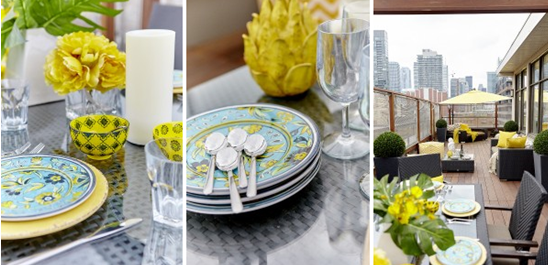 "There was no style file. As soon as I saw the space, I started to lay it out for them and they loved it. They have a fabulous interior space, which I am now working on," Lisa notes. Her design for the kitchen provided Tessa and Chris with storage, as well as the ability to "dine and relax in shade." The flooring is practical as well as beautiful. "I primarily use Ipe wood. I decided how to lay the boards in my design process, five feet by three feet in removable panels."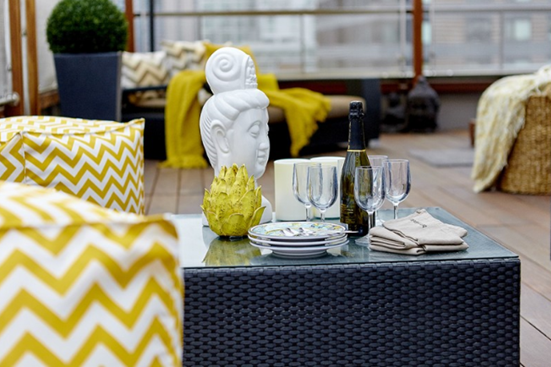 As in a Piet Mondrian painting, yellow accentuates and delineates the different spaces on the patio while softening the linears of the space. The umbrella provides a sculpted burst of colour, privacy and shade while acting as an art piece itself. "I added the large yellow umbrella for that wow factor but also to draw the eye to the end of the terrace. It has four 75 pound weights for safety," Lisa states.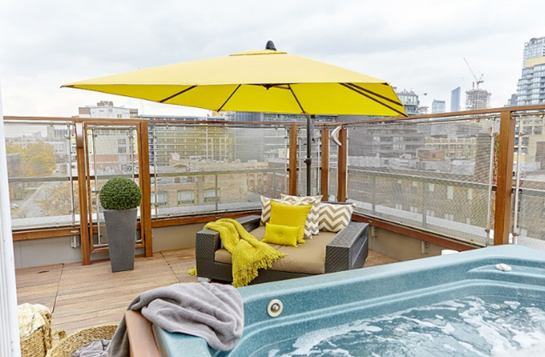 The weave of the furniture's textured surface is restated in the accent throws, pillows, a woven basket and the patio's flooring. The geometric motifs of thin lines, squares, rectangles and use of the cream colouring subtly echoes the art moderne style of the condominium's architecture. Whimsical accents are provided by Chris' collection of Thai Buddhas and the French florals of the dinnerware. Both reflect the cosmopolitan lifestyle of Chris and Tessa. The patio is now a carefully curated space with a modern sensibility.
"We were blown away with the results," Tessa comments. "We could not be happier with the project and how Lisa helped bring it all together."
Source: canadian home trends
The 48th Jinhan Fair
Jinhan Fair Online Exhibition