La-Z-Boy opens new corporate headquarters
2015.06.15
---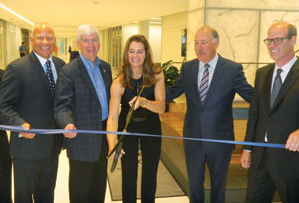 Actress Brooke Shields cuts the ribbon at La-Z-Boy new headquarters in Monroe, Mich. Joining her, from left, were Mark Bacon, president of La-Z-Boy branded business; Michigan Gov. Rick Snyder; La-Z-Boy CEO Kurt Darrow; and Doug Collier, chief marketing officer.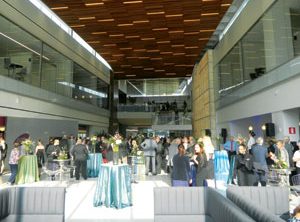 The 200,000-square-foot headquarters features a three-story lobby that's bathed in natural light.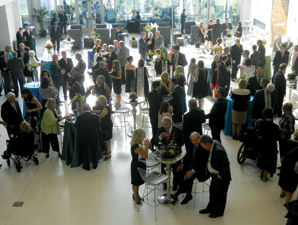 More than 400 guests attended Friday's gala headquarters opening.
La-Z-Boy unveiled its expansive new corporate headquarters here Friday night, giving more than 400 guests a look at a three-story, technology-laden facility that sits at the edge of an 80-acre nature preserve.
The 200,000 square-foot headquarters "makes a statement about where we're headed as a company," President and CEO Kurt Darrow said during the gala event. "Next year, we begin our 90 th year in business, all here in Michigan, all here in Monroe. We believe this is where we belong and look forward to the next 90 years."
The guest list included Michigan Gov. Rick Snyder and actress Brooke Shields, who has been La-Z-Boy's "brand ambassador" since 2010, appearing in numerous television commercials and other promotions.
"It's a beautiful facility. I would like to work here," Shields told the audience. "This building is a testament to how far La-Z-Boy has come."
The new building features a three-story glassed-in lobby and an open floor plan on the first two floors that Darrow said was designed to encourage collaboration, innovation and creativity. The building's only private offices are on the third floor, where Darrow and a handful of senior executives work.
There also are numerous conference rooms, lounges and patios, and work areas include adjustable-height desks that allow employees to sit or stand while using their computer and phone. At least one desk is attached to a treadmill that allows an employee to walk while doing those tasks.
The campus sits on a 120-acre site that was purchased from the Sisters and Servants of the Immaculate Heart of Mary, who had been maintaining the land as a nature preserve. The headquarters site occupies about 40 acres, and Darrow said the remaining 80 acres would remain a preserve.
"It all started with the purchase of this beautiful property … and the sisters who had faith that we would be good stewards of their land," he said.
Source: Furniture Today
The 48th Jinhan Fair
Jinhan Fair Online Exhibition