Say Hello to Minion Yellow, Pantone's Newest (and Happiest) Color
2015.06.11
---
What do singer Pharrell Williams, the movie franchise Despicable Me and global color authority Pantone have in common? Well, if you've seen the first two films in the series, then you probably know that Williams wrote and sang several tracks for the popular animated flicks (including the toe-tapping, Grammy Award–winning song "Happy" from Despicable Me 2). But how does Pantone fit into the picture, you ask? Look to the launch of Pantone's newest color, Minion Yellow, a sunny shade inspired by and named after the lovable, kooky creatures from the series, who will return to the silver screen later this year in a Despicable Me spin-off movie, Minions.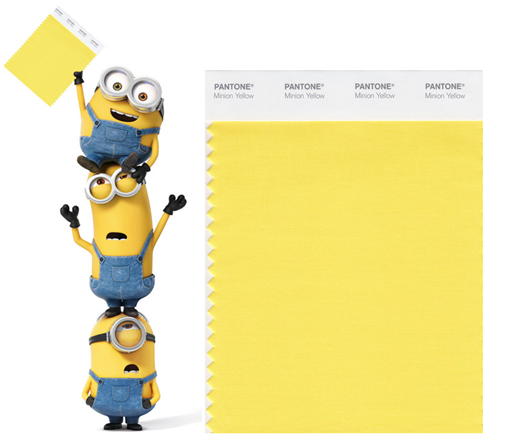 The playful hue "heightens awareness and creates clarity, lighting the way to the intelligence, originality and the resourcefulness of an open mind," says Pantone's Leatrice Eiseman. "This is the color of hope, joy and optimism."
The launch of Minion Yellow, Pantone's first character-inspired and branded color, couldn't have come at a better time, with research conducted by the Pantone Color Institute highlighting the desire of consumers to introduce happier, more uplifting colors into their lives.
Are you a fan of this fun, lively shade? Read on for our tips for how to incorporate this kind of yellow into your home.
1.Playful palette.
Desire a lively, personality-packed scheme? Consider decorating your space with pops of this bold yellow, along with splashes of other energetic tones that are of a similar intensity. This colorful and creative living zone shows how it's done. A neutral backdrop of light gray and wood tones allows the bright, eye-popping shelves to shine while ensuring that the look isn't overwhelming.
Muted tones such as pastel yellow and mint have also been incorporated into the scheme for another layer of interest. Notice how these soft shades also connect the extremities of the palette together, resulting in a space that's fun and lively but exudes visual harmony.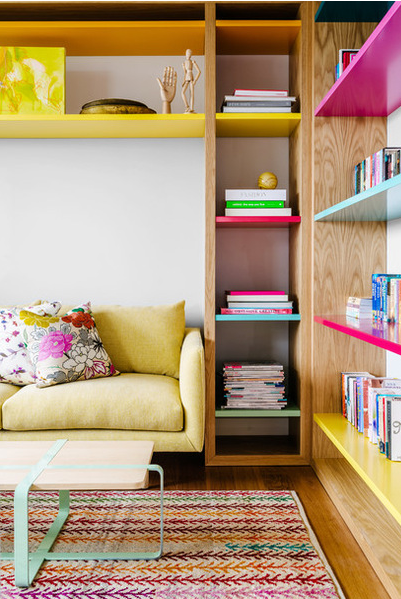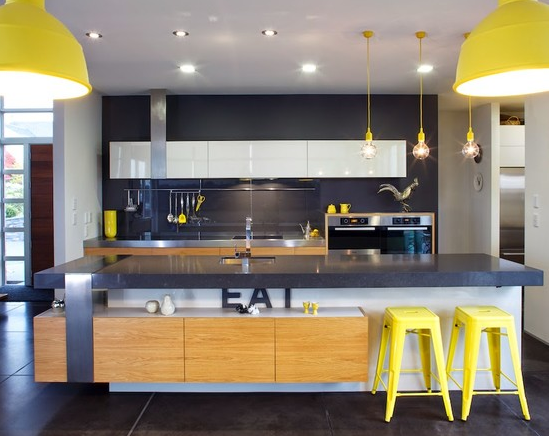 2.Mood booster.
If you need to pep up a moody scheme or an area that's lacking in natural light, incorporating bright yellow may be the perfect solution. The cheerful, sunny shade not only will breathe life into dark interior schemes and dimly lit rooms, but will make them appear brighter and more inviting. This cool, contemporary kitchen demonstrates how a few dashes of high-energy yellow can instantly lift and brighten up a dramatic, moody palette.
This look-at-me, personality-packed hue will also work wonders when it comes to reviving an all-white or neutral scheme that looks oh so chic but otherwise would lack character and life.
3.Street cred.
Want to make your home stand out from the rest of the dwellings on your street? Why not work Minion Yellow into your exterior palette? No, I'm not suggesting that you paint the entire facade of your home this eye-popping shade (I dare say your neighbors may or may not be too happy with you if you did), but that's not to say you can't have a little fun with this happy hue when decorating the outside of your house.
I love how bold, zesty yellow has been used on this facade. The exuberant shade is used in tandem with grid-like panels to create a dramatic focal point that makes the dwelling stand out from the crowd. Notice how the rest of the exterior palette is muted and earthy. This strategic color selection helps balance the intensity of the invigorating hue, and ensures that the house doesn't look overwhelming or detract from the rest of the streetscape.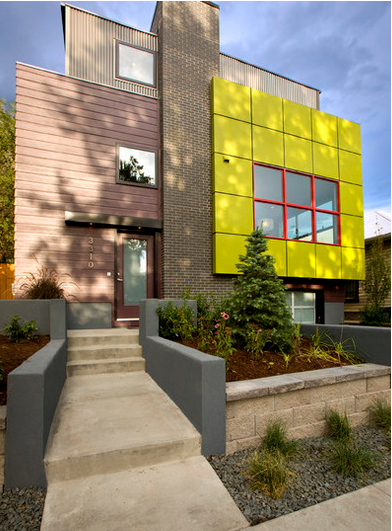 You might also like to consider giving your front door a Minion Yellow makeover. As you can see here, the result is delightful.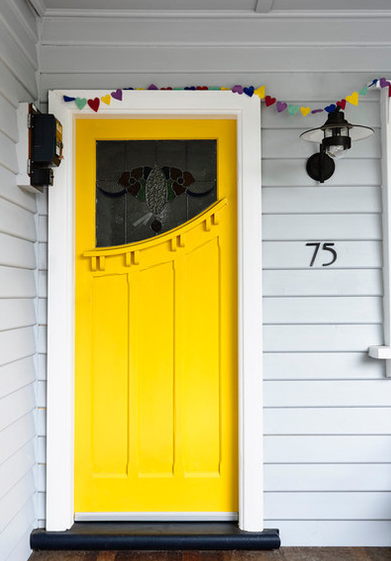 4.Cameo appearance.
Not a fan of overly colorful schemes but keen to experiment with this happy color? Take a leaf out of this chic walk-in closet's style playbook and add a single pop of yellow to your room. Doing so will allow you to add a hint of excitement and playfulness while staying true to your style. For example, here an injection of cheerful yellow in the form of an upholstered armchair and ottoman enhances the dramatic look of the pared-down room, without making the scheme look fussy.
5.Perfect partnership.
If you're looking for a hue to partner with such a bright yellow, you'll have no problem finding the perfect companion color in the blue family.
This nautical-themed kids' room proves just how smashing bright yellow and blue (three different shades — navy, sky blue and turquoise — are used in this space) look when paired.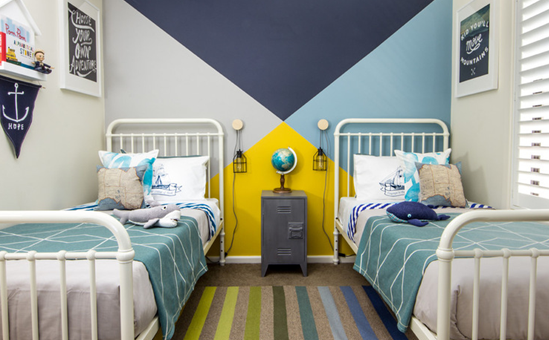 6.Attitude adjustment.
This cool, industrial-style study is a lesson in what to do if Minion Yellow is a little too happy for your tastes. Pairing it with raw materials (like metal, exposed brick and reclaimed wood) and edgy decor (think industrial- or rustic-inspired furnishings and accents) will lend your scheme a cool urban vibe.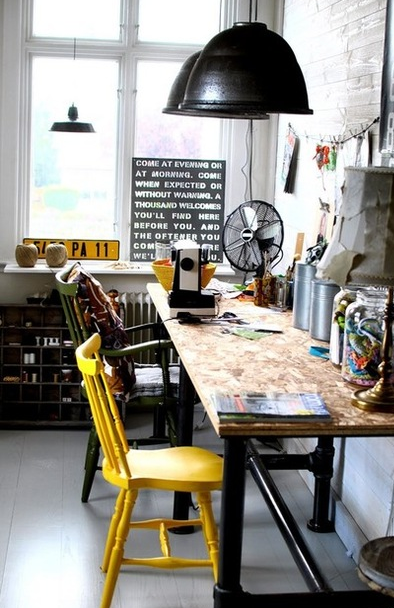 7.Standout style.
A vivid, eye-catching shade like Minion Yellow is a good choice if you wish to highlight a unique architectural feature, like the curved window in this bold bathing zone. Keep the rest of the scheme relatively simple so the two standout design elements together remain the hero of the space.
8.Pop star.
Multiple pops of dazzling yellow add a hearty dose of zing to this elegant transitional-style living area and help create a cohesive, harmonious look, rather than let a single feature steal the spotlight.
The patterns on the sunny yellow accents — such as the chevron throw rug, striped cushion and studded breakfast tray — break up the intensity of the color.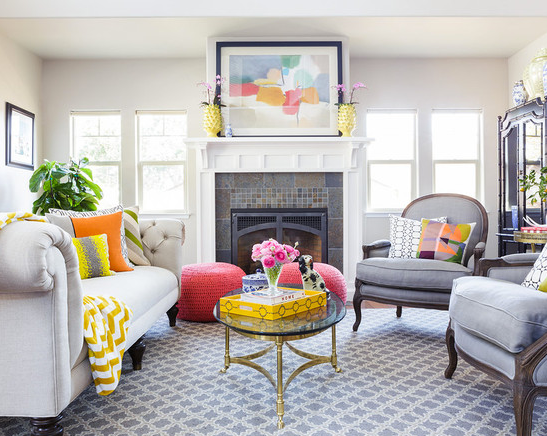 9.Stylish storage.
Sick of your run-of-the-mill wood or all-white cabinets? Revive your space by replacing your existing doors and drawers (or a section of them) with bright yellow cabinet fronts. Offset the look with hearty slicks of white, which will cut through the intense hue, as well as dark colors — like black or moody gray — to ground the design. Wood adds balance and a calming, earthy vibe, and opting for finger pulls instead of bulky metal handles will prevent the scheme from looking busy.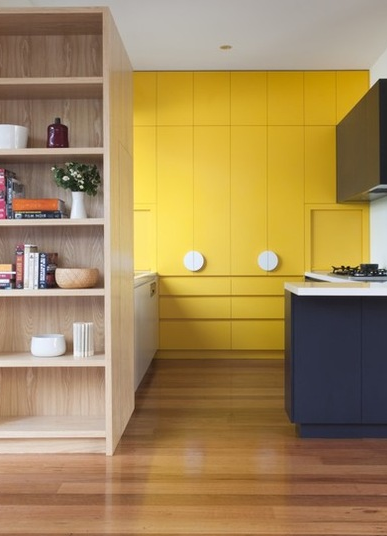 If you're not ready to commit to such a big (and bright) cosmetic change, consider revamping the inside of your cupboards with the energetic color instead.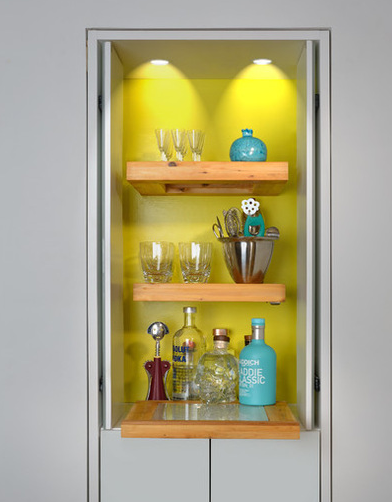 10.Merry motif.
Introducing Minion Yellow in the form of eye-catching patterned wallpaper may be the way to go. Choose a bold graphic print for an ultracontemporary look, or an intricate motif (such as the one seen here) for a space that exudes elegance and timeless style.
11.Scene stealer.
I don't know about you, but I'd definitely feel happy, energized and ready to tackle the day ahead if I had a smile-inducing Minion Yellow–painted ceiling in my home office. This room's airy white palette and large wall-to-wall window ensure that the feature ceiling doesn't look or feel too overwhelming. Note, too, how the graphic-print accent wall offers extra interest, while its linear pattern draws the line of sight up to the brightly toned ceiling.
If you'd prefer to stick with a classic white ceiling, painting a feature wall Minion Yellow will achieve a similar effect.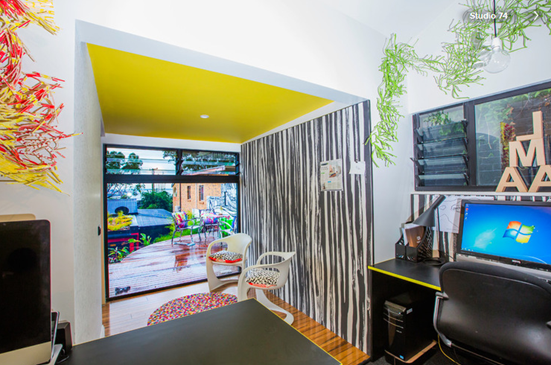 12.In character.
What's the easiest way to work Minion Yellow into your home? By giving one or two Minions (the plush kind) a home, of course. Not only are they cute, cuddly and adorably quirky, but they make great bedtime companions for little ones.
Source: Houzz
The 48th Jinhan Fair
Jinhan Fair Online Exhibition