9 SIMPLE WAYS TO MAKE YOUR BATHROOM LOOK EXPENSIVE
2015.06.10
---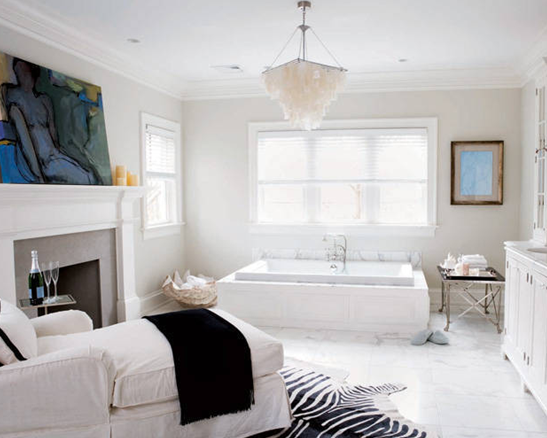 1. Think fluffy
If you're going to splurge anywhere in your bathroom, update your towels and bath rug first. A soft, fluffy, neutral-colored towel goes a long way if you're trying to turn your basic bathroom into a spa-like oasis. Not sure which towels to buy? Good Housekeepingrecommends Macy's Hotel Collection.
2. Dim the lights
Cursed with über-bright overhead lights? Install a dimming switch if you can, turning those harsh lights into sexy mood lighting. If you're in a rental and can't install dimmers, add in a selection of alternate lighting: Small lamps, sconces, and candles galore.
3. Engage all of your senses
Speaking of candles: Place ones with a relaxing scent you love all around the room, ready to be lit when you're itching for a bubble bath. If candles aren't your thing, consider potpourri or scented diffusers.
4. Swap out your showerhead
There's just something so luxurious about a rainfall showerhead: They're softer and less grating, making each shower feel like a special occasion, not an obligation. It doesn't have to be a big investment, either: This highly-rated rainfall-style showerhead costs less than $40.
5. Add art
It's a shame how many people forget to add personality to their bathrooms, especially considering how many hours of our life are spent there. Adding a large piece of artwork can be the perfect way to tie the whole room together — but we also love the look of a well-curated bathroom gallery wall.
6. More seating
If you've got the room, adding extra seating like a small stool or ottoman will make your bathroom look elegant and upscale. Where else would you sit while you moisturize, your legs propped up on the tub like a scene from Pretty Woman? On the toilet? No.
7. Arrange artfully
Consider your counter: Are your beauty and hygiene supplies just strewn about randomly? If so, adding a few small trays can mean the difference between a mess and an artful arrangement. And don't write off apothecary jars just because they're a cliche — they're a beautiful way to display the small but necessary items that often come in gaudy packaging (cotton balls, q-tips).
8. Add greenery
A bathroom should not be a plant-free zone. Not only do they help clear the air, but they're an easy way to add color, personality, and drama to a stale bathroom. And thanks to the higher level of humidity, the plants are much easier to keep alive (even for a green thumb!). Not sure which plants are best? Try aloe vera, bamboo, and philodendrons.
9. Get a bathtub tray
What's more luxe than a wooden bathtub tray? It's got space for your book, your loofah, your glass of wine — everything you need for the relaxing home-spa day of your dreams. You can even make it yourself by following this easy DIY from Instructables.
Source: elledecor
The 47th Jinhan Fair
Jinhan Fair Online Exhibition