8 Tips for Sourcing Artwork for Your Hotel
2015.06.01
---
Whether it's the architectural pattern on hallway carpeting, digital graphics illuminated on columns in the lobby, screen-printed calligraphy on wallpaper, or framed portraits created by a local painter, art is integral to the aesthetic of a hotel.
It can add value, tell a story, differentiate the property from competitors, and change a guest's experience for better or worse, according to art consultants and interior designers. "Art should add that little extra spark," says Francine Ellman, president of Art Source L.A. "Having the wrong art is as bad as having no art."
Alana Okun, senior interior design professional with HOK, agrees. "Every hotelier is trying to draw people into their hotel, whether they are coming to stay or have a meal in one of their hotel restaurants," says Okun, who is overseeing a project with the Marriott Marquis Washington, D.C., set to open in May. "It used to be about just getting something on the wall, but that's changing. [Hotels] are putting much more thought into it. It needs to feel different and special."
Several art experts, consultants, and interior designers, who love thinking outside the frame and looking at the big picture, offer the following tips to consider when sourcing artwork for your property: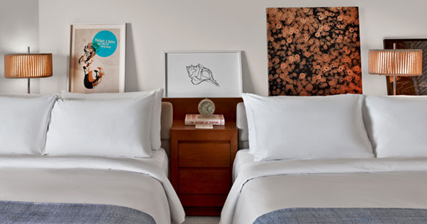 Decide if you really want to invest: Art can be a business investment and several properties, including Park Hyatt hotels and 21c Museum Hotels, have even become known for their art collections. "There is a huge trend for hotels to be like gallery spaces, where visitors and guests are encouraged to explore and stay longer in the public areas of the hotel," says Margot Warre, a senior art consultant at Canvas Art Consultants. "Is art going to be used as a long-term investment and part of their marketing approach, or is it just space fillers on walls?"
Form your art sourcing team early: "Art should be considered as part of the complete interior design approach," Warre says. "The art consultant must work closely with interior designers to achieve the idea/theme of the hotel."
Know your hotel: It's key to have an understanding of your hotel, brand, location, and clients, which will help when determining a successful art direction, says Ellman, who has 40-plus years of experience in the industry. For example, she says, a Las Vegas hotel might have loud and wild artwork, while a family hotel on Long Island, N.Y., would have a different artistic feel.
Set your parameters: These include your budget, timeframe, project scale, and a list of those designated to make final decisions, Okun says, adding it's important to have a basic idea of how much art you need in your space and where it's going to be placed. This will avoid mishaps like putting art near a fire alarm.
Be prepared for a Q&A: Shawn Sullivan, partner at the New York-based architecture and design firm Rockwell Group, suggests answering a few questions that will help your art sourcing team find the best pieces for your property: Why do you feel you need artwork? Is there something missing? What makes your property special? What's new and different? What do guests love about your property? What makes you stand out from competition down the street? "This will help us get to the essence of what's needed," he says.
Find your hotel's story: "You want people to leave with an experience. We try and find how we can do that with artwork, which has the potential to not just be beautiful, but to tell a story," Sullivan says. "Art is really powerful for us to connect to an overall story or a location, in which art can tell a story with how your hotel fits in with whatever neighborhood or city it is in."
Go for the 'wow' factor: "Every hotel should have a feature art piece that helps create its identity. The 'wow' factor of that piece will help the hotel gain recognition and publicity, which in turn will reach out and draw in guests from a global market," says Moon Wong, a senior art consultant at Canvas Art Consultants. "When hotels buy art, they should look beyond the vibe and décor of the hotel and also consider how it is going to make a lasting impression on the guests."
Remember, details matter: This is includes installation, lighting, framing, spacing, and maintenance, Ellman says. "It needs to be very precise. Pay attention to the minute details. Everything counts."
Source: lodging magazine
The 49th Jinhan Fair
Jinhan Fair Online Exhibition