Social media speeds fashion, furniture synergy
2015.05.19
---
Social media has created an almost immediate synergy between the fashion and furniture industries.
Inspired by sites like Pinterest, runway influences are showing up on upholstered furnishings in a matter of months rather than the once standard multiyear delay, and textile suppliers are charged with creating Lincoln Center looks for Main Street almost as soon as they appear on models during Fashion Week.
However, one of the earliest fashion-furniture merges actually began nearly 40 years ago when Ultrasuede hit the market, long before smartphones created 24/7 access to the world.

Planum showed purple Ultrasuede on this contemporary upholstery group.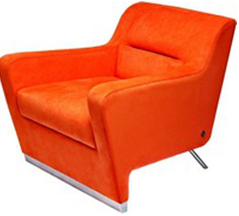 Stanley Jay Friedman used an orange Ultrasuede on one of his signature pieces for American Leather.
Helen Brier is sales and marketing manager for Toray Inds., parent company to the Ultrasuede brand. Brier said fashion designer Halston introduced Ultrasuede to the world in the 1970s, inspiring furniture designers to adopt the material for interior spaces.
"The fashion industry was first to embrace Ultrasuede's unique features and benefits, which result from the extra fine denier of each strand," Brier said. "Legendary American designer Halston gave Ultrasuede significant brand recognition when he introduced his iconic Ultrasuede shirtdress, which was machine washable and dryable.
"Furniture designers followed suit around the same time," Brier added. "The modernist Vladimir Kagan embraced the material's ability to tailor tightly to his sleek frames. The saturation of color, soft hand and again, cleanability, also held appeal.
In recent years, designers including Stanley Jay Friedman and Charlotte Moss have also used Ultrasuede on high-end upholstery pieces. Ultrasuede HP (High Performance), the official name for the upholstery weight line, has more than 97 solid colors available. Custom coloring is also an option, as well as innovative new designs possible due to technological advances.
Designers can specify custom colors for Ultrasuede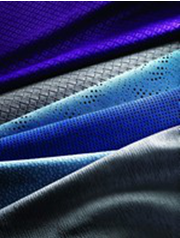 Through new equipment and process investments, Ultrasuede can create embossed patterns, pigment, laser and foil printing on top of the material, perforations and more on upholstery.
"The company has invested in new equipment and processes that allow for … embossed patterns, pigment, laser and foil printing on top of the material, perforations, pinsonics, foam backing with embossings and dye sublimination," Brier said. "All of these effects are available as exclusives and embossings may additionally be customized to reflect patterns or designs desired by the designer. This is a very exciting phase for the company, again, first embraced by fashion designers such as Issey Miyake, Calvin Klein and Commes des Garcons, all of whom featured new Ultrasuede at their 2014 shows. Customers are seeing the new products now."
Source:furniture today
The 48th Jinhan Fair
Jinhan Fair Online Exhibition