2 Ways Costco Wholesale Corporation Has Target Beat on Groceries
2015.03.18
---
Target's (NYSE: TGT ) management isn't happy with the performance of its grocery business. The retailer just named that department as a key part of a turnaround strategy headed by new CEO Brian Cornell. The category will be "repositioned to deliver a more compelling and appealing shopping experience," according to the recovery plan Target announced last week.
Insiders also told The Wall Street Journal that Cornell has been visiting successful competitors like Trader Joe's and Wegmans looking for ideas on how to improve Target's food business. I'd add one more store to the CEO's grocery run: Costco (NASDAQ: COST ).
Satisfying customer experience
The warehouse giant probably isn't the first retailer that comes to mind when you think of an "appealing" shopping experience. In fact, Costco takes pride in having a no-frills setup where you're more likely to see exposed pallets than fancy product displays. As management boasts in the Costco annual report: "Because shoppers are attracted principally by the quality of merchandise and the availability of low prices, our warehouses are not elaborate facilities."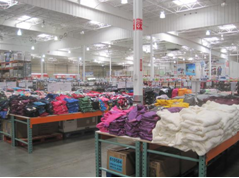 Inside a Costco warehouse
Contrast that focus with the store description inWhole Foods' annual report: "We strive to transform food shopping from a chore into a dynamic experience by designing stores with a lively, inspirational atmosphere, mission-oriented décor and well-trained team members."
Still, when it comes to satisfying its shoppers Costco is -- literally -- tops. The warehouse giant led all specialty retailers in a recent survey by the American Customer Satisfaction Index. Its guest satisfaction score stayed at a record high for 2014 while most other businesses lost ground. A big part of that success was Costco's ability to hold the line on expenses last year as rising food costs forced competitors to raise their prices substantially. Target is likely to skew more toward the Whole Foods approach, but Costco's runaway success is a reminder of how important grocery pricing can be.
Attracting more shoppers
Costco has also managed some quick wins in getting more millennials into its warehouses, mainly by carrying more of the items that they want. Costco's organic food business, for example, has doubled over the last two years to $3 billion. Yes, that's a tiny part of its $100 billion annual revenue stream. But the new products helped boost customer traffic, which is up an impressive 5% this year. Target's traffic was flat in 2014.
Costco execs see organic as a major opportunity for it to offer comparatively lower prices. And it's the food category with the highest protected growth, so Costco plans to keep adding to its organic selection as more supply comes online.
What we know about Target's grocery reboot plan so far is that it calls for more organic and natural foods. New assortments will focus on a few key categories like yogurt, granola, and craft beer. Conversely, Target will scale back on the packaged and processed foods that younger shoppers are moving away from these days while adding more local options.
Foolish wrap
Food makes up a much smaller portion of Target's business, 21% versus around 56% for Costco. And the two companies have vastly different profit profiles thanks to their opposing business models. As a price leader rather than a style center, Costco's margin is less than half of Target's. But those differences don't mean that Target can't learn a few things from the warehouse retailer as it tweaks its grocery business this year.
Your cable company doesn't want you to know this
Cable is dying. And there are 3 stocks that are poised to explode when this faltering $2.2 trillion industry finally bites the dust. Just like newspaper publishers, telephone utilities, stockbrokers, record companies, bookstores, travel agencies, and big box retailers did when the Internet swept away their business models. And when cable falters, you don't want to miss out on these three companies are positioned to benefit. Click here for their names. Hint: They're not Netflix, Google, and Apple.
John Mackey, co-CEO of Whole Foods Market, is a member of The Motley Fool's board of directors. Demitrios Kalogeropoulos owns shares of Costco Wholesale and Whole Foods Market. The Motley Fool recommends Costco Wholesale and Whole Foods Market. The Motley Fool owns shares of Costco Wholesale and Whole Foods Market. Try any of our Foolish newsletter services free for 30 days. We Fools may not all hold the same opinions, but we all believe that considering a diverse range of insights makes us better investors. The Motley Fool has a disclosure policy.
Source: The Motley Fool
The 48th Jinhan Fair
Jinhan Fair Online Exhibition