The Dufresne Group acquires four Ashley stores in Toronto area
2015.03.18
---
The Dufresne Group, already the largest operator of the Ashley Furniture HomeStore brand in Canada, has expanded its presence after acquiring controlling interest in Furniture Investment Group and its four Ashley stores in the Greater Toronto Area.
"We are so excited to have the opportunity to expand into the GTA with a partner that already has the knowledge and experience to launch our presence and growth in the area," Troy Davis, president of The Dufresne Group, said in a statement.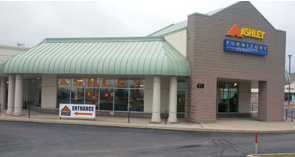 The Ashley HomeStore in Stoney Creek is one of four acquired by The Dufresne Group.
Furniture Investment Group was founded by well-known independent retailer Dennis Novosel and his partner Mark MacDiarmid, who opened his first Ashley store in a mall opposite his flagship Stoney Creek Furniture over a decade ago. The Ashley entity was owned and operated independently of Stoney Creek.
The Furniture Investment Group's four Ashley stores ring Toronto, this country's largest single market, with stores in the satellite communities of Mississauga, Woodbridge, Pickering and Stoney Creek, where its home office and warehouse are also located.
MacDiarmid will remain active in the company as director of stores for the GTA region and will report to Winnipeg-based Bill King, vice president in charge of the Ashley Furniture HomeStore division at The Dufresne Group.
"The strength, talent and expertise TDG offers from their continued growth in Canada and the USA is a tremendous benefit to us and our existing team," MacDiarmid said. "We couldn't ask for a better partner for our growth journey."
With the acquisition, The Dufresne Group will operate 17 Ashley Furniture HomeStore locations across Ontario and Western Canada, including 13 in Saskatchewan, Alberta and Manitoba.
The acquisition has been closed and the terms were not disclosed. Novosel will remain a partner in Furniture Investment Group, but will not be active in its day-to-day operations.
"This partnership will allow us to explore opportunities for growth in the Toronto area for our Ashley Furniture HomeStore operations," Davis noted. "We're looking into opportunities to explore the Toronto market and expand the presence of the Ashley Furniture HomeStores brand, products and services to customers in the GTA."
There hasn't been significant growth in the Ashley network in Canada in recent years. According to its web site, the Arcadia, Wis.-based company operates 34 stores in the country. It is, however, the largest furniture retailer in the United States.
Ashley also recently named Mark Dufresne, former TDG chairman and CEO, as CEO of its global retail division.
In addition to its now 17-unit Ashley division, TDG operates 11 Dufresne Furniture & Appliances locations in Manitoba and Ontario, as well as the Dufresne Retail Solutions Group, whose members operate about 110 stores across the country. It also has an interest in the Dufresne Spencer Group, the Memphis, Tenn.-based operator of 33 Ashley stores in the Southeastern U.S.
Source: Furniture Today
The 48th Jinhan Fair
Jinhan Fair Online Exhibition