Jerome's Furniture opens its 11th, and smallest, store
2015.03.11
---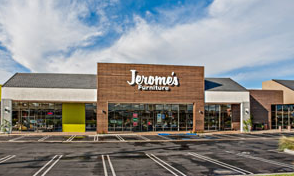 Jerome's Furniture says its 32,000-square-foot store in Laguna Hills, Calif., is off to a strong start since opening in February.
An Aquarius living room collection in chenille fabric gets prime placement in the new Jerome's Furniture in Laguna Hills, Calif.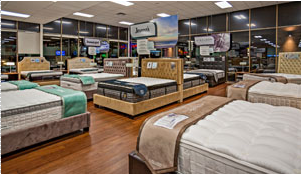 Despite its smaller-than-average size, Jerome's new Laguna Hills, Calif., store features an extensive mattress display.
Adrienne Navarra, project manager and daughter of Chairman Jerry Navarra, buts the ribbon on Jerome's newest Los Angeles-area store in Laguna Hills, Calif.
Jerome's Furniture has opened its 11th store here, increasing its greater Los Angeles presence, with its smallest footprint to date.
The 32,000-square-foot store opened last month after a ribbon cutting that was attended by the Top 100 company's management team, industry and local officials and customers.
The smaller-than-average showroom for the retailer "really challenged us to bring our strongest merchandising game to the space," said Jerome's President and CEO Lee Goodman.
"It's a curated, edited selection based specifically on the target market in Laguna. We are also stressing the use of technology to show customers our wider selection online. So far things are going fantastic."
Jerome's announced plans for the store late last year after signing a lease for the space in The Row shopping center at Avenida de la Carlota. Goodman called it the ideal location, visible from Interstate 5, and said that although it is smaller than the retailer's nearly 57,000-square-foot average store size, Jerome's business intelligence data and technology would enable it to "right-size" the showroom selection for the market.
Jerome's declined to disclose sales projections for the store, but said the retailer is coming off a strong 2014. Total sales for the San Diego-based company increased about 19% to $147 million and same-store sales were up 16%, he said.
More than 100 people gathered to celebrate the new store, where Adrienne Navarra, project manager and daughter of Jerome's Chairman Jerry Navarra, cut the ribbon and "praised her team for an amazing job in a short amount of time," according to the company.
The store adds about 45 jobs for Jerome's, which now employs more than 700 people.
Source: Furniture Today
The 48th Jinhan Fair
Jinhan Fair Online Exhibition