A Close-up of Spring Fair 2015
2015.03.05
---
From Feb 1st to 5th, 2015, the project team of JINHAN FAIR attended Spring Fair 2015 in Birmingham, Britain and sent out invitations to more than 2000 British and European buyers.
Spring Fair is held annually from Feb 1st to 5th in Birmingham, Britain. It is the largest exhibition of toys, gifts, crafts and home products in Britain. Exhibitors of the fair are the top notch retailers, distributors, importers and manufacturers of the home decorations industry. Most of them have a fixed sourcing schedule to JINHAN FAIR, such as Premier, Yankee Candle, The UK Candle, Light & Living, RSW International, Richard Lang & Son Ltd, Hill Interiors, Giftworks Ltd, Coach House, Heaven Sends Ltd and RJB Stone Ltd, etc.
Among them, Coach House, the largest wholesalers of furniture and gifts in Britain, has an annual sales volume of 36 million sterling pounds. Faye Bovingdon and Mika Felstead, the sourcing leaders of Coach House highly commented on the quality exhibitors and professional services of JINHAN FAIR. They said that JINHAN FAIR is the best fair of its kind in China. Jonathan M Thompson, the general manager of the professional outdoor furniture company Jonard Design told us that, 100% of its products from China are sourced from JINHAN FAIR. Stone the Crows with nearly 1000 square meters' exhibition area in the fair, has attended JINHAN FAIR for 11 years consecutively. John Allan, its general manager said that 40% of its products are sourced in JINHAN FAIR, and that JINHAN FAIR, as a quality and mature service platform, is a must-visit for them twice a year.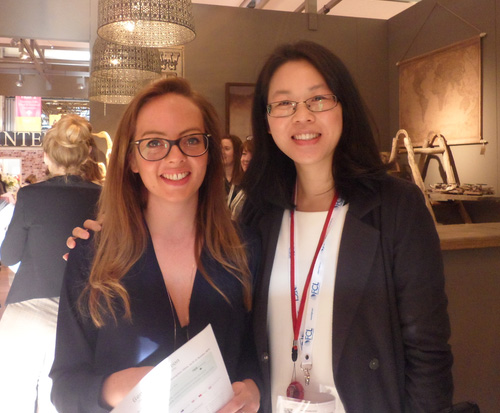 【JINHAN FAIR team and Faye Bovingdon, the sourcing leader of Coach House】
Through years of development, JINHAN FAIR has already become a key trade platform for many British and European buyers to get to acquire market updates and product trends. The 31st JINHAN FAIR will begin on April, 21st, and top notch export companies of the home and gifts industry in China will again meet with global buyers to celebrate more prosperity.
Click for more about Spring Fair:
The 49th Jinhan Fair
Jinhan Fair Online Exhibition