IKEA to sell furniture that can wirelessly charge your phone
2015.03.03
---
IKEA wants to make wireless charging a reality in your home.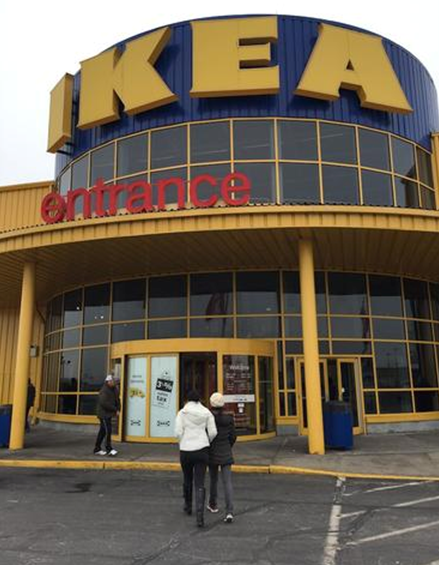 IKEA will start carrying wireless-charging-capable furniture in April.Roger Cheng/CNET
The world's largest furniture maker said on Sunday that it would begin selling tables, work desks, nightstands and other pieces of furniture capable of wirelessly charging your smartphone when placed in contact. The new line of furniture will hit stores on April 15 in North America and Europe, with plans to expand to other regions.
It's a rare move forward in technology for IKEA, known best for its massive showroom stores, affordable assemble-it-yourself furniture and its Swedish meatballs. For consumers with compatible smartphones and cases, it's an added convenience and extra incentive to go with IKEA.
"We're making life easier, more convenient," said Bjorn Block, a range manager of the business area lighting division at IKEA
It's an even bigger deal for the Wireless Power Consortium, which gains a powerful ally with IKEA embracing its Qi technology. The WPC is seen as the party left out of the mix when the other two major groups in wireless charging, the Alliance for Wireless Power, backed by Samsung and Qualcomm, agreed to merge with the Power Matters Alliance, championed by Duracell Powermat.
The dilemma has been that the Qi wireless charging technology is available in more mobile devices like smartphones, while the PMA technology is available in stores like select Starbucks and McDonald's -- yet they can't work with each other. The third standard from A4WP is backed by industry heavy hitters like Samsung, Qualcomm and Intel, but it hasn't yet released any commercially compatible products.
PMA and A4WP are expected to merge by the middle of the year.
With so many heavy hitters on the other side, why did IKEA go with WPC? The volume of smartphones in the market, which includes select Lumia, LG and Samsung handsets, swayed the furniture giant.
"This was at the present point of time the only and most suitable standard for IKEA," Block said.
While IKEA represents a powerful ally, the WPC still stands as an underdog. It has worked on getting its wireless charging technology in more products, including inside vehicles and, with IKEA, in the home.
"We're delighted to have IKEA as part of the group," said John Perzow, vice president of market development.
The WPC's four principles of safe, efficient, cost effective and being interoperable and backward compatibility conflicts with the other groups, which is why there hasn't been much progress with consolidation, Perzow said.
IKEA's products include bedside tables, desks and lamps, which will all contain a charging spot for phones. Block added that IKEA will sell a kit that will allow people to customize existing furniture with a wireless charging spot.
IKEA will initially have one to two collections a year with the technology with a long-term goal of moving to 10 collections.
Source: cnet
The 48th Jinhan Fair
Jinhan Fair Online Exhibition