So Your Style Is: Black, White and Read All Over
2015.02.05
---
The fact that many newspapers are moving online, shrinking their publishing schedule or trimming the number of printed pages has been in the news a lot lately. Maybe that's why some homeowners are preserving the printed page in their home decor. In many of these examples, the writing is now literally on the wall.
You'll love it if: You are nostalgic for a time when multiple newspaper boxes lined street corners, or you gravitate to the abstract texture and pattern of the newsprint look.
Bella Life Style
Style Secret: Spark Up a White Room
It was texture that drew the designers at Bella Life Style to this newsprint wallpaper. They say that the wall covering and tufted upholstery give the room interest and turned what could have been an ordinary white room into a extraordinary space with depth. "Always use pattern and texture when using achromatics" (white, black and gray), says designer Natalie Fermoyle.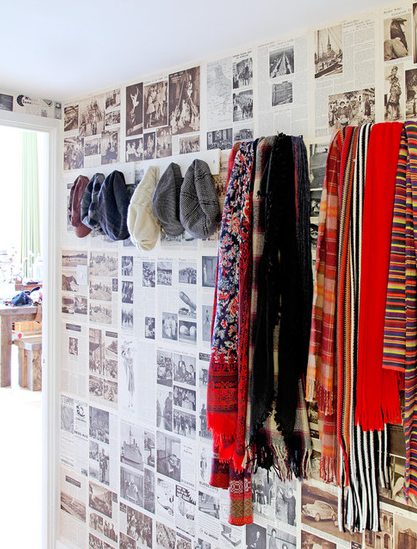 Avocado Sweets Interior Design Studio
Something different: Want to have the background a little more black than white or turn up the texture volume? Do as the designers at Avocado Sweets Interior Design Studio did and opt for a wallpaper that uses vintage newspaper or magazine pages with larger photos. There's a stronger pattern here, but the neutral colors still make a great backdrop for colorful hats and scarves.
ILevel
Style Secret: Up the Vintage Look With Yellowed Paper
As we all know, newsprint doesn't stay black and white forever. Newspapers and books get more sepia-toned over time. This wallpaper, in a project by ILevel, has that aged look. It gives the contemporary space a vintage feel.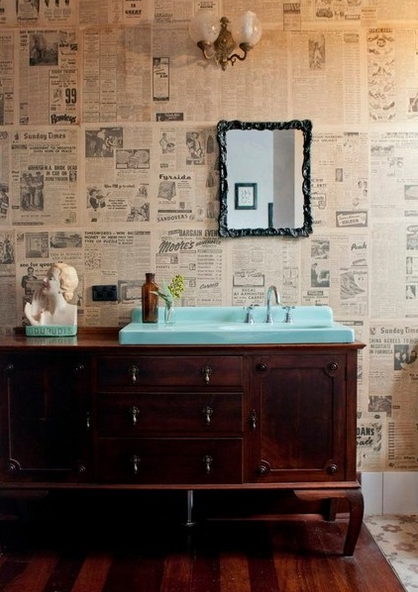 Etica Studio
Something different: Ready-made wallpaper isn't the only way to go. Etica Studio, a firm that specializes in sustainable interiors, used individual sheets of actual newspaper to cover the wall in this bathroom.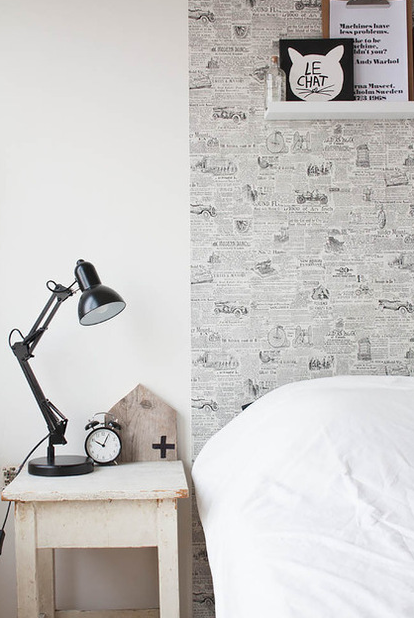 Louise de Miranda
Style Secret: Print Accent
Sometimes a little print goes a long way. Such was the case in the bedroom of this apartment in the Netherlands.
Instead of wallpapering the entire wall, the couple who lived here used just two strips to create a paper headboard.
Louise de Miranda
In another apartment the homeowner created a similar, but even smaller, accent wall using newspaper she purchased at a flea market.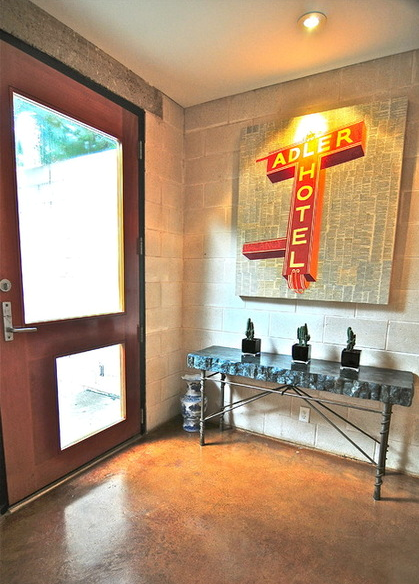 Valerie McCaskill Dickman
Something different: Not ready to make it permanent? Skip the adhesives in favor of a hanger and mount artwork with a newsprint motif. Valerie McCaskill Dickman used such an artwork in the entry of this Dallas townhouse.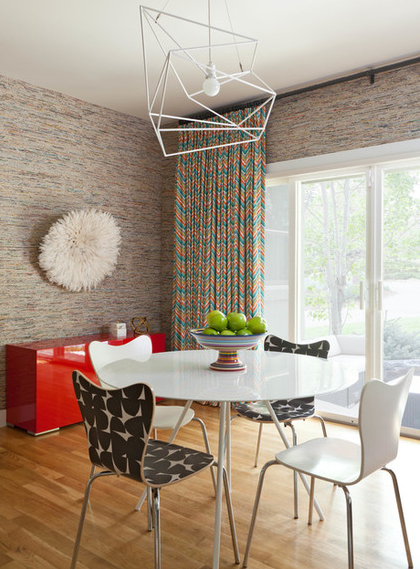 Designer Premier
Style Secret: Obscure the Message
Many wallpaper makers have subscribed to the practice of using recycled newspapers and magazines in their products. By slicing the paper in strips, it takes out discernible words and photos but leaves a great texture. In this Denver home, by Iba Design Associates, the owners don't just read the morning paper over a cup of coffee in the breakfast room; they are surrounded by the news with a wallpaper made of woven recycled newspapers.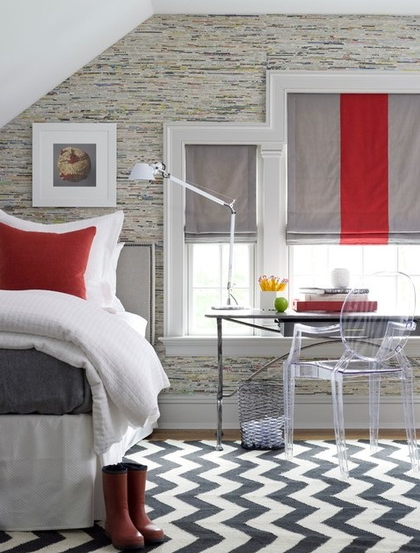 S. B. Long Interiors
This bedroom, by S.B. Long Interiors, has a wall covering called Newsworthy. The makers market it as an alternative to grass cloth.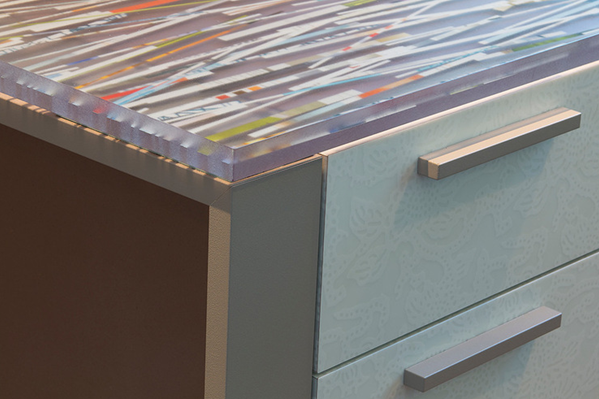 Christopher Hoover - Environmental Design Services
Something different: Wallpaper manufacturers aren't the only ones getting on the paper wagon. This countertop surface, in a project by Christopher Hoover - Environmental Design Services, is made with strips of mail-order catalog pages encased in resin.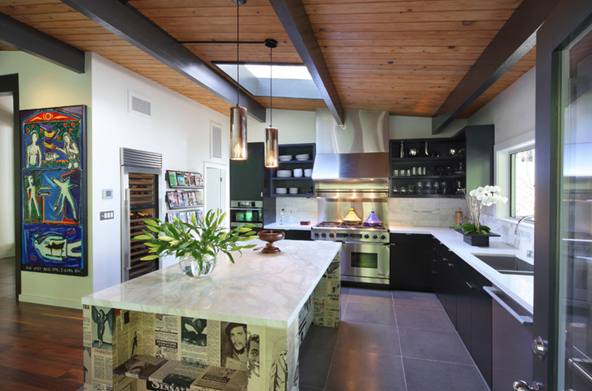 P2 Design
Style Secret: Go Off the Wall
The look isn't just for walls; it can migrate to furniture and cabinetry. In this home, by P2 Design, a kitchen island is covered with sheets of newspaper.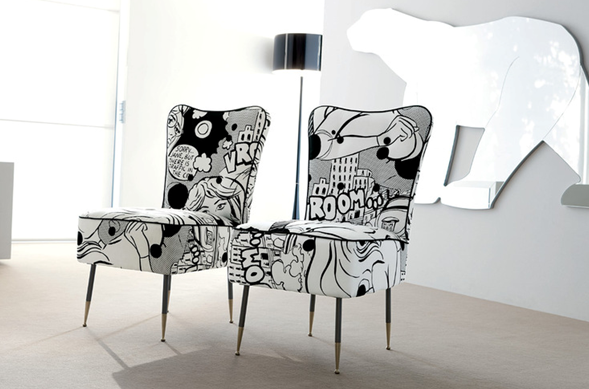 Imagine Living
Something different: You can even get the look by going paperless. These chairs, by Creazioni, are inspired by action-packed comic strips.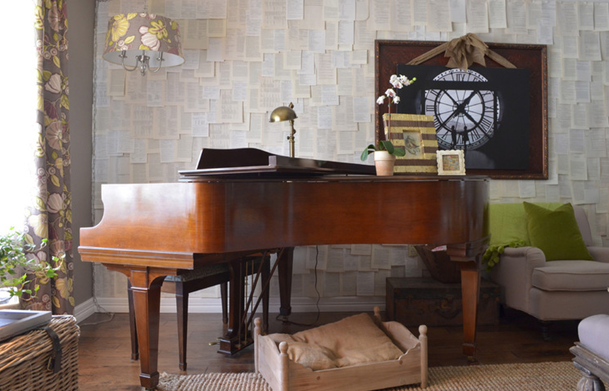 Sarah Greenman
Style Secret: Flipping Pages
The look isn't limited to newspapers. Some homeowners use pages of manuals and books to create one-of-a-kind wall coverings. In this home Camille Dickson looked to her shelves when she wanted to cover her walls. "The pages are from books I had around the house," Camille says. "Two were old French study guides; the other two novels I got at Goodwill for about 50 cents each. I just used my stapler from school to tack the pages up there."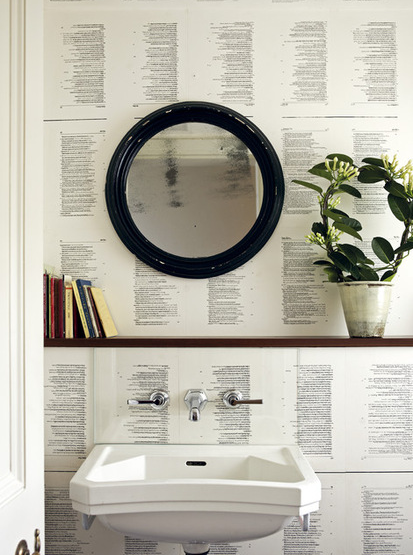 Ryland Peters & Small | CICO Books
Something different: This bathroom, included in a book called Reclaiming Style, appears to be papered with the upside-down pages of a manuscript. The text, the language it's written in and its original purpose don't matter all that much. It's the pattern and feeling of the words and columns that count.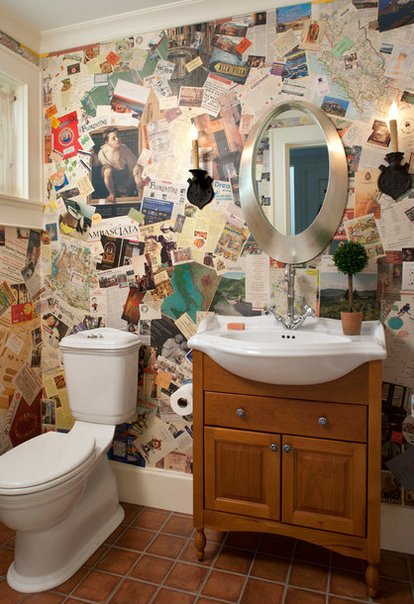 Tyner Construction Co Inc
Style Secret: Rip From the Headlines
Not every treatment needs to be aligned. In this powder room, by Tyner Construction, pictures from a variety of paper sources were ripped out and artfully applied to the wall.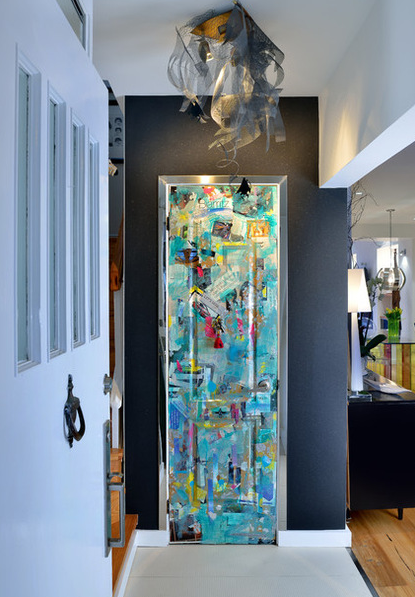 Upside Development
Something different: When life gave interior designer Vanessa Emam a plain white door, it also gave her a creative opportunity.
"I like to work with my hands," Emam says. "I had always wanted to try collage, and this seemed like the perfect opportunity." The designer used a decoupage technique to glue favorite images and articles from French newspapers to the door, before giving it a wash of teal in select spots. She finished by varnishing the whole thing. She did it without ever removing the door.
The old saying has it that today's news is tomorrow's fish wrap. Clearly, it could have a new life as a decor element.
Source: Houzz
The 49th Jinhan Fair
Jinhan Fair Online Exhibition