2014 factory profits hit two-year low
2017.02.15
---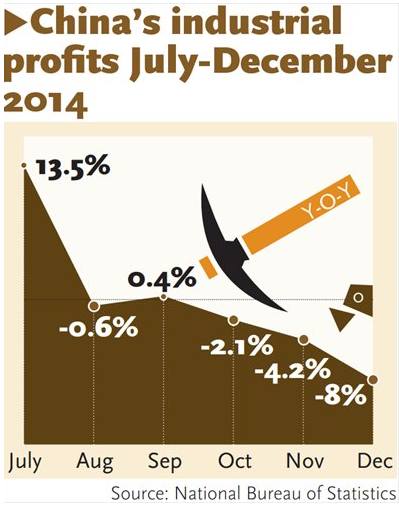 Profits from China's major industrial firms suffered a record monthly fall in December and their weakest annual slump in two years, official data showed on Tuesday, reflecting the challenges the economy faces.
Industrial enterprises with more than 20 million yuan ($3.2 million) in annual revenue from core operations saw their profits shrink by 8 percent in December from the year before, the biggest monthly fall since the data gathering system was revised in late 2011, the National Bureau of Statistics (NBS) reported on Tuesday.
During 2014, the country's industrial profits expanded by 3.3 percent year-on-year, the weakest performance in about two years. In 2013, industrial profits rose by 12.2 percent compared to the previous year.
In the same year, profits of major private industrial firms grew by 4.9 percent, much less than the 14.8 percent in 2013. Total profits at their State-owned counterparts fell 5.7 percent in 2014 against a rise of 6.4 percent in the previous year, NBS records show.
Several factors led to December's slowdown, NBS statistician He Ping said in a statement posted on the bureau's website.
He cited shrinking profits for the petroleum and coal sectors, due in part to slumping oil prices which have led to a drop in the selling price of downstream petroleum products, but which have yet to be factored into lower manufacturing costs.
A breakdown of profits by sector, however, adds to optimism since economic policy is shifting from investments to innovation.
The fall in raw material supply profit and the rise in consumer product manufacturing profit showed China's growth is shifting from an investment-driven model to a consumption-led one, the NBS explained.
Brisk profits at equipment manufacturing and high-tech manufacturing industries were also seen as an indication of an improvement in the quality and efficiency of the economy.
Addressing the country's push for a rebalanced factory sector, Mao Weiming, a vice minister at the Ministry of Industry and Information Technology (MIIT), the industry watchdog, told a news conference in Beijing on Tuesday that investment in fields affecting people's livelihood saw a rapid growth in 2014, while investment in some high energy-consuming industries showed a general decline.
In a sign of higher-quality growth in factories last year, figures revealed by Miao showed that the country had surpassed its 2014 annual target of phasing out outdated production in steel, cement and plate glass.
But the bright spots may not be enough to alleviate the landscape amidst a "new normal" in the economy which is shifting from the previous high growth to a medium-to-high growth model, analysts said.
"Subdued demand amid the cooling economy serves as a major drag on industrial profits," said Chen Wei, an analyst at Beijing-based brokerage firm China Minzu Securities.
To help lower borrowing costs, the People's Bank of China, the country's central bank, surprised the market by announcing a cut in benchmark interest rates on November 21, 2014, the first rate cut in more than two years.
Wang Jun, a senior economist at the China Center for International Economic Exchanges (CCIEE), said sluggish market demand as a result of the economic slowdown has cut into industrial profits.
"There are no signs of an apparent rebound in market demand, and therefore declining industrial profits might not be reversed in the near future," Wang told the Global Times on Tuesday.
On Friday, an HSBC survey showed that growth in China's manufacturing sector stalled for the second month in a row in January.
In a sign that investors are holding back, Nomura's China composite leading index (CLI) slid in December for the seventh straight month.
Source: Global times
The 49th Jinhan Fair
Jinhan Fair Online Exhibition